Another blast of winter is headed for Montana.
A week after a September snowfall blanketed the state's northwest, breaking records in several areas, the National Weather Service projects more winds, cold and snow Tuesday night and Wednesday. The Missoula forecast calls for a wintry mix Tuesday night and into Wednesday morning, turning to snow around 3 p.m, with accumulation of about an inch possible. From midnight on, the winds should be blowing 19 to 24 miles per hour, with gusts as high as 33 mph possible.
On Wednesday, the weather service forecasts a 40% chance of snow before noon, but with little or no accumulation. An east-southeast wind will be blowing at 16 to 20 miles per hour, with gusts as high as 28 mph. A high near 38 is expected.
As of late afternoon Tuesday, Missoula was not under any type of warning or advisory. Ryan Leach, a meteorologist for the National Weather Service, said road surfaces in Missoula would likely be too warm for snow accumulation. But a winter weather advisory was in effect for the Bitterroot and Sapphire mountains. From midnight through noon, the weather service said, motorists should prepare for hazardous road conditions on U.S. Highway 93 south of Sula to Lost Trail Pass, and Highway 12 near Lolo Pass.
Meanwhile, Rocky Mountain Front and most of central and southern Montana were under a winter storm warning, with accumulations of several inches possible. The eastern band of Flathead County, including West Glacier, Essex and Bigfork, and northeastern Lake County were under a winter weather advisory through Wednesday morning. Drivers in these areas should expect ice and blowing snow on roadways, winds gusting up to 40 mph, and snow accumulations up to 2 inches in the valleys and 6 inches to 8 inches at Marias Pass.
You have free articles remaining.
"If you're going to go over that pass tonight, Marias Pass, it's going to be pretty nasty on the other side," Leach said. By Tuesday afternoon, webcams showed substantial accumulation on both the east and west sides of Glacier National Park. Going-to-the-Sun Road has been closed at Avalanche Creek on the west side, and the 1 1/2-mile gate on the east side. The Two Medicine and Many Glacier roads are also closed.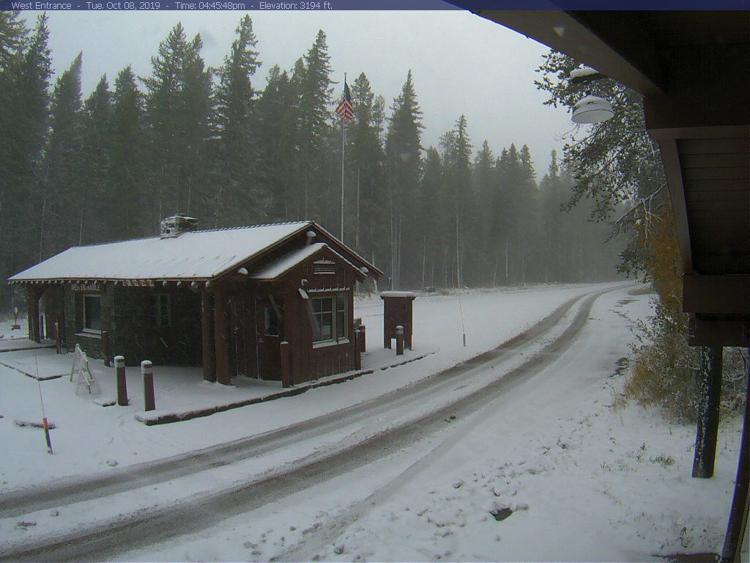 Western Lake and Flathead counties, including Kalispell and Polson, northeast Sanders County and all of Lincoln County are under a wind advisory from 2 p.m. Tuesday through 9 a.m. Wednesday, with wind speeds of 20-35 mph and gusts up to 45 miles per hour expected.
Waves as high as 4 to 6 feet are expected on Flathead Lake, with the potential to damage boats and docks, the Weather Service warned. NorthWestern Energy advised Montana customers to have supplies such as batteries, heating fuel and essential medication ready in the event of a power outage, and to keep natural gas vents free of snow and ice. Power outages can be reported by calling the NorthWestern Energy Montana Customer Service line, 888-467-2669 or online at northwesternenergy.com/contact-us/report-outage-form.