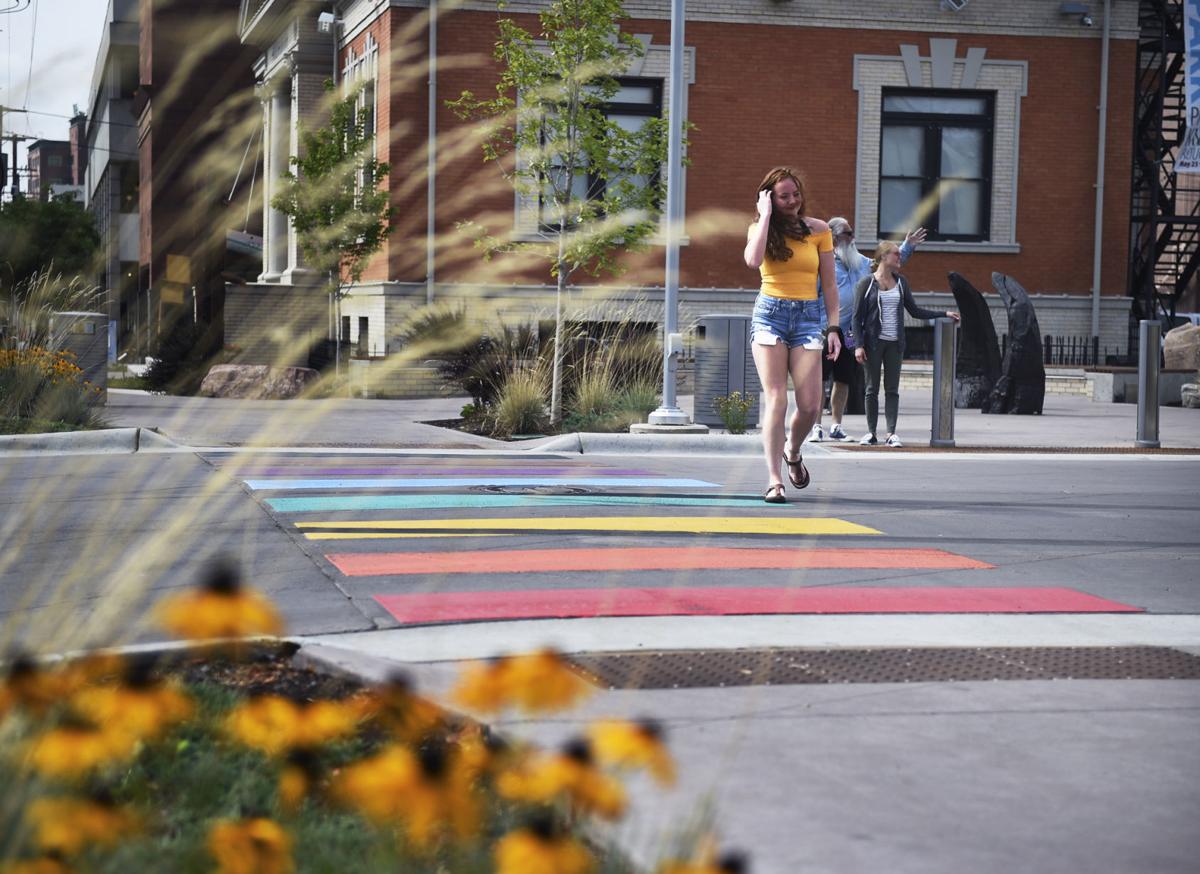 Christopher West, 32, of Missoula, was found guilty of criminal mischief and careless driving, both misdemeanors.
In an audio recording played in court, West said he was having some fun in response to a Missoula police officer's question about why he would do a burnout on the LGBTQ symbol.
"We were just riding around being kind of a jackass, no rhyme or reason why I burned there that night," West admitted.
The criminal mischief conviction carries a potential sentence of up to 6 months in jail and fines reaching $1,000. The reckless driving conviction carries up to 90 days in jail and/or $25 to $300 in fines. Sentencing will happen at a later date.
The crosswalk, funded and installed by Empower Montana, a local nonprofit focused on social justice issues, was vandalized multiple times by trucks and motorcycles doing burnouts on it in the days and weeks after it was installed. The rainbow is an international symbol of gay pride and LGBTQ social movements.
While a bias act that "damages, destroys, or defaces any property of another or any public property'' is a hate crime under Montana state law, sexual orientation and gender identity are not included in the law.
At trial, prosecutors played audio evidence, recorded by Missoula police, which showed West admitting to the crime after initially denying his involvement. Surveillance and cell phone footage from the night of the crime showed a handful of motorcyclists descending onto the crosswalk while one did a burnout.
In the recording from about a week after the vandalism, officer Ethan Smith is interviewing West in a Missoula Police Department office. West declines his involvement, saying he doesn't even own a motorcycle. Smith then calls a friend of West's who was identified as part of the group of motorcyclists, but not as the one doing the burnout.
"I'm going to be 100% truthful with you, it was Chris West," witness and motorcyclist Joshua Frye said in the recording.
Upon hearing his friend's admission over speakerphone, West leaned back in his chair, according to officer Smith's testimony, patted his chest and nodded his head and confessed, "It was me."
After being asked by Smith, who serves as the crime prevention officer and LGBTQ liaison for the police department, why he would do a burnout there, West said the ride was entertaining.
He also apologizes for lying to officer Smith initially, and admits to doing another burnout at the intersection of South Avenue and Reserve Street on the motorcycle he was borrowing from a friend that night.
Despite his admission, West maintained he was not guilty, and his attorney, public defender Russell LaFontaine, said in closing arguments that it was possible he was admitting to doing it on another night, and was not the rider in the specific surveillance video used as evidence.
Kelly Jetter, West's friend of 18 years, testified that he had been at his repair shop working on cars with West until at least 1:30 a.m. the night of the incident, and that West couldn't have been there. Jetter had not been in the courtroom when the audio of West's admission was played immediately before his testimony.
Three other people were charged in similar crimes involving burnouts on the rainbow crosswalk, all of which pleaded guilty to the charges. West was the only person charged who went to trial, Officer Smith said. The Missoulian is requesting records of the three other convictions.