The day after President Donald Trump asked "Whatever happened to Global Warming?" the National Oceanic and Atmospheric Administration published its answer: Global temperatures are rising and can only be explained by human activity.
"This is expected to cause substantial net damage to the U.S. economy," NOAA technical support director David Easterling said during a Friday conference call with reporters. "What happens after mid-century depends on global emission of greenhouse gases and earth's response."
The Fourth National Climate Assessment Volume II presented more than 1,600 pages of analysis, including specific regional chapters, of two scenarios of coming climate change. Both the business-as-usual and aggressive-response options forecast lasting harm to national infrastructure, water supplies, recreation, natural resource industries and human health.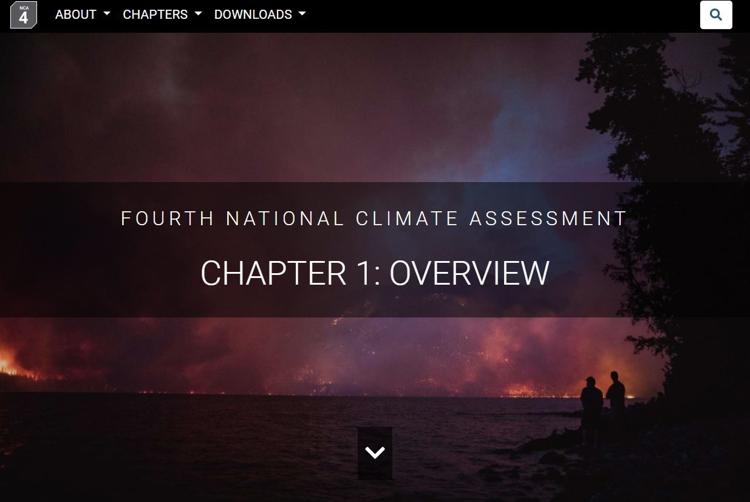 Ignoring the problem could shave 10 percent off the U.S. gross domestic product by 2100, including $141 billion from heat-related deaths, according to the report.
This is the coldest weather in the history of the Thanksgiving Day Parade in NYC, and one of the coldest Thanksgivings on record!

— Donald J. Trump (@realDonaldTrump) November 22, 2018
Trump has also called for an "Energy Dominance" strategy of fossil fuel development on public lands he says would improve American international influence and pay for infrastructure updates. The report noted Trump ordered the nation to withdraw from its previous emissions reduction commitments laid out in the 2016 Paris Agreement.
Report chapter editor Andrew Light of World Resources Institute (and former University of Montana professor) said the disconnect between the president and his advisors was striking.
"The thrust of this report contradicts the president's tweets and the more substantive policies of the administration," Light said. "He made a classic confusion of climate and weather. Many people will make that mistake, but I would not expect it from the president of the United States. He has all the authors of this report who are happy to talk to him. He shouldn't make this mistake."
Snowfall in western Montana and western Wyoming could shrink winter-sports seasons for skiing and snowmobiling by 20 percent to 60 percent by 2090, according to the report's Northern Great Plains chapter. That goes directly at the heart of the $275 million downhill skiing industry, which the report projected would see visitor declines of 13 percent to 19 percent by 2050.
"Similar declines are projected for the region's $4.6 million cross-country ski industry and $2.3 million snowmobiling industry (in 2015 dollars)," the report authors noted. "Such reductions in visitor numbers would cause ripple effects across the local economies of snow-dependent communities."
Warming waters may have a direct economic effect on Montana's fishing tradition. The report predicted shifts toward warm-water fish species could reduce the value of coldwater fishing between $25 million and $66 million a year by the end of the century, depending on how fast the change occurs. It highlighted incidents like the proliferative kidney disease outbreak that closed 180 miles of the Yellowstone River to all water-based recreation in 2016.
You have free articles remaining.
The report's chapter on the Northwest (primarily Washington, Oregon and Idaho) warned that climate change would alter both the region's economic and recreation values. Natural resource industries like agriculture and fisheries would be hurt by irrigation shortages, changing ocean conditions and increased wildfire.
"Nearly half of all adults in the region participated in wildlife-related recreation in 2010. As temperatures increase, the demand for warm-weather outdoor and water-based recreation increases, and visitation rates at local, state, and national parks increase. However, boating and other water-based recreation opportunities are likely to decline in the future when summer streamflows and reservoir levels are low. Additionally, popular winter sports and snow-based recreational activities, such as downhill skiing, cross-country skiing, and snowmobiling, have been dramatically impacted by reduced snowfall," the report authors wrote.
The report stressed tribal communities may find their culture and heritage particularly at risk from climate change. And it stated that wildlife populations of threatened or endangered species, animals dependent on snow like wolverines and pikas, and big-game species were most of concern.
"While the first two groups of animals are generally negatively impacted by changes in climate, some game species, such as deer and elk, may thrive," the report stated. "Game species are of concern not because of their sensitivity to changes in climate and habitat but because of their notable value for recreational hunting and as key cultural resources for tribes."
Warmer winters and increased wildfire might actually increase food supplies for deer and elk. However, the report authors added "the primary climate-related impact on game species will likely come from increases in disease and disease-carrying insects and pests."
The report points to the effect of greenhouse gases, mainly from burning fossil fuels like petroleum and coal, as the biggest source of global warming. Carbon dioxide and similar gases change the way the atmosphere holds heat from the sun. That affects climate drivers such as jet stream winds, ocean currents and polar ice development. In turn, those forces work on shoreline sea levels, snowfall levels and drought intensity.
U.S. Department of Agriculture director of energy and environmental policy William Hohenstein said those effects can be seen in the intensity of wildfires. He singled out the Camp fire that destroyed more than 15,000 homes in Paradise, California, as an example of how high winds and extended drought will lead to increased fire frequency and longer fire seasons. Those wildfires could become a new threat to parts of the southeastern United States that haven't had them in the past.
The report combines the work of more than 300 scientists from 13 federal agencies with input from universities, private research companies, think tanks and nongovernmental organizations. Congress requires the presidential administration to produce the report every four years.
NOAA spokeswoman Monica Allen said the report was timed for release in advance of the United Nations Climate Change Conference in Katowice, Poland, that starts on Dec. 2 as well as the American Geophysical Union's Dec. 10 meeting in Washington, D.C.
"The report has not altered or revised in any way to reflect political considerations," Allen said in response to numerous press questions about its divergence from Trump's policy of energy dominance and fossil fuel deregulation. Light agreed that its analysis had no alternate interpretations or disputes with the main warning of impending crisis.
"This is a very distressing report," Light said. "It demonstrates the climate is already impacting every part, every sector of the economy. But there is a framework that we hope will lead to a better policy response."
For example, the report lauded the Missouri Headwaters Drought Resilience Demonstration Project, led by Montana's Department of Natural Resources and Conservation, as a nationwide example of how to prepare for changing water supplies ("It is a replicable model that is producing concrete, on-the-ground results, including tools for drought monitoring, assessment, and forecasting.").
It also cites studies showing how mitigation of greenhouse gas production would reduce the long-term risks of climate change. Fossil fuel consumption accounts for 77 percent of the total U.S. greenhouse gas emissions. Responses include low-carbon technologies, energy efficiency, subsidizing clean-energy production and regulations on emission reduction.
At least 455 cities have announced support for global emissions reductions. Several states have also imposed mandates to reduce emissions or control carbon pollution. Private companies have sought to provide environmental benefits in response to investor demands and risk management strategies.