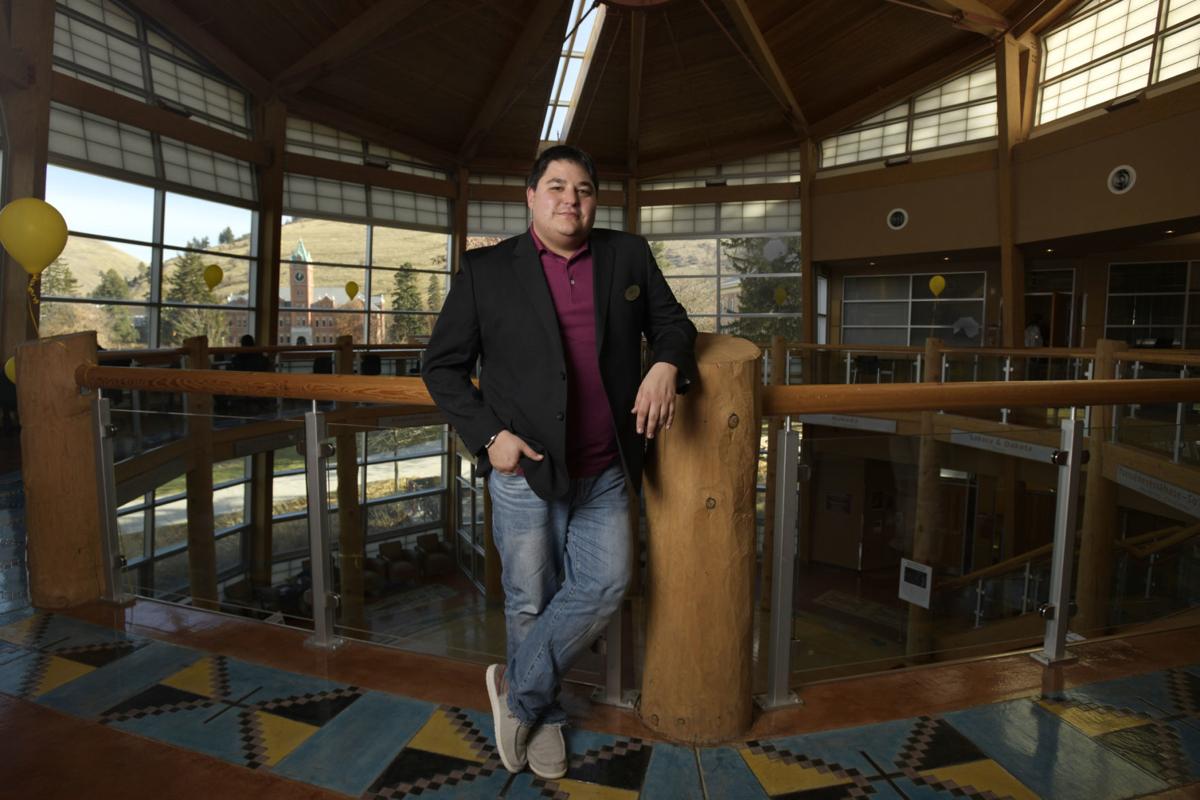 A month and a half ago, Brad Hall began his new job as the University of Montana's tribal outreach specialist.
He's tasked with strengthening UM's ties to Montana's tribal colleges and the communities they serve. That goal has him meeting with Tribal College faculty administrators and working to ease the path for their alums in Missoula.
"It's going really well," Hall told the Missoulian last Thursday, in his still-sparse office in the Payne Family Native American Center. "Never a dull moment, which I'm used to coming from the tribal college world, and there's a lot of excitement about the possibilities that we're going to create at all levels."
The effort is personal for Hall, who also serves as a high-ranking advocate for the Native American community on campus in general.
"I think higher education changed my life tremendously," he said.
Originally from Browning on the Blackfeet Indian Reservation, Hall studied education at Montana State University-Bozeman. While there, he interned at the Smithsonian's National Museum of the American Indian and was one of just 25 students nationwide to receive a Rockefeller Brothers Teaching Fellowship for aspiring teachers of color. He went on to receive a doctorate from MSU, teach and serve as principal at Heart Butte High School on the Blackfeet Reservation, and work as an administrator at Blackfeet Community College.
"I didn't want to work at UM, necessarily," Hall acknowledged with a laugh. "I wanted to be in a capacity where I could work in Indian education, where I felt that my energy could be used in a way that I can be a part of really changing lives."
Such a role opened in Missoula earlier this year, when UM President Seth Bodnar announced the creation of a new position focused on tribal educational outreach. Montana is home to seven reservations and the Little Shell Tribe of Chippewa Indians.
"One outgrowth of my time with the Tribal College presidents last fall was the suggestion that UM invest in a position that is institution-wide and focused entirely on building and sustaining partnerships with tribal educational institutions as well as with other educational institutions that serve a high number of Native American students," Bodnar wrote in a campus-wide message this past April.
"A lot of people are fulfilling roles in those communities that don't enable them to leave," Hall said, but "giving them the access to higher education using tribal colleges ... has been relatively successful."
You have free articles remaining.
UM already has some relationships with these schools. The "2+2" program, for instance, enables students to start work on a bachelor's degree at Blackfeet Community College and complete it through UM. Students in programs like these typically spend two years at a tribal college and two at a larger university, although Hall explained that UM aims to provide a more "hybridized" model involving online courses and visiting instructors.
But Native students can face pitfalls at larger institutions, said Blackfeet Community College President — and UM alum — Karla Bird.
"It's definitely difficult, as a Native American student, to pursue education at a mainstream institution ... You don't necessarily see the indigenous representation (in) the faculty, the students or even in the literature or the curriculum."
Some current Native students have recalled a challenging transition from the reservation to a university campus. A 2018 survey found that from 2001 to 2014, the percentage of UM's American Indian students graduating in four years ranged between 3.4 and 15.4%, lower than the overall percentages.
"One of the things I always vocalized as a student is that we needed a voice at the campus level," Bird said. "We needed indigenous representation, we needed someone with influence or power." In developing this position, "I feel President Bodnar has really listened to the needs of American Indian people."
Two months into his new job, Hall is working to level their path to a degree. "Our students come to this institution with a lot of challenges, but we also don't talk about the possibilities that they come here with," he said. He's also keen on the 2+2 programs, plans to continue visiting tribal colleges and visiting their staff, and is involved with other ventures, including the establishment of an American Indian Policy Institute and a website for Native students.
He's trying to learn more about the challenges Native students face and what he can do to address them too. "As I've built more trust, I've gotten more candid responses to the questions I've been asking, and a lot of it is just (wanting) someone to understand, someone that has either walked in their shoes or has the concern, the overall concern, for the student at hand."
UM senior Joseph Grady, a member of the Blackfeet Tribe and the flagship's DiverseU student coordinator, is encouraged by what he has seen so far. "There is optimism and hope" with the new hire, he said. "We just hope to continue this trend of hiring people of color in the university."
Bird, who has known Hall since they were classmates at Browning High School and worked with him at Blackfeet Community College, said that "one of his best skills is his ability to develop professional relationships across campus and across this institution, and so I really think he's a perfect fit for UM."
When Hall joined the staff, he said, there was some talk about having his office in Main Hall, but he knew he had to be across the Oval in the Payne Family Native American Center, the center of Native student life on campus.
"One of the main reasons I'm in this building is I can't advocate for a community I am not part of," he said. "This is the center of support for Native students, and I think that's become very clear about this the way it has to be."
"What I tell my constituency on the campus is that I'm your voice if you want things to happen, and I'm also in a position where I can help the institution grow if they want to help Native students just thrive."