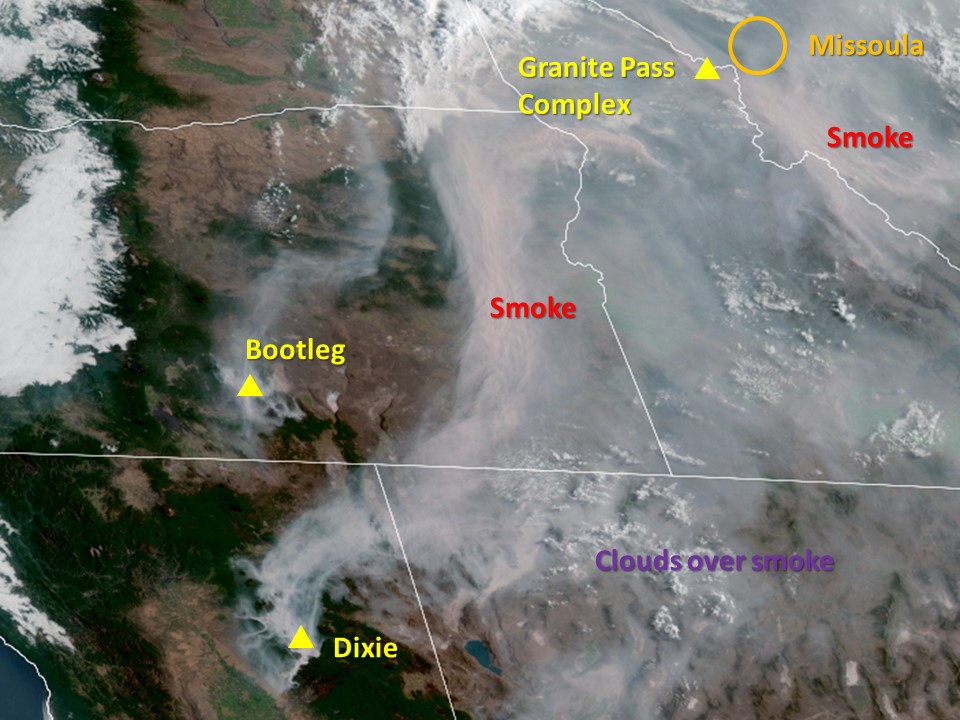 While Missoulians got a breath of fresh air Tuesday and Wednesday, smoke is expected to return to the region into Thursday, with new wildfires in California adding to the regional haze.
Air quality is expected to move from moderate to unhealthy for sensitive groups, said Sarah Coefield, Missoula's air quality specialist, in her Wednesday update.
"Transport winds will be from the southwest, which will drive California and Idaho smoke our direction without any clear sky breaks," Coefield said. "I'm expecting conditions to deteriorate late (Wednesday), but we're unlikely to see conditions get worse than 'Unhealthy for Sensitive Groups.'"
Wednesday afternoon wind and thunderstorms were expected to possibly increase fire activity locally, with the possibility for new starts.
"The California smoke may provide enough cover to moderate some of the local activity, but these plumes are not yet as thick as that ridiculous Oregon smoke, so there's a real risk of local fires picking up the pace," Coefield said, adding that a dry cold front moving into the region Wednesday evening was of particular concern.
If the fires in the Granite Pass Complex southwest of Missoula "perk up," the valley may also start to see more smoke.
The complex fires had grown to 2,108 acres with 0% containment as of Wednesday, according to a news release from the Lolo National Forest. Crews planned to use roads and natural features to confine all four fires of the complex within one control line.
The Lolo Creek fire was expected to threaten Highway 12 near the Lolo Peak Visitor Center at any time.
On Tuesday afternoon, the Missoula County Sheriff's Office issued an evacuation warning for Granite and Lolo Hot Springs and homes along and accessed from U.S. Highway 12, spanning from mile marker 10 at Martin Creek to the Idaho border. Deputies have been notifying residents and visitors along the highway. There is also a reduced speed of 45 mph in place on the highway from Spring Gulch Road to Lolo Pass.
The BM Hill fire is the largest in the Granite Pass Complex at 1,754 acres. The blaze is expected to continue moving northeast along Granite Creek. The Shotgun fire had burned 191 acres and the Boulder Creek fire reached 7 acres with minimal activity on Wednesday.
The Thorne Creek fire east of Thompson Falls had burned 2,043 acres and was 0% contained, according to a Wednesday update from the Lolo National Forest.
"The fire is burning in steep, rugged terrain in the Cube Iron/Silcox area and poses an extreme risk to firefighter safety," the release said.
Firefighters plan to continue using heavy equipment and hand crews to construct indirect control lines from the Weber Gulch Trailhead to Thompson River Road.
North of I-90 and 12 miles east of Superior, the Deep Lookout Mountain fire had burned 365 acres and was 77% contained as of Wednesday. As crews complete suppression activities and resources are no longer needed, they will be shifted to the Thorne Creek fire, the release said.
Tuesday cloud cover and a few passing showers helped reduce behavior on the Burnt Peak fire southwest of Troy, according to a release from the Great Basin Type 2 Incident Management Team. The blaze has reached 2,104 acres and is at 13% containment. Two helicopters and 219 personnel were working on the fire on Wednesday.
With expected thunderstorms in the area Wednesday evening, the potential for large fire growth remains, as vegetation is at critically low moisture levels. Some residences in the area have been placed on pre-evacuation notice. For the safety of the firefighters, the Kootenai National Forest has closed the North Fork Keeler Creek, Keeler/Rattle Creek and Lime Butte roads for the time being.
Stage II fire restrictions will go into effect for most lands administered by the Bureau of Land of Land Management in the agency's Western Montana District starting Thursday, according to a Tuesday news release.
The order applies to all BLM lands in the following counties: Beaverhead, Madison, Silver Bow, Deer Lodge, Powell (south of Interstate 90 and Montana Highway 12) and Granite (south of Interstate 90 and east of the Lolo National Forest boundary).