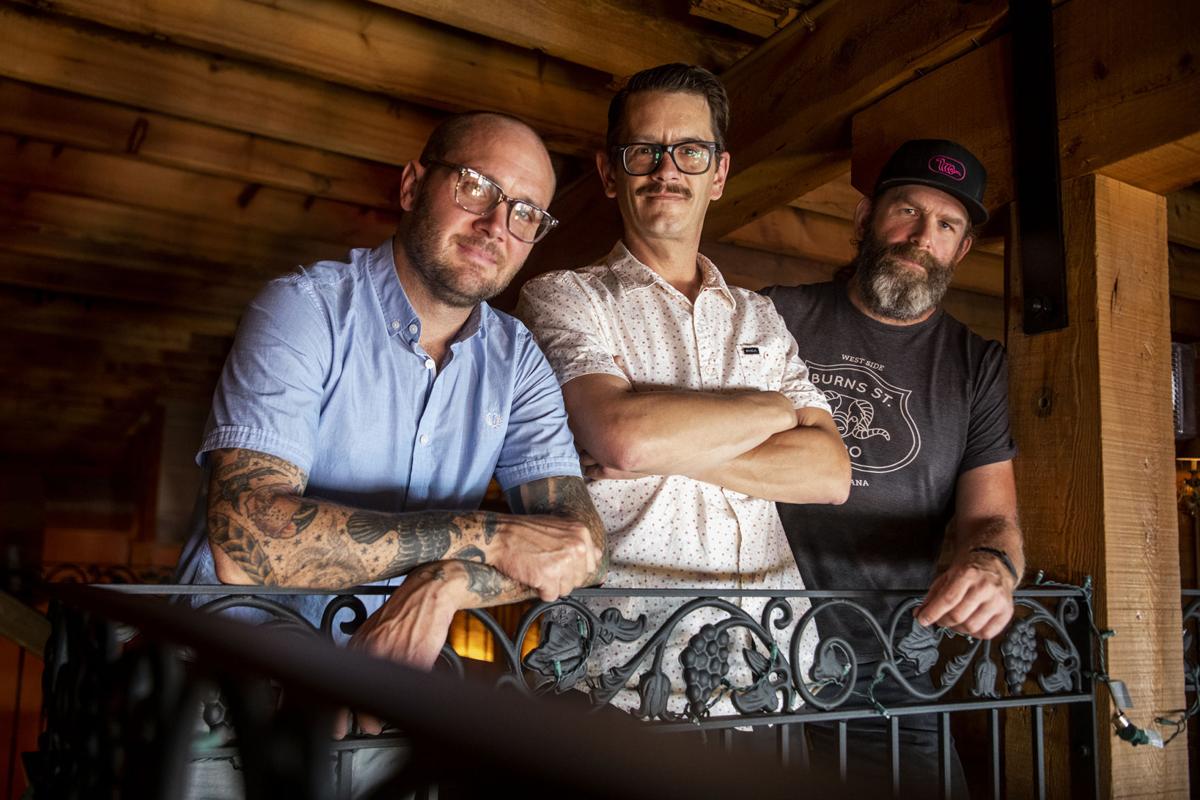 After a decade of success with their first venture, three local restaurateurs are now planning to open a new French-inspired eatery and oyster bar in downtown Missoula this winter. 
Walker Hunter, Cameron Williams and Jason McMackin own and operate the popular Burns St. Bistro, which opened in 2012 in a revitalized former warehouse next to the railroad tracks in the Westside neighborhood.
Now, they're in the midst of planning their second big project in town. They recently announced plans to remodel the former Pearl Café building at 231 E. Front Street, and they'll turn it into the Brasserie Porte Rouge.
"Before you head to Google Translate, that's Red Door Brasserie and you can watch for that door — along with a menu teeming with Bistro-esque takes on French standards, oysters, beer and cheese upon cheese — opening this winter," Hunter explained.
They haven't actually started construction work yet because they're waiting on permits, but they plan on taking out a wall inside the 120-year-old building to open up the interior dining space.
"Basically we're opening up the whole first floor back to the kitchen," Williams said. "We've got a pretty good team of designers and architects. From what we've seen of 3D portrayals of it, it's going to be pretty strikingly gorgeous in here."
They'll also add a large curved bar for people to get oysters and beer while they wait for a table.
Hunter used to work for Pearl Cash, the longtime chef and owner of the Pearl Café, which also featured French cuisine. They remained friends, and when she retired after 40 years in business earlier this year, they began discussions about the sale of the building. The sale also comes with a license to sell beer and wine.
"We could not be more proud of this development, but we temper this pride with a great deal of humility and gratitude," Hunter said. "We're humbled by the prospect of operating out of such an important space as the former Pearl Café and of carrying on the legacy of one of Montana's gems."
Hunter is also grateful to all the Burns St. Bistro employees and customers who have made that restaurant so successful, he said. The Bistro isn't going anywhere, so the trio will be busy operating both locations.
McMackin said the new location will be open from 11 a.m. to 11 p.m. and will have two separate happy hours.
"So we'll have a lunch menu that's basically a dinner menu lite and then we're gonna have an oyster bar as well," he said. "We'll have a traditional French seasonal menu."
They'll also have "homages" to classic Pearl Café items like butterscotch pudding, but they won't always be on the menu permanently, he said.
McMackin is the baker for Burns St. Bistro and will have breads and other items for the new restaurant.
Both he and Hunter agree that French cooking is something that Missoulians will appreciate.
"I think food trends come and go, but I think French food never goes out of style," McMackin said. "It's still one of the most approachable cuisines."
Hunter said customers can expect a very different style of plate presentation.
"We're looking at brochettes — skewers of meat — dangling above mashed potatoes on a Sword of Damocles-looking thing," he said. "We really want to bring something that people are going to look at and get excited about before they even have the first bite rather than just stacking items on top of each other."
As for prices, Hunter said they want people to feel like they can get a solid meal for $20 and they're not looking to be too pretentious or uninviting to locals.
"There'll be plenty of things for everyone," McMackin explained. "There'll be burgers for lunch. There'll be something for Uncle Rick. This isn't like a challenge. We're not trying to put up a wall."
All three are excited about the location — an area of town that's seen the construction of two new hotels, a new public library, a new student housing complex and multiple other restaurants in the past few years.
"Frankly, the history of it is more attractive to me than the future of it, but the future of it is more viable than the history if you know what I mean," Hunter said. "Even when I started working down here, this was kind of like the darkened corner of downtown."
Now he and McMackin believe the area has a more European feel, with outdoor seating and wide pedestrian spaces. They are excited to add to that atmosphere when they open this winter.
They also want people to know that the Burns St. Bistro will still be the place to find food items you can't get anywhere else.
"If you need Monster Energy hot sauce sometime in the next month or two, we'll get it," McMackin said.