Big changes and new businesses, including a new indoor trampoline park and a new dine-in movie theater, are on track to open in Missoula's midtown area in the next few months.
The first to open looks like it will be Flying Squirrel, a trampoline-based aerial acrobatics funhouse with a laser maze and a café.
Co-owner Luke Schueler said the recreation center is scheduled to open at 2501 Brooks St., in the site of the old Hastings store, by Dec. 18 as long as supplies are shipped on time.
The park will have wall-to-wall trampolines, foam pits, jump boxes, a dunk hoop and dodgeball courts, among other activities. It's been under construction for the past several months, and people driving by on Brooks will have noticed the huge neon pink and black sign.
"Things are going well," Schueler said. "Everything is on track to open and I don't foresee anything holding us up as of now."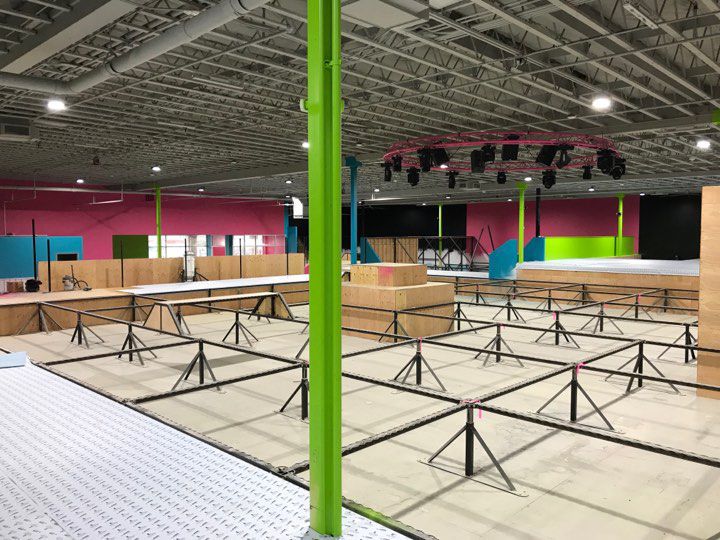 Schueler and his brother Cody, natives of the Bitterroot Valley, started several similar parks in Canada and the United States, but this will be their first foray into their home state. They market Flying Squirrel Sports as a place that's fun for the whole family where "the rules of gravity no longer apply." They say they pride themselves on safety and cleanliness.
Just down the road at Southgate Mall, the new extension of the new Mary Avenue, which connects Brooks Street to Reserve Street partially through mall property, is all the way open except for the final block between Clark Street and Reserve. That last piece is expected to open in mid-December, allowing for a new mid-city connector route.
Construction at the mall is underway for two new tenants: a 900-seat, nine-screen AMC dine-in movie theater and a new Lucky's Market grocery store.
Southgate Mall general manager Tim Winger said the theater is on pace to open sometime around late February or March next year. When it does, customers will be able to order things like pizza, hamburgers and salads while they relax in large reclining chairs to take in a new flick.
"They're moving ahead," Winger said. "We get a report every couple weeks and pop in there from time to time. There's a couple theaters that are just about done with the landlord work, and the work that the theater is responsible for will be starting in the next week or two to complete the theater boxes for each individual theater auditorium. We're excited."
The Lucky's Market, a specialty grocery store that focuses on natural, organic and locally grown products, is still scheduled to open sometime next year in a portion of the old 70,000-square-foot Sears space at the mall. It's part of a $64 million redevelopment and expansion project that the mall is undertaking to attract more customers by providing different services and amenities.
The Missoula City Council and the Missoula Redevelopment Agency last year approved the issuance and sale of $1.6 million worth of Tax Increment Urban Renewal Revenue Bonds to finance the design and construction of Mary Avenue West, which is the portion to the west of the Bitterroot Spur railroad tracks.