A common theme is emerging from plans for the new $37.5 million Missoula Public Library when it opens in July 2020: Kids are going to love it. However, parents on a tight budget who lament that they can't find enough free activities for their kids in the winter might love it even more.
The five-level, 109,000-square-foot complex will be a lively, art-infused, bustling space where children and teens can dissect eyeballs, learn media arts, scramble on a "DNA tornado" climber, practice cooking skills or dive into a nearly endless collection of music, movies and books.
And for the entire community, the facility will be a civic institution where people can go to check out their family genealogy, browse old newspaper articles, gaze at abstract art installations, take a parenting class, create crafts, host a catered board meeting, sip a latte on a sunny outdoor terrace or research topography. It will all take place in one of the most visually striking buildings in Missoula, if not the entire state, according to Mae Nan Ellingson, the chair of the Foundation for the Missoula Public Library's finance committee.
"The views all the way around are absolutely stunning," she said.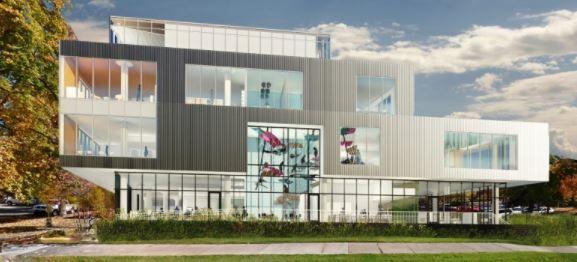 Karl Olson, the public relations manager for the Foundation for the Missoula Public Library and others involved in planning efforts for the library gave a public tour on Wednesday of the building, which is under construction and about halfway done.
He described each floor as having its own individual purpose:
First floor: "If the library is a city, then this is the town square," Olson said. "It's very busy, very active, very diverse. Lots of really cool things happening here. We don't just have a café. That's important. But we also have a used bookstore that's run by the Friends of the Library."
The floor also has a "maker space" with 3D printing and all kinds of technology that people need to do their DIY crafts, he said.
"Next to the maker space is a community lab," Olson continued. "And then there's a teen library with a gaming area. We have a media center where people check out DVDs and laptops to use in the building. And then over to my left is the headquarters for MCAT, which is now Missoula Community Media Resource. You can go in and use their studios. You can check out equipment. You can get training on media arts."
Second floor: The entire second floor will be home to the Hank and Nancy Harrington Children's Library.
"We have a great children's program in our current library, but it's just one little wing of our library now," Olson said. "In this new library, children and their families will have one entire level to themselves. So we'll have generation after generation of kids just growing up on this floor with all the wonderful things that they will find here."
He said early childhood literacy programming is one of, if not the most, important thing that the library does.
"We're proud of our efforts on that front," Olson noted.
There will be digital literacy, cultural literacy and STEM literacy added to the programming. The library will be partnering with the Families First Learning Lab and UM Spectrum Discovery Area, and both organizations will be under the library's roof and will offer free admission for hands-on activities for kids and adults. A $1.3 million grant from the National Institutes of Health will fund a two-story climber modeled after DNA, which kids want to call a "DNA tornado," along with a research lab.
Third floor: "Books are not disappearing," Olson said. "They're not going anywhere. In our new library we will be able to almost double our capacity for our collection. That will take time, but we will have an expanded collection upon opening day, and we're really excited about that."
You have free articles remaining.
He said the library is focused on bringing texts to life.
"On the third floor, for example, there will be a pretty extensive cookbook collection, which is very popular in our library and community," he said. "With that collection will be a demonstration kitchen for cooking classes and nutrition classes. That kitchen can be used or buttoned up and used as a classroom or meeting space."
In the other corner of the third floor, in the periodicals lounge, there will be an extensive collection of books on wildlife and visitors can grab an elk-viewing scope and watch the elk herd on Mount Jumbo or the sheepherder in the summer.
The Montana Room on the third floor will be wood-paneled for a warm look, and will feature a genealogy collection and reference materials such as a Missoulian newspaper archive for history buffs.
Fourth floor: The top floor will feature an outdoor terrace and the Blackfoot Boardroom, which can host 25-30 people. There will also be Cooper's Space, an event space that will accommodate 250 people seated with great views all the way around. It can be divided and there will be a catering kitchen.
"We're really quite thrilled to have this amount of gathering space and to have flexibility for all kinds of groups," Olson said. "We'll have nonprofit organizations having their board meetings. We have an Italian language group that meets."
It will be a place where senior citizens can attend seminars on cybersecurity or the League of Women Voters can hold affordable housing workshops.
"That's why it's here, is it's a public space," Olson explained.
Ground floor: The library will have 63 parking spaces, almost double the current amount, Olson said. A grand staircase that travels all the way up from the ground floor will be covered in art.
"It will be a really neat installation created out of wood that goes up all five levels all the way to the top," he said. "What it is, is a birds-eye-view of the Missoula Valley that has been pixelated and turned into a somewhat abstract modern art installation. It represents our ties to the community."
Jon Sears, a construction manager with A&E Architects, said the building will be 70% more energy-efficient than a similar-size modern building. That means, for example, about 30% less electricity usage and a geothermal heating system.
"Human comfort is being taken into account," he said. "We're using environmentally friendly materials, low-toxicity materials and regional materials whenever possible."
The new library is being paid for with a $30 million voter-approved bond, a $5.65 million capital campaign from private donors, $500,000 from the Missoula Redevelopment Agency in Tax Increment Financing and $850,000 in pre-paid expenses.
Ellingson said Nick and Robin Checota, through their Logjam Foundation, recently donated $50,000 for a children's art space in the library, which means the library's foundation has to raise just $450,000 more to pay off all loans and interest.
"We're $450,000 away from being fully funded," she said.