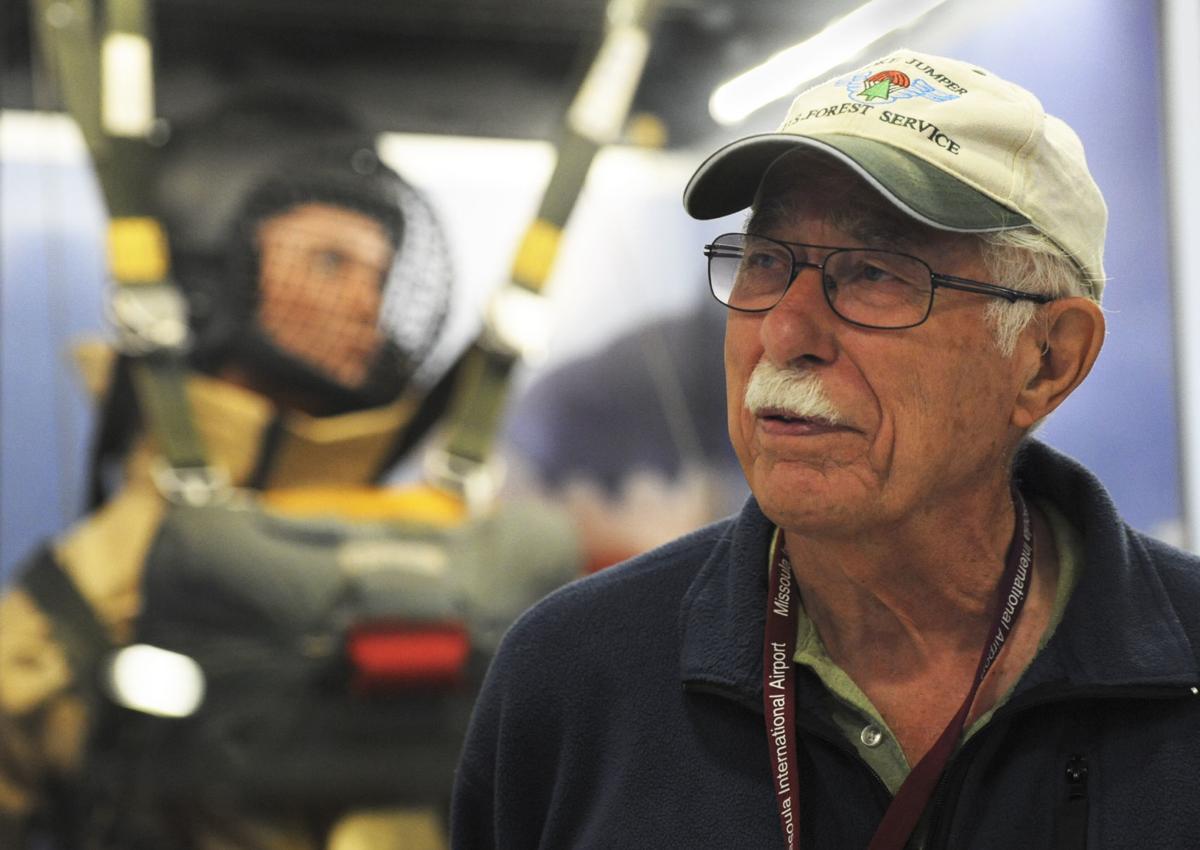 One tall display case stands empty this week in the new smokejumping history exhibit at the Museum of Mountain Flying.
"We're missing Francis," Charlie Rodgers said Thursday morning.
Rodgers is a volunteer at the 16-year-old museum that's tucked between warehouses on the northeast side of Missoula International Airport.
He was a smokejumper out of the Missoula base just down the road from 1964-79 and later assistant regional fire coordinator for the U.S. Forest Service.
So while the stand-up exhibit that Rodgers helped assemble stands on its own, the fact that a mannequin wearing Francis Lufkin's old red jumpsuit isn't yet part of it was something to point out.
Outside, general aviation pilots and fans were already landing and congregating in advance of the two-day Aircraft Owners and Pilots Association (AOPA) regional fly-in that opens at noon Friday.
It's expected to draw as many as 8,000 people, and presumably many will make it over to the flying museum and its assembly of historic aircraft.
They'll find the smokejumper display at the back, and any number of references to Lufkin (1914-1998). In 1940 he and other Forest Service staffers established the first full-time smokejumper base near Missoula. The year before, as part of a Forest Service experimental program, Lufkin went down in history as the first smokejumper to make a training jump.
The red suit he wore that day in Winthrop, Washington, will soon be on display in the Missoula museum. It's in a local shop where a couple of replicas are being made.
"I met Francis a couple of times, but I didn't know him well," Rodgers said. "He was the (North Cascades) base manager at Winthrop for a long time. I think the last time I saw him was in the early '70s, so he must have retired sometime after that."
The new museum display stands in front of a wall and several tables filled with smokejumping paraphernalia from the past — photos, parachutes, chute packs and ripcords, posters from the movie "Red Skies of Montana" and the equipment to play the 1952 movie that was shot largely in western Montana. Stan Cohen, a co-founder of the museum, said much of it was put together by Jack Demmons of Missoula, former historian and secretary of the National Smokejumpers Association. It has been with the museum since its inception.
Rodgers was one of a handful of former jumpers who assembled the exhibit after museum personnel delivered it last month. Dick Hulla, Al Charters, Kim Maynard and Greg Lee spent "a couple of long days," to get it up before the AOPA fly-in.
Cohen said the exhibit came as a gift from the Evergreen Air and Space Museum in McMinnville, Oregon.
It was professionally built with the assistance of the National Smokejumpers Association.
"It's a permanent exhibit that stands by itself," Cohen said. "It's probably the best one there is around. It tells the whole story."
Among its features are panels detailing the history of Johnson Flying Service, the early development of smokejumping from 1934-46, and the social history of smokejumping. On back is a timeline that begins in 1917, when Col. H.H. (Hap) Arnold helped organize aerial fire patrols over several western states, "one of the first uses of aircraft in forest management."
Next to the timeline is a plaque that pays tribute to smokejumpers who were killed in action, starting with Malvin Brown. A member of the all-black 555th Parachute Infantry Battalion in World War II, Brown perished near Roseburg, Oregon, on Aug. 6, 1945, when he fell 150 feet from a tree after his battalion was sent west to fight fires.
Together the panels, plaques, photos and artifacts tell stories of a culture for which only a few hardy men and women are fit.
Rodgers said he was on the track team at the University of Texas when his coach urged him to look into a summer job attacking blister rust in Pierce, Idaho. That led him to the Missoula smokejumper base, and a life-changing experience, in 1964. 
"Jumping out of an airplane is probably the easiest part of the job," Rodgers said. "Firefighting is hard work, once you get on the ground. I'm probably glad I'm not putting on Nomex any more."
Water was more on the minds of fly-in participants than fire on Thursday, specifically rain that's forecast with 90 percent certainty on Saturday.
"We've got almost 600 aircraft RSVPs, but I imagine some of that could be diminished by the weather," said Chris Eads, outreach director for AOPA.
The largest regional fly-in attracted nearly 700 aircraft two years ago in Bremerton, Washington, on what Eads called "a beautiful weather weekend."
Missoula's won't be that big, but "if everybody who registered to come shows up, it would be one of the largest we've ever had," he said.
Two large Northstar Jet-Neptune Aviation hangars have been transformed into an exhibit hall and a main stage. The fly-in event features workshops, exhibits and, on Friday from 6-9 p.m., a Barnstormers party.
As part of the party kickoff, the Museum of Mountain Flying is dedicating and unveiling the nose art of its centerpiece DC-3 (military C-47), the "Mann Gulch" airplane. It'll be christened "Miss Montana" as the museum and others whip it into shape to fly to Normandy next June for the 75th anniversary of D-Day.
Eric Komberec, project chairman of "Miss Montana to Normandy," said U.S. Sen. Steve Daines, AOPA vice president Thomas Haines, and D-Day survivor John Nelson of Lolo will be among those at the dedication. Bryan Douglass, who's heading up logistics for the Miss Montana committee, will explain the history of the aircraft and its significance in going to Normandy.
Eads said the Barnstormer party may have an added attraction. Airplanes modified for a short take-off and landing (STOL) competition at 11 a.m. Saturday may make some demonstration runs on Friday night in case Saturday's event gets rained out.
The Barnstormer part and other fly-in events are free and open to the public.
Get local news delivered to your inbox!
Subscribe to our Daily Headlines newsletter.