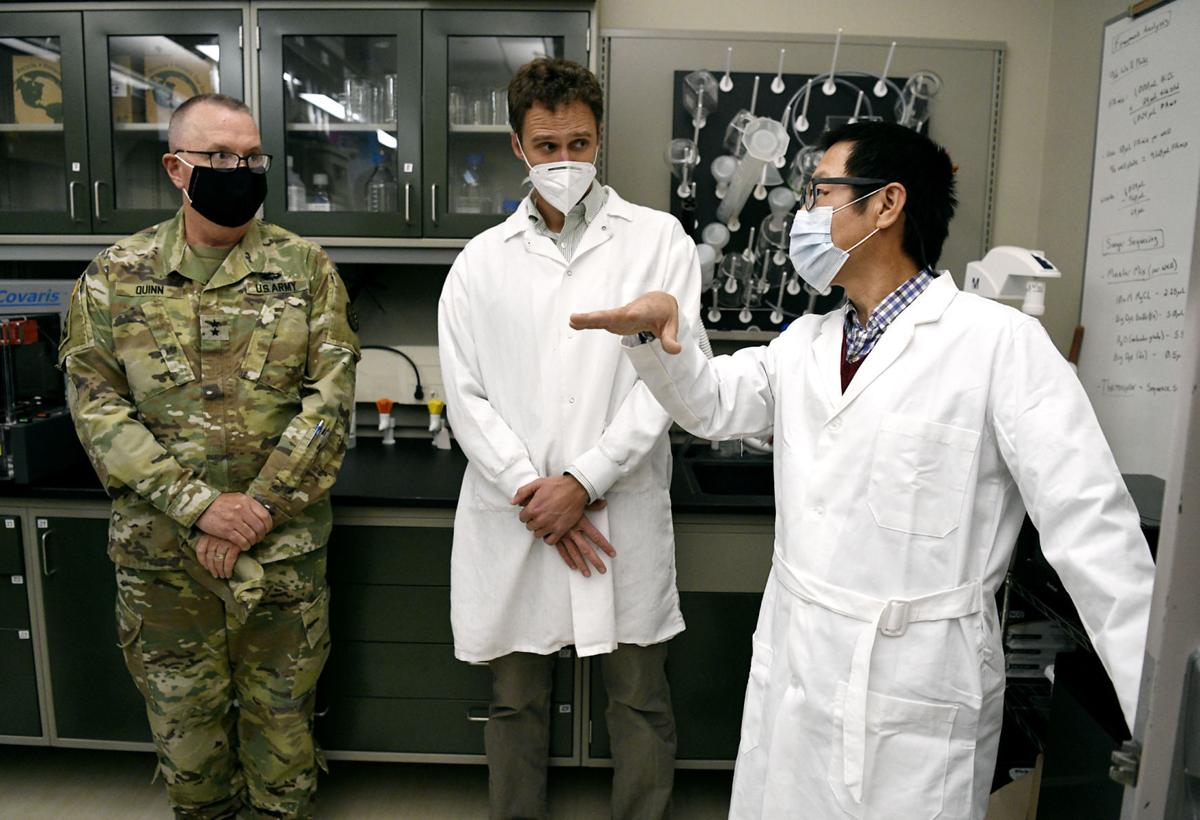 On Monday, the University of Montana will begin processing COVID-19 tests on campus and will soon drastically increase the state's capacity for processing those samples.
Once the project ramps up over the next few weeks, UM will be able to process up to 2,000 COVID-19 tests per week.
The new Clinical Laboratory Improvements Amendments-certified lab is located at the UM Genomics Core, a research lab on campus that provides molecular and genetics research services. The project is part of a partnership with the Montana Department of Public Health and Human Services.
Scott Whittenburg, UM's vice president for research and creative scholarship, said a number of researchers on campus came to him to see if there was a way they could help with the ongoing pandemic. They proposed two types of testing approaches: A wastewater testing mechanism or PCR (polymerase chain reaction) testing, which Whittenburg called the "gold standard" of tests. They settled on the latter.
"It was challenging, but fortunately we received a lot of support from the state," Whittenburg explained.
Officials from the state and UM took a tour of the new lab on Friday. The lab was started three years ago through a major gift from the Murdock Charitable Trust, Whittenburg said.
The cycle threshold (Ct) value of the University of Montana's PCR tests, which indicates the calculated viral load, will be 40. In this test, generally, if it takes a lower number of cycles to detect the virus, the person has a higher viral count; if after 40 cycles the virus isn't detected, the person tests negative.
"UM is eager to expand our public health partnership to best serve our students and the state of Montana," said UM President Seth Bodnar in a statement. "I give special thanks to everyone at UM and in Helena who worked so hard to put this agreement in place. Going forward, UM is now in position to add critical capacity to our state's robust testing efforts."
There are already tests conducted at UM's Curry Health Center for students who are showing symptoms or have been identified as a close contact of someone who has tested COVID-19 positive by the Missoula City-County Health Department.
"UM creating this additional testing capacity is really important for the citizens of Montana," said Maj. Gen. Matt Quinn, adjutant general of the Montana National Guard and commander of the Montana COVID-19 Task Force. "Every test that we can process across the state of Montana is critical to ensuring citizens can get their test results faster."
Researchers at UM are also working on a coronavirus vaccine. A partnership between the UM School of Public and Community Health Sciences is also working with the local health department to measure the impact and prevent the spread of COVID-19 in the Missoula area.
"I am grateful to our UM faculty, staff and students for adapting so quickly to fill this need and fulfill our responsibility as Montana's research university," Whittenburg concluded.