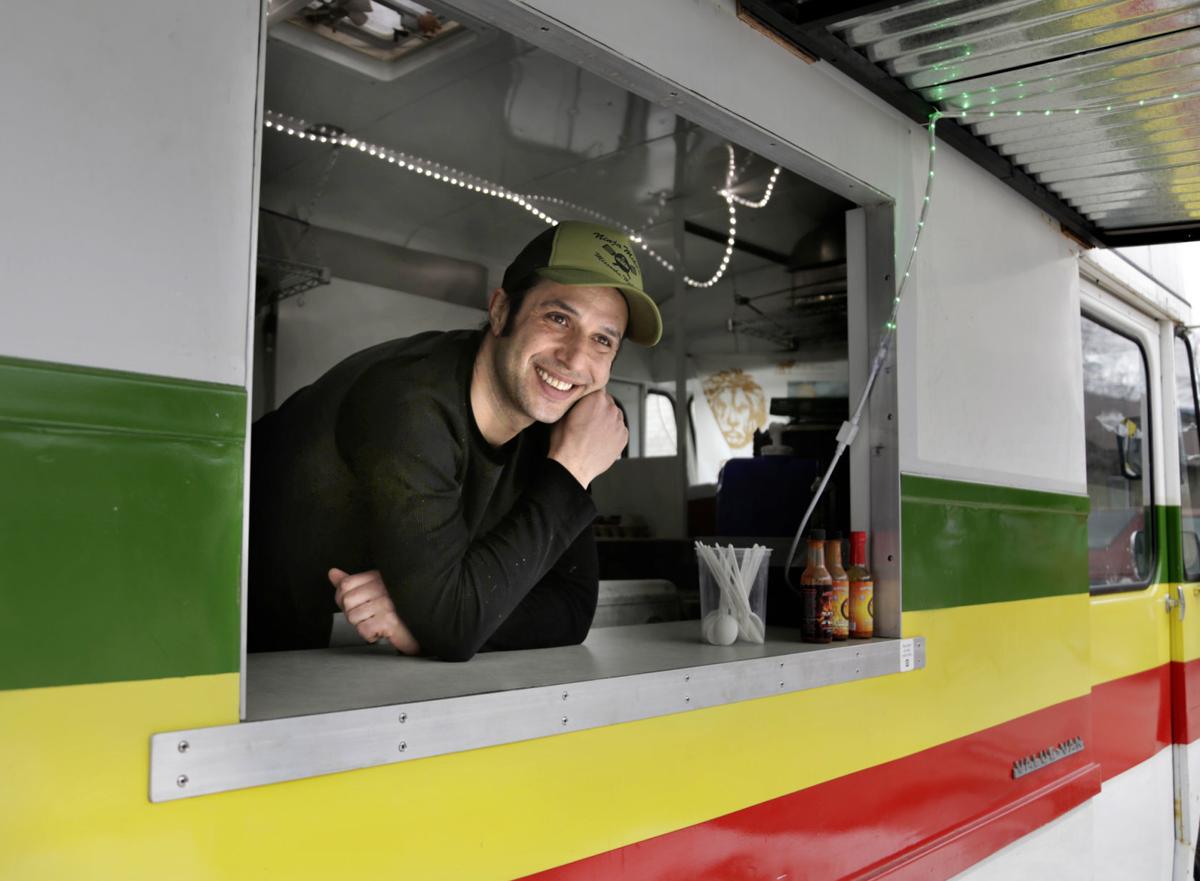 Ethan Sky and his wife Erin Hale of Missoula have unquestionably made the greatest hip-hop/comedy hype video for a breakfast burrito food truck-to-storefront fundraising campaign the world has ever seen.
Sky, who owns the popular Ninja Mike's breakfast sandwich stand at the Clark Fork Farmers Market and the food truck by the same name, enlisted a local all-star cast — including drummer John Wicks of the Fitz and the Tantrums and comedian Michael Beers — to create the video as a way to boost his IndieGogo fundraiser for a permanent storefront in downtown Missoula.
The clip is four-and-a-half minutes of perfectly timed one-liners, ridiculous costumes, changing locations, tongue-in-cheek humor and a catchy hip-hop beat created by Sky on a computer. His wife, Hale, has a professional film background and she story-boarded, shot and edited the whole thing.
Sky wants a permanent storefront to sling his locally sourced sandwiches, burritos and other foods, but he's trying to get community support to help with the initial hurdle of financing the up-front investment.
"When we decided we wanted to raise some money and go the crowdsourcing route, the research was like: You gotta have a video, you gotta have a video, you gotta have a video," he explained. "We researched Kickstarter and IndieGogo and all the restaurant-based ones, and the research said if you have a video online there's a 200 percent better chance you'll meet your goal. I mean, it's a significant difference as just opposed to a photo. Video is the way the online world's going."
All the videos they saw were low-quality and homemade. That's where Sky's wife stepped in, as she taught film production at the University of Montana.
"So with our powers combined, I thought we could put together this amazing video incorporating all the different facets of what I do in this town and just sharing the love and being bright and fun about it," he said. "And nobody's doing, like, a rap video on these websites."
Sky grew up in the '90s and has been coming up with his own raps since he was 13, mostly for relatives' weddings and bar mitzvahs.
"I put some rhymes together and it blows everyone away, even if it's just a Dr. Seuss rhyme," he said. "But if it's personalized, people really connect. And now it's just this creative bubble has exploded between my wife being able to use her magic on the film and (editing software). She did everything. She was the camera crew, she did the lighting, she did the editing. We shot multiple takes, she was running around fixing stuff and going back to the camera."
Sky started his farmer's market stand 10 years ago this summer with Tyson Nicol, and they bought matching mechanic's coveralls as work uniforms. Sky's had a nametag that said "Mike" and one day while he was slinging eggs frenetically with a spatula, trying to keep up with customers' orders, a kid remarked that he looked like a ninja.
"I need a better story, but that's where the name comes from," he said.
He describes himself as "almost militant" about sourcing his ingredients locally, from Lifeline cheese in the Bitterroot Valley to bread from Le Petit bakery to meats from Superior Meats. He also has a series of videos posted online describing his relationship with other community vendors.
He and his wife have finally decided that a downtown, permanent location is the right move, especially with a new hotel and a new student housing project opening up in the next few months, which should add roughly 1,000 more people to the downtown core every day.
Sky hasn't finalized the deal on the location downtown yet, so he can't say where exactly it will be. He does envision serving breakfast, lunch and perhaps the late-night crowd. The fundraiser has collected nearly $10,000, which is about a third of his goal.
"The demand for ethically sourced breakfast in Missoula has brought us an opportunity to open up a Ninja Mike's storefront," Hale posted on Facebook with a link to the fundraiser. "Peering down from 500 miles above, I see this shift from farmers market to storefront as the linchpin that shifts our family from survival mode to THRIVE mode. A shift that entrenches us deeper into the community. Better able to serve, hold space, and nurture."
Get local news delivered to your inbox!
Subscribe to our Daily Headlines newsletter.