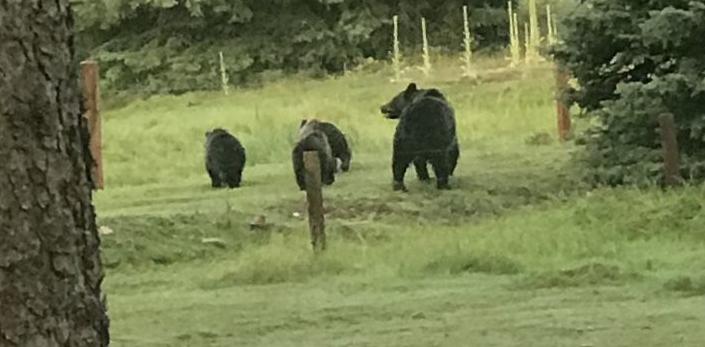 Two recent grizzly bear deaths in northwestern Montana, coupled with the high mortality rate there for the past two years, is prompting a group of researchers to publicly challenge the official narrative that the population is healthy and can be removed from federal protection.
The Nov. 7 shooting of a female grizzly bear by a hunter east of Eureka pushed the number of known "mortalities" to 48 in the Northern Continental Divide Ecosystem. That's close to the record number of 53 mortalities last year in the NCDE, which includes about 8 million acres in Glacier National Park, the Bob Marshall Wilderness complex and surrounding areas. It's home to an estimated 1,000 grizzlies.
Mortalities include the actual known dead bears, as well as those that are relocated or leave the NCDE on their own volition.
A second grizzly bear was killed by FWP officials on Sunday about 3.5 miles south of Libby, after it broke into a garage to feed on a harvested elk. This bear was in the Cabinet-Yaak Ecosystem, which is west of the NCDE along the Montana/Idaho border and is home to about 50 to 60 grizzly bears.
Grizzly bear researchers at Montana Fish, Wildlife and Parks and the U.S. Fish and Wildlife Service didn't return telephone calls late Tuesday afternoon seeking comments about whether they were concerned about the number of grizzly deaths this year, especially coupled with last year's record mortality.
But in October, FWP biologist Cecily Costello told the Missoulian it was too early to say whether the grizzly deaths in the NCDE were alarming or even a trend. At that point, she hadn't fully studied mortalities that took place inside or outside the NCDE geographic monitoring area, so she couldn't say what the impact might be on the population.
NCDE mortalities have fluctuated widely since 2004. Known and probable mortalities averaged in the low 20s from 2014 to 2016, before increasing to 28 in 2017 and spiking to 53 in 2018.
One positive factor grizzly bear managers cite in the high number of mortalities in 2018 and 2019 is that it could reflect the growth in the grizzly bear population. That growth could be pushing grizzlies into their historic territory that people now inhabit, causing more conflicts that get the bears removed.
Last year, the U.S. Fish and Wildlife Service put a hold on plans to possibly remove the NCDE population from protection under the Endangered Species Act, based on a federal judge's opinion involving grizzlies in the Yellowstone National Park ecosystem.
Judge Dana Christensen wrote that the government can't delist one ecosystem without exploring how that might affect grizzlies in other ecosystems. The lower 48 states have six designated grizzly ecosystem or "recovery" zones.
A group of five non-governmental grizzly bear researchers will challenge assertions that the NCDE population is "recovered" and can be delisted during a presentation at noon Friday at the University of Montana in Missoula.
Longtime grizzly advocate Mike Bader said one problem with the population estimates is that state and federal officials only count the dead grizzlies in the NCDE, not those that die outside the recovery zone. He added that the isolated grizzly population in the NCDE means that there's less genetic diversity, which also can be problematic.
And more people recreating in the backcountry, coupled with more timber sales, wildfires and drought, could be another reason grizzlies are being pushed out of the high country, leading to more encounters with people.
"You can't just say there are more bears because we're seeing more bears," Bader said on Tuesday. "They're putting out a one-sided narrative that everything is rosy and as good as it can be. But this is a deeper, long-term issue for bears and people to co-exist."
He added that the two back-to-back years of high grizzly mortality in the NCDE should serve as a warning.
"For every known mortality there's at least one more that we don't know about," Bader said. "Poachers don't turn themselves in. Hunters may shoot in self-defense at a bear but it's not found so it doesn't get counted. The bear could get hit by a car then go off to die and not be found.
"So when you're playing those math tricks, it obscures the full scope of what's going on."
Presenters at Friday's free conference include Fred Allendorf, a UM regents professor emeritus; Lee Metzgar, former director of UM zoology and wildlife biology; Brian Horejsi, an independent scientist; David Mattson, a retired scientist with the United States Geological Survey; and Frank Lance Craighead, an author and former executive director of the Craighead Institute.
The grizzly euthanized by FWP Nov. 10 for breaking into the garage had tried to break into a building in search of food on Oct. 11 south of Libby near Big Cherry Creek. It was fitted with a tracking collar and released to a remote location near Poorman Creek in the Cabinet Mountains the next day, but returned to attempt to gain human-related food.
"FWP monitored the bear's location and movements. Once it began frequenting residential areas again, I attempted to recapture the bear with the intent to euthanize it," FWP Grizzly Bear Management Specialist Kim Annis said in a news release. She added that the bear was 25 years old and weighed about 550 pounds, which was about 100 pounds more than when it was first captured and collared.
That bear gained notoriety after it was involved in a surprise attack on grizzly researcher Amber Kornak in May 2018 in the Poorman Creek drainage. It fled after she deployed bear spray, and that incident wasn't considered a strike against the bear since it was defending itself.
The other grizzly death last week is under investigation, after a hunter reported shooting it in self-defense on Sinclair Creek Trail in the Kootenai National Forest east of Eureka.
FWP reported Tuesday that a man was hunting alone when a female grizzly bear allegedly charged him on a forested trail the morning of Nov. 7. He shot the bear and notified a game warden.
The sow had a cub with her; its fate is unknown.
FWP reminds residents to remove or attractants like garbage, bird feeders and bird seed. Chicken and livestock should be inside electric fencing or a closed shed with a door.
Recreationists are urged to "Be Bear Aware" and carry bear spray.
Get local news delivered to your inbox!
Subscribe to our Daily Headlines newsletter.