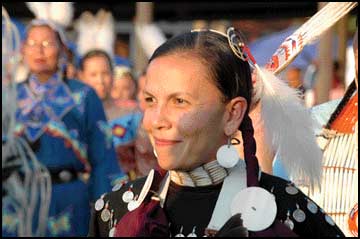 After an eight-year void in the White House, President Barack Obama has appointed an American Indian to a high-profile intergovernmental job to be the "eyes and ears" of Indian Country.
The Obama administration named three people to posts in its intergovernmental affairs office on Friday, including Jodi Archambault Gillette, a member of the Standing Rock Sioux Tribe. The Lakota woman will serve as a deputy associate director in an office that functions as a mediator between the administration and state, tribal and local governments.
"This is the first time we've had an American Indian that close to the White House, dealing with intergovernmental affairs," said David Gipp, president of the United Tribes Technical College in Bismarck, N.D., where Gillette previously served as director of the Native American Training Institute, a tribally operated nonprofit organization.
"She will be very helpful in coordinating tribal government, tribal leaders and Indian affairs across the board and all the federal agencies where there will be issues affecting tribes and Indian people," said Gipp. "She'll be able to reach across from one agency to the next. We look forward to her coordinating meetings at the highest levels of government with some of the secretaries and also the president."
Former President Bill Clinton was the last president to appoint someone to oversee tribal issues in the intergovernmental affairs office. However, Gillette will be the first Native person to hold the job.
Meanwhile, Obama also named Nicholas Rathod and Michael Blake as intergovernmental deputy associate directors.
"These individuals bring diverse experiences and a deep passion for public service to my administration," Obama said in a statement. "As we work to serve the American people and make this White House as open and transparent as possible, it's essential that we hear from citizens in all our communities. I am confident that Jodi, Michael and Nick will be valuable members of our team."
You have free articles remaining.
Many Indian Country advocates expect Obama to appoint at least one more Native person to a policy position within his administration.
Gillette, a North Dakota native, began working for the Obama administration last week. Leading up to the Nov. 2 general election, she served as the North Dakota First American Vote director for the Obama Campaign for Change.
She received her undergraduate degree in government and Native American Studies from Dartmouth College in 1991. In 2002, she was awarded a Bush Foundation Leadership Fellowship and earned a master's degree in public administration from the University of Minnesota.
Many people also know her as a champion women's traditional dancer, one of many qualities that suit her for the job, said Gipp, who is also from the Standing Rock Sioux Tribe. He expects education, housing, transportation and law enforcement issues to rank among the priority concerns for tribes that seek policy changes through the intergovernmental office.
"Jodi Gillette will be able to really bring focus to these issues so they can be discussed at the highest levels of government," said Gipp. "She's there to examine policy and put it together the way the president wants to do things. In terms of the president, she will be the eyes and the ears and analyze that policy, refine that policy and make it more effective for Indian people and tribal governments."
For more on potential Native appointees to the Obama administration, read reporter Jodi Rave's blog, buffalopost.net.