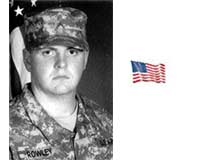 FORT LEE, Va. - Patrick Rowley, 21, of Fort Lee, Va., left us Sunday, June 22, 2008, of an undetermined cause.
He was born Jan. 10, 1987, in Missoula, to Shaun and Linda Rowley.
As a boy, Patrick found a love for camping, fishing, hunting, and the mountains of the Bitterroot Valley. He grew up in Hamilton, where he graduated high school in 2005.
Patrick recently enrolled in and completed his first classes through Central Texas College in his quest to earn a bachelor's degree.
On Jan. 20, 2007, Patrick joined the U.S. Army. He completed basic combat training in Fort Jackson, S.C., and went on to advanced individual training at Fort Lee. Upon graduation, he was assigned to the 58th Quartermaster petroleum company at Fort Lee where he worked as a petroleum supply specialist. Patrick had been repeatedly recognized by his commanders for outstanding performance of duty.
Patrick lived in Virginia since April 2007, but his heart never left his home in Hamilton. He spoke often of returning to the valley, where he looked forward to hiking the mountains, fishing the streams, and the annual tradition of setting up hunting camp and trekking through the mountains in search of that prized bull elk. Nothing, however, gave him more pleasure than spending time with his family and friends.
Patrick was preceded in death by his father, Shaun Rowley; and his grandfather, Bill Rowley.
Survivors include his mother, Linda Rowley (Steve Conner) of Darby; sisters, S.F.C. Bobbi Rowley and Susie Rowley both of Pinehurst, N.C., and Erin (Josh) Rehm of Belgrade; lifelong best friend, Adam Kraft of Fayetteville, N.C.; grandparents, Carol Rowley of Darby and Clyde and Florence Trollope of Hamilton; numerous aunts, uncles, cousins and friends.
Services will be held at 1 p.m. Tuesday, July 1, at the Daly-Leach Chapel in Hamilton. Urn placement will take place at Riverview Cemetery in Hamilton. Military honors will be presented by the U.S. Army during a private family service.
Honorary pallbearers will be Pete Reister, Derek Sanderson, Ryan Abbey, Ryan Ewer (U.S. Navy), AJ Grauberger, Myles Embleton (U.S. Navy), Robert Smith, Tim Twardowski, Phil Bergholm, Josh Kraude (U.S.M.C.), Matt Langton (U.S. Army), Pvt. Santos (U.S. Army) and Mike Johnson.