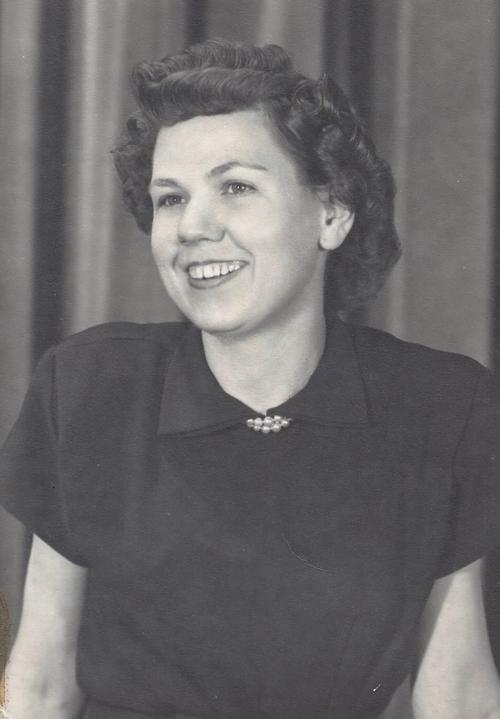 MISSOULA — Carolyn Eve Stauduhar, age 99, passed away at Riverside Health Care of Missoula under the care of Partners in Home Care Hospice, Nov. 18, 2020. Carolyn was a devoted Catholic convert who grew up on the East Side of Butte. Her mother Amanda Curtis and her half sister Ida Curtis immigrated from England in 1905. Her mother married Orin Robbins in 1915 and Carolyn was born in Dillon on Aug. 15, 1921, to Orin and Amanda. Soon after the family gave up prospecting the Dillon area to make a living in the Butte mines. She was the middle child to brothers Charles and Ray. They all attended school in Butte through high school.
Carolyn was married to Louis Calcaterra in 1941 and had one child, Joe. They divorced in 1942. In the years that followed she was a single mom working at Hennesy's Department Store in women's clothing and taking care of her son. She met Peter Stauduhar at one of the popular Saturday night dances in Butte, but turned down a ride home. They soon began dating and danced for the next 52 years.
On April 1, 1951, she married Peter Stauduhar at the Church of the Sacred Heart in Butte. They moved to Dillon where Peter worked as a carpenter learning the building trade. Peter then decided to return to his first love, cattle ranching. In 1953 they purchased a cattle ranch on the Ruby River in Madison County near Sheridan. For the next six years the family worked the ranch and cattle, as their son Joe and foster daughter Beverly grew up and completed high school in Sheridan.
In 1959 Peter and Carolyn sold the ranch and moved into Sheridan where Peter built custom homes for families throughout the area for the next 20 years. Peter was a sought after contractor known for quality construction and craftsmanship for a fair price. As a couple they met the challenges of life together as a team. Mother was a devoted volunteer for the American Cancer Society for much of her life as she assisted friends and families suffering from cancer.
During this period of time Peter and Carolyn became avid square dancers and loved ballroom dancing as well. They shared many years of dancing and traveling experiences around the world, accumulating many friends along the way. In 1961 they began their annual trek to Mesa, Arizona, to escape Montana's winters. Those months were spent dancing several times each week and making lifelong friends. This continued for 30 years.
In 1975 Peter and Carolyn made another move to Stevensville to be closer to family and build their retirement dream home. They continued to be active dancers and active in a non-denominational bible study group that produced many close caring friendships.
They moved to Missoula in 1995 and in 2006 Peter and Carolyn moved into the Missoula Manor. Peter died May 26, 2007 at the age of 94, after 57 years of marriage. Carolyn continued to live at Missoula Manor until January of 2018. She then moved into Auberge (Brookdale) Senior Living residence until August 2020 and moved to the Riverside Health Center Rehab and Health Care.
Carolyn was preceded in death by her parents Amanda and Orin Robbins, her sister Ida Crossman, brothers Charles and Ray Robbins and her husband Peter.
Survivors include son Joe Stauduhar and his wife Pat of Missoula, grandchildren Douglas Stauduhar (Jasey) and great-granddaughter Karli of Missoula, Amanda Bedey, Mike of Sioux City, Iowa; great-granddaughter Kaitlyn Shutz (Scott) and great-great-granddaughter Harper of Sioux Falls, South Dakota; nephews Steven Robbins, David Robbins (Amy), daughter Sarah of Butte; first cousin Eddie Pezzak (Mary) in California, daughters Julie (Kenny) Pezzotti and Linda (Kenny) Bay, foster daughter Beverly Filla of Walla Walla, Washington; Beverly's daughters Debbie Owen (Tom), Tammy Schnieder and daughters Taylor, Madison and Paris; Cheryl Stubblefield (Todd) and daughters Karissa, Ireland and son Kole and Heather Bayne (Kevin) and daughter McKenzie, sons Hayden and Lawson.
The Stauduhar family would like to thank all of the friends and care givers that either stayed in touch or provided the loving care that she needed along the way, to include The Missoula Manor, Auberge (Brookdale), Riverside Health Care, Partners in Home Care Hospice. We are most grateful for your friendship, caring and support.
A private service will be held for the family at Sunset Memorial Gardens. Memorials may be made to The American Cancer Society.
Obituaries Newsletter
Sign up to get the most recent local obituaries delivered to your inbox.