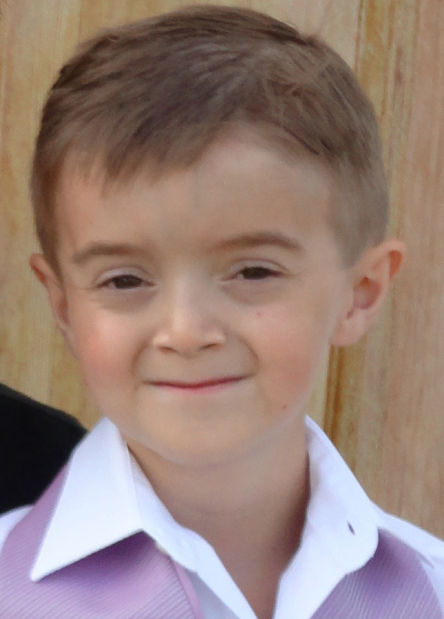 Sept. 6, 2003-July 11, 2014: MISSOULA – Cody Denzel Cordis went to be with his Lord and Savior on Friday, July 11, 2014, following a long and courageous battle with pulmonary fibrosis. Cody passed away peacefully in his mother's arms and was surrounding by his adoring family.
Cody was born on Sept. 6, 2003, and was an amazing little soul who touched so many lives with his enduring love and kindness. Cody was a child of great faith who believed with every fiber of his being that his suffering had a purpose and that Jesus was coming to take him home. He fought through each day with his eyes and heart turned to heaven as his ultimate destination. He was truly one of God's most precious creations.
Cody loved his family so very much and took great pride in being a brother to Cole and Emily. The week before he passed he made sure that each and every person knew how much he loved and cared about them. Cody was an inspiration not only to his family but to his medical team that never ceased to be amazed by his vibrant spirit and remarkable inner strength.
Cody enjoyed playing superheroes, Transformers, building Legos and playing video games with his brother and best friend, Cole. Cody had a passion for animals and loved his dogs Maverick and Bo. He dreamed of participating in wildlife rescues when he grew up and promised to be an "animal savior" when he went to Heaven.
Cody was given his maternal grandfather's name Cody "Denzel" Gann. Cody was also preceded in death by his infant sister Katie Eleanor; grandmother Eleanor Mikkelson; great-grandfather Jens Mikkelson; great-grandmother Jean Cordis and great-grandfather George Cordis. Cody is survived by his parents, Pamela Cordis-Gann of Missoula and William Cordis Jr. of St. Ignatius; brother Cole William Cordis and sister Emily Jean Schall of Missoula; grandparents Loretta Gann (Missoula) and Bill and Shirley Cordis of St. Ignatius; aunts and uncles, Andrew and Polly Huppert of Missoula, Wayne and Amy Gann of Minneapolis, Boyd and Shelley Frame of St. Ignatius and Brenda Cordis of St. Ignatius, as well as numerous cousins.
The family wishes to express its heartfelt thanks to Cody's pediatrician, Jennifer Hall, M.D., for her remarkable love, support and advocacy. Thank you to the pediatric staff at Community Hospital for all the wonderful, compassionate care and to Hospice, especially Jani Albans, for providing critical love and support to the family through this heartbreaking journey. Finally, thank you to the multitude of people who supported Cody with their thoughts, prayers and support.
A celebration of Cody's life will be held at Christian Life Center, 3801 S. Russell St., on Saturday, July 19, at 10 a.m., with a reception immediately following. Arrangements are under the direction and care of Garden City Funeral Home and Crematory. The family has chosen a particular theme for floral arrangements and asks that floral gifts be arranged through Garden City Floral. Condolences may be sent to 1337 A Lily Court, Missoula, MT 59802. Donations may be sent to the Cordis Benefit Account at First Security Bank in Missoula.