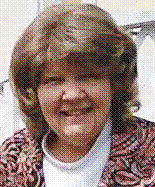 MISSOULA – Dianna Lynn (Robb) Streit, local pastor's wife and piano teacher, passed away in the early morning hours of Nov. 25, 2014, at the age of 76. Born in Rapid City, South Dakota, on Feb. 7, 1938, she was the only daughter of the late playwright, radio personality and longtime court reporter, Reva Robb.
Dianna grew up in Rapid City and graduated from Rapid City High School in 1956. She then moved to Oregon to attend Eugene Bible College, where she studied music and elementary education, graduating in 1960. Dianna taught piano and violin privately for 60 years.
Dianna was married to her husband, W. Dale Streit of Kalispell, for 54 years. A young airman briefly posted at Ellsworth Air Force Base in Rapid City – and also a puppeteer with his own Christian-based puppet show – Dianna's mother Reva had interviewed him for a magazine and, liking him, introduced him to her daughter.
After the wedding, Dale and Dianna lived in Oakland, California, from 1960 to 1968, where the first three of their four children were born. In 1968 the Streits moved to Dale's hometown of Kalispell, where Dale graduated from Flathead Valley Community College in 1970 with a degree in art.
That same year, Dale and Dianna moved their family to Missoula so Dale could attend the University of Montana. Their youngest son, Michael, was born there in 1974.
Dianna continued to teach piano and violin, and when her kids were mostly grown, went back to school at the Missoula Vo-Tech for two years, where she also briefly taught legal office procedures and graduated in 1986 as a legal assistant. She then worked for several law firms as a legal secretary.
Together with her husband Dale, their life's work became the church they pioneered in the early years of the 1970s. When the couple opened their home for Bible studies and Bible-based instruction and fellowship, the gathering quickly grew into the Fellowship Gospel Assembly Church, which is still going strong today at the corner of Third and Myrtle in Missoula. Today, many people throughout the country and also a number of ministries credit Dale and Dianna Streit as a major influence in their spiritual foundations, and many as their "father and mother" in the Lord. In later years, Dale became the overseer of other churches as well in California and Canada, his faithful wife Dianna by his side.
Dianna was preceded in death by her father, Jasper Robb, in the 1960s and her mother, Reva Robb of Rapid City and later Missoula, in 2011. She is also survived by her younger brother, Jay Robb of Laurel.
Dianna also will be sorely missed – although temporarily – by her loving husband of 54 years, Pastor Dale Streit; and their four children, Becky (John) Carlson of Missoula, David (Julie) Streit of Beaverton, Oregon, Mark (Katherine) Streit of Kelowna, British Columbia, and Michael (Briana) Streit of Missoula.
Dianna also leaves behind 15 grandchildren, the last coming the day after she passed: Becky's children (Matthew, Joseph and Abigail Carlson), David's children (William, Logan, Stephen, Rachel, Elizabeth and Bryan Streit), Mark's children (Samuel and Benjamin Streit), and Michael's children (Joshua, Zachariah, Emmalynn and Elijah Streit, Eli being born the day after his grandmother passed).
A Celebration-of-Life will be held at the Missoula Gospel Assembly Church, 201 S. Third St. W., at 2 p.m. Sunday, Dec. 28, with refreshments following the service. On behalf of the family, please feel free to attend.