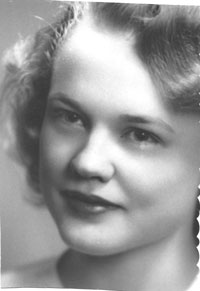 FRENCHTOWN – Doris Louise Aichlmayr, 85, passed away at her home in Frenchtown on Wednesday, Jan. 9, 2013.
Born Oct. 2, 1927, in Homestead, Mont., to Tom and Lena Danielson, she attended rural school east of Homestead through eighth grade. In 1945, she graduated from Medicine Lake High School as valedictorian of her class. She graduated from Kinman Business College in Spokane and it was there she met her future husband, Leonard Aichlmayr. They were married June 27, 1947, in Spokane.
Doris and Leonard made their homes in Spokane, Seattle, and Beaverton, Ore., and after Leonard retired they moved to Lakeside and finally to Frenchtown.
Doris was a "stay-at-home" mom and busy raising their six children. She was an excellent homemaker, seamstress, cook and most of all a loving wife and mother, always seeing that things were running smoothly and on time at home. Her wonderful smile and positive, cheerful attitude were a day brightener to all who were blessed enough to meet her along life's way.
Doris was preceded in death by her parents, Tom and Lena Danielson; infant sister Carol Ann; husband Leonard; daughter Cheryl Ann and grandson Adam Airhlmayr. She leaves to mourn her, her sister, Ardyce (Don) Herman of Kalispell and children Steve and Jason; and her five children, Tom (Debbie) of Frenchtown and their children Isaac, Michelle and Daniel; Jim of Helena and his children, Amory, Dalen, Larissa and Culver; Debra MacGregor Shoop (Greg) of Colorado Springs, Colo., and their children Emily, Graham, Laurel and Michael; Greg of Colorado Springs and his children, Evan, Mathew, Andrew and Ashley, and Susan of Washington and her children Shauna, Jack and Joe. Doris also has 12 great- grandchildren.
Family times were special times for Doris and Leonard and the times spent at the river, family reunions, anniversaries, birthdays and holidays all hold special memories in the hearts of her loved ones. Cherish those memories and the love that she shared with all of you.
Funeral Mass will be held Wednesday, Jan. 16, at 11 a.m. at St. John the Baptist Catholic Church in Frenchtown.