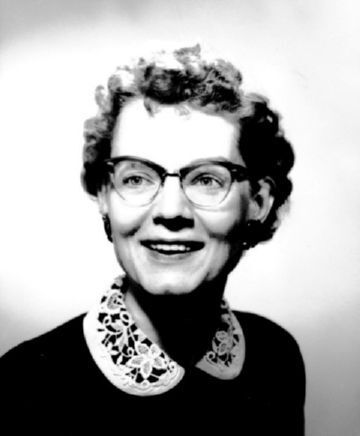 Elizabeth Jane Ellsperman
MISSOULA ~ Jane, who delighted in laughing and making others laugh, untethered herself from Earth on March 24, 2021. Her son, John States, was holding her hand as she passed.
Jane was born to Laura Longfellow Stoffle and George Powell in Red Cliff, Colorado, on October 27, 1916. Premature, weighing less than four pounds, Jane was not expected to live. Swaddled by the midwife and put in a small box placed in the wood stove's warming oven, Jane loved to say: "I sure fooled them."
A brilliant but modest scholar, Jane graduated from high school as Valedictorian at age 16. She earned a Bachelor of Science degree in business administration at Denver University in an era when most women did not pursue higher education. Breaking another norm, she worked outside the home. She tried teaching but hated grading papers at night. Over the years she worked for the Air Force Reserves Record Center, the U.S. Department of Labor, and the U.S. Postal Service. No doubt in each of her jobs, regardless of title, she was the brains of the outfit.
A passion for travel took her all over the world. Favorites were Easter Island and Tahiti. After classes at the Arthur Murray Dance Studio, Jane enjoyed and excelled at ballroom dancing.
In June 2001 Jane moved from Lakewood, Colorado, to Missoula. She gleefully participated in hootenannies and various family gatherings, but not so gleefully in Tai Chi and other exercises that her family thought would benefit her health. Eventually it became obvious that she needed no advice about longevity. When asked her secret, she replied that she had never smoked. A favorite joke was to tell people that if they didn't want to get trapped too long in a marriage, just marry a smoker.
Jane listened and was kind to others. In the Riverside Healthcare Center, Jane was beloved by staff because she treated them with respect. "These places sure are nice for seniors." Gratitude for and contentment with whatever situation she was in empowered her and surely prolonged her life. Jane's family thanks the many generous people who helped her over the years: staffs at the Missoula Manor and Riverside. We are profoundly grateful to Cassie Maguire, Heidi Halvorson, Tammy Block, and Bobbi Johnson.
Survivors include David States, his wife Diane and children Dylan and Dakotah; John States, his wife Rosalind Hudgens and son Jason Gutzmer; stepchildren Brian Van Horne, Cheryl Sanborn, and Jerry Van Horne; and niece Laura Powell.
At Jane's request, no services will be held. To leave memories, photos or condolences online, please visit www.gardencityfh.com
Arrangements are under the care of Garden City Funeral Home in Missoula.