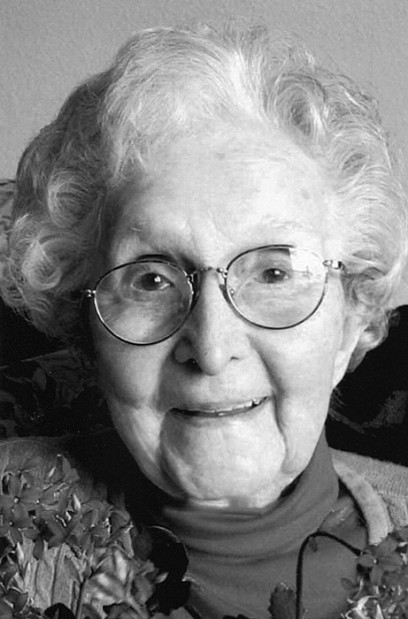 MISSOULA - Emma Anna Marie Erickson Finstad was born on June 4, 1913, in Glasgow to Anders and Anna Erickson. On Sunday, Dec. 5, 2010, the angels came to take her home at age 97.
Emma was a strong woman of Swedish descent who learned at an early age that hard work and perseverance were the keys to success. As a child, she milked cows before riding her horse Topsy to school. In the winter, she often skied to school. The second of three children, she took care of her little sister, cleaned, cooked and washed dishes with her mother.
Emma met the love of her life, Tony, and danced to the big bands on the streets of Glasgow. They married and lived in a one-room, tar-paper shack at the edge of Fort Peck, while Tony worked on the dam. They had three children while following work to Farragut, Idaho, and Bremerton, Wash., finally settling in Helena. While raising her children in a small log home, she cleaned, cooked and worked outside the home, until she and Tony started their own business, Finstad Flooring. They were tireless workers. The business prospered and life was good for them. They enjoyed many friends, card parties and midnight "feeds," complete with home-baked rolls and pies. They continued to dance and won the "Best Dancers in Helena," award at Governor Babcock's ball at the Civic Center. They were blessed with many grandchildren and great-grandchildren (nearly 50) and lavished all of them with love, gifts and compassion.
Emma brightened everyone's day with her sweet smile. She especially enjoyed traveling the backroads of Montana to view wildlife, flowers and streams. Lincoln was a favorite destination. She was patient and understanding, right to the end. She truly touched all who met her and made many friends, even in her last two years.
Emma was preceded in death by her husband, Tony; sister Betty Ann; and brother Carl.
She is survived by her daughter Donna of Missoula; son John and daughter Annette, both of Helena; and several nephews and nieces, and grandchildren all over the world.
A special thanks goes out to those who helped make her life better in her last years. The friends, attendants, cooks, housekeepers and beautician at Hunter's Glen were so good to her.
Obituaries Newsletter
Sign up to get the most recent local obituaries delivered to your inbox.