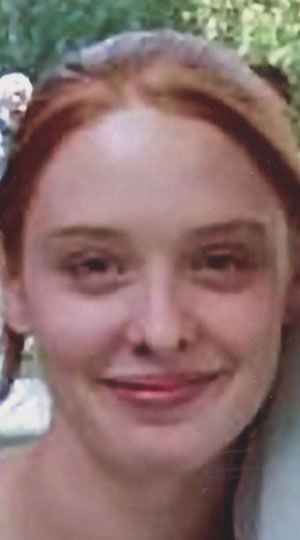 Feb. 19, 1990-Dec. 19, 2013
MISSOULA – Emma Christina Carney, 23, passed away Dec. 19, 2013, at her home in Missoula. She was born Feb. 19, 1990, the daughter of Tom and Shelly Carney. From the moment she was born, she greeted the world with bright red hair and a fiery personality.
Emma loved the arts, especially music. Emma started with the clarinet and was a natural. In grade school, she wrote and performed her own clarinet solo for a band concert. Later, her father taught her to play the guitar and how to use her winsome voice. Emma had found one of her niches. Eventually she and her father would perform on stage together.
Emma attended Willard High School, where she was involved in film and the arts. She was provided a video camera by a University of Montana grad student and asked to film a documentary about her life. When she was finished, the film opened at the UC Theater to a packed house. The film, called "Emma," was also featured at the Big Sky Documentary Film Festival at the Wilma. She also traveled to Canada with producer Valerie Krex and her closest childhood friend, Marakesh Lewis, to promote the film. Emma completed many film projects in high school. She even took first place in a short film contest.
Emma's biggest love was music. She relished in music venues big and small. Emma also enjoyed longboarding, dancing, drawing, painting, writing, camping and cooking for groups of people.
But Emma was best known for her brilliant sense of humor. She loved to wear costumes any day of the year and play outlandish jokes on people.
Emma was warm, kind and truly cared about people. She would help anyone who needed it. Emma loved being around people. Her friends and family were very important to her. She also has a soft spot for animals and adored her English Lab, Alabama.
Emma is survived by her father, Tom Carney; her mother, Shelly Carney; brothers, Rial and Liam Carney; grandparents, Jim and Donna Roach; stepfather, Shane Hale; along with numerous aunts, uncles, cousins and friends. She was preceded in death by her grandmother, Edna V. Carney of Dutton.
Emma had an enormous heart and impacted many lives as well as the greater Missoula community. She will always be remembered and is deeply, deeply missed. Float on, MZ ... we love you always.
Donations honoring Emma can be made to the Open Aide Alliance (500 N. Higgins Ave., Suite 107; 543-4770).
To plant a tree in memory of Emma Carney as a living tribute, please visit Tribute Store.
Obituaries Newsletter
Sign up to get the most recent local obituaries delivered to your inbox.