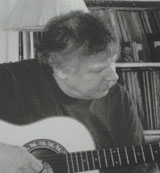 HAYDEN, Idaho – Gerald Douglas "Jerry" Bakke, 63, died Friday, July 15, 2011, in  Hayden, Idaho.
He was born to Andrew Bakke and Elaine Marie Wesp Feb. 7, 1948, in  Seattle.
Jerry grew up all over, from Seattle to Great Falls, where he graduated from Great Falls High School. He attended some college but never found his true calling, which ended up being music. Eventually settling down in Missoula until 1993 and then moving with his family of three children to Hayden where he lived out his beautiful life.
He was a musician playing all things guitar, which was his passion and a pressman most of his life and also was the owner of Missoula Shirts Silkscreening prior to relocating to the Coeur d'Alene area.
Music was everything to Jerry, only topped by family consisting of his three children, Jessica Bakke-Richmond, Ian Bakke and Tyler Bakke. The love and light of his life was his granddaughter Kaya Richmond and grandson on the way which he couldn't wait to meet. He was loved by his girlfriend Jan Krueger of Missoula. He also has one brother Larry and sister Cathy.
A celebration of his life will be held in Missoula,at Orchard Homes Country Life Club at 3 p.m. Saturday, July 30. Please come and share in the love and life of Jerry Bakke!
In lieu of flowers we think Gramps would like to give something to the future of his love and light, his granddaughter Kaya Nicoya and grandson on the way Ahmi Jones. You can gift to Wells Fargo account No. 2044107510, registered to Kaya Nicoya Richmond.
Obituaries Newsletter
Sign up to get the most recent local obituaries delivered to your inbox.