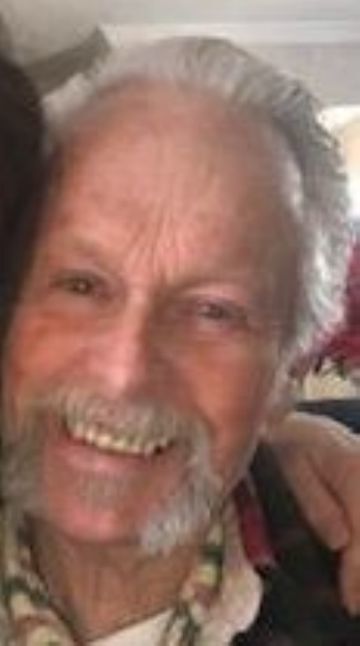 Stevensville - Jerry McGloin "Daddy", passed away Friday, April 16th 2021 from a single vehicle accident. He was 78. Although, anyone who knows Jerry, knows very well his bride Joyce called him home for the last time! How beautiful their reunion must be!
Jerry was born July 4th, 1942 to Eileen Cavanaugh McGloin in Bronx, N.Y. He always loved to tell people he came out with a bang! He never met his real father and his mother passed away when he was 9 years old. He may have had only a short time with his mom but he had many stories to share with us about her. One particular story that sticks out was the time he recalled that he and his mother were homeless and had no where to go, so they stayed in a church. It was the first time he was introduced to Gospel music, but it was then, it sparked his love for all soul music. So help me, this Mick had James Browns' moves and more Motown albums then Universal music.
After the passing of his mother he remained in the Bronx, being placed in several different foster homes. This was until he was introduced to Annie & Jimmy Stremple who he would eventually call his Step Mother & Father.
He attended Catholic School and went to Taft High School in N.Y. Dropping out before graduating, he applied for Chef School. Quickly realizing he had made a horrible decision and belonged working amongst the blue collar workers. He went to carpentry apprenticeship and 50 years later he would retire (kinda) as a Union Carpenter. He continued to work side jobs for people literally for the rest of his life! He enjoyed working which I always felt was one of his admirable qualities. His hard work stands from coast to coast; N.Y., Florida, Oregon, and Montana. Construction and Daddy's hands were a big part of his story. Except, my favorite stories Pop would tell always started with "This one time I was drinkin!
Jerry met the love of his life in the Bronx. A little Latin gal named Joyce, she was 12 years old and he was 15 years old. After years of courtship, the couple wed on October 31st, 1964. It has and will always be a big event to share their anniversary on Halloween. Their marriage was the definition of agape love. It has been an inspirational real life love story. This is not because it was 45 years of bliss, but for all they went through and still stayed strong!
Shortly after being married they had their first child in N.Y., their son Brian. After leaving N.Y. they moved to Florida and 12 years later they had their daughter Eileen. The family continued their journey and moved to Oregon and would finally settle down in Montana, where they have called home for the last 35 years.
Jerry will be remembered for so many attributes. Jerry was a husband, father, Papa, and friend. Such a LEGACY! He went from being the boy from New York, to the mountain man of Montana. He raced Triumphs in his earlier years and then chased Mountain Lions in his later years. His love for wildlife and nature was obvious to anyone lucky enough to cross his path. Instead of being the crazy old lady with cats, Pop was the crazy old man with hound dogs!
He had hundreds of news paper clippings that either pertained to wilderness, hiking, or mountain lions. And I have to express this again, he had HUNDREDS of articles that he saved but meticulously dated and high lighted.
We also recently learned that he donated money to multiple organizations. So many in fact that he had to make a monthly list in order to help keep track. To name a few; St. Joseph Children's Hospital, Montana Wildlife, US Deputy Sheriffs Assoc., Disabled American Veterans, American Foundation for the blind, KNOM- Catholic radio station in Nome, Alaska, Dakota Indian Foundation, Northern Plains Reservation Aid, Southwest Reservation Aid, Running Strong for American Indian youth, and of course we also know he donated to several of our local breweries! His most fa vorite cause to donate to was his grand daughters Joycelyn & Millie.
Daddy, Papa, Pops there's so much to share about your life. You truly were an incredible human despite your Irish Pride. Even then, you have and will always be our hero!
Jerry is survived by his son, Brian McGloin; his daughter, Eileen (McGloin) Deda and son in law Ron Deda; his grand babies, Joycelyn and Millie Deda all of Missoula. Jerry's wife Joyce's side of the family; Hild and Mike Brunelle, his neices and nephew, Denise, Suzette, & Mario. Extended family in Texas, Florida, and New York, and all our friends we call family.
A celebration of life is planned for Saturday May 1st at Jerry's house, 3951 Illinois Bench Rd, Stevensville MT 59870 at 1:00 p.m. Cremation will take place under the direction of Whitesett Funeral Home in Stevensville. Condolences and any other offerings to be shared can be mailed to the family at 333 South Surrey St, Missoula MT 59808.
~May the raindrops fall lightly on
May the soft winds freshen
May the sunshine brighten
May the burdens of the day
And may God enfold you in
See you on the other side Pop! Slainte!