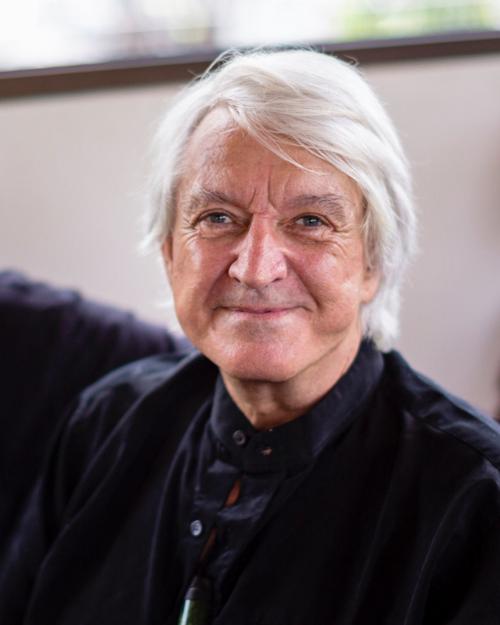 MISSOULA — John P. Anderson believed in grand gestures. He would give the best presents. He would give four dozen roses when one would do. He created a store that became a home to a generation of young people, and inspired his town to become a kinder and more welcoming place. John died in Bali, Indonesia on Nov. 24 at age 72 of heart failure.
John was born in Livingston on Oct. 5, 1947. His family moved to Missoula in 1954 where he attended Paxson grade school, Hellgate High School, and the University of Montana.
Working as a box boy at Brest Grocery on Higgins Avenue, John's friendship with the neighborhood women would prove productive when he began his first business selling engraved greeting cards. His charm and salesmanship allowed him to afford a solo trip to the Seattle World's Fair in 1962 when he was just fifteen.
While still in high school, John and Doug Bieri started an antique store located in Reeder's Alley in Helena. While the antique store was short-lived, their friendship continued when they both attended the University of Montana. It was at the university where John developed a passion for art history that led him on travels around the globe.
John roamed Europe, climbed the Great Wall of China, and the pyramids of the Yucatan. He traveled in Kenya and became friends with the Ethiopian national basketball team. He rode the Trans-Siberian railway and the Orient express. Burma, Thailand, Laos were not just destinations, but places filled with friends. He traveled in India, Sri Lanka, the Phillipines, and many remote islands of Indonesia.
John, Doug, and Linda Bennett began the Rishashay import store in 1970 at 527 N. Higgins. The Rishashay name was inspired by dialog from the Three Stooges movie, "Tassels in the Air", where socialite Mildred Smirch says to painter Moe "She is the one that said that your work is very recherche." Moe replies "Oh, anybody's liable to make a mistake." The first ad for the store used the phrase 'Beautiful Things from Far Away Lands', an inspiration that John followed for the rest of his life.
John was always politically engaged, and occupied the University ROTC office in 1970 as a protest against the killing of four students at Kent State. He helped start an Amnesty International chapter in Missoula. Both his store and his family home across from Bonner Park became a place of welcome for John's friends.
You have free articles remaining.
In 1972, the store was moved down the block to 515 S. Higgins, where John and twelve partners began the legendary Butterfly Building. In addition to his import store, John also partnered with Bruce Lee in The Spice Shop, later to become Butterfly Herbs, and was a guiding spirit in Crystal's Theater, later just the Crystal Theater, and the Gilded Lily restaurant. Bruce and John developed many teas, including Evening in Missoula, and Purple Mountains Majesty.
In the late 1970s, John and Linda formed a silver jewelry venture in Taxco, Guerrero, Mexico. Linda and John were mentored by Margo de Taxco, the legendary jewelry designer, and they both became immersed in the culture of Mexico. They worked with several silversmith families in Taxco, including the studios of the great Augustine and Tomas Sotelo. John hired his mother, Karine, to answer the phone and process orders.
He always loved to collect things. As a boy he collected stamps and coins, which he kept meticulously organized. That was part of his respect for what he collected. He had a lifelong obsession with beads.  He learned everything he could about every bead, and the people who made them. He collected Moroccan trade beads by the thousands, Mexican masks, tribal Naga necklaces, hundreds of antique Nats from Burma, and textiles from all over Asia.
In the 90's he moved his operation to Bali, which has since been his primary residence. Besides his jewelry business, which made hand-crafted, superior quality, exquisitely beautiful jewelry parts and findings, he opened up several retail stores, including  "Folk Art Gallery" which specialized in imports from Burma, and which was managed by Linda Bennett up until her death in 2017. Their spectacular collection was moved to Cargo in Portland, where it is overseen by his friend, Patty Merrill. John bought an old bamboo house in Java which he had moved by boat to Bali and re-created into an elegant beach house called "Villa Biru". He built another house for Linda, "Casa Babi", where he lived after Linda passed.
John had a loving relationship with his daughter, Lilliana Wright, and shared many adventures, including trips to India and Southeast Asia.
The family sends love and thanks to John's assistant and true friend, Antoinette Lubrecht, whose steadfastness and care allowed him to live his life on his own terms, and to Mead Brant, Ketut Buda and his late sister, Ilul, Ketut Nita, Ilul Ani, Nyoman, Gede, the Sinaga family (Cahaya, Erwin, Rolando), and Wayan Suyadnya, who were indispensable to John in Bali.
Friends are invited to share memories of John at the Zootown Arts Community Center, 216 W. Main St., on Dec. 15, 2019 from 1-4 p.m. Cremation has taken place in Bali. A traditional Balinese ceremony is planned for February in Bali, followed by a family gathering in Missoula in the summer.
John is survived by his daughter, Lilliana Wright, Lilliana's sister, Ava, and their mother, Andrea Smith, all of New Denver, B.C., his friend in Bali, Germanus Id, and three siblings — Joan (Phil) Berman of Oak Park, Illinois, Roberta Anderson of Polson, and David (Susan) Anderson of Missoula. He was preceeded in death by his brother, Robert L. Anderson. He also has two nieces and a nephew in Oak Park--Mary Berman, Louis Berman, and Lily (Adam) Lopez. 
Donations in John's memory may be made to the Bali Animal Welfare Association, bawabali.com, or the Studer Trust, studertrust.org, an organization run by his friend, Cho Cho Lwin, that builds schools in Myanmar.
To plant a tree in memory of John Anderson as a living tribute, please visit Tribute Store.