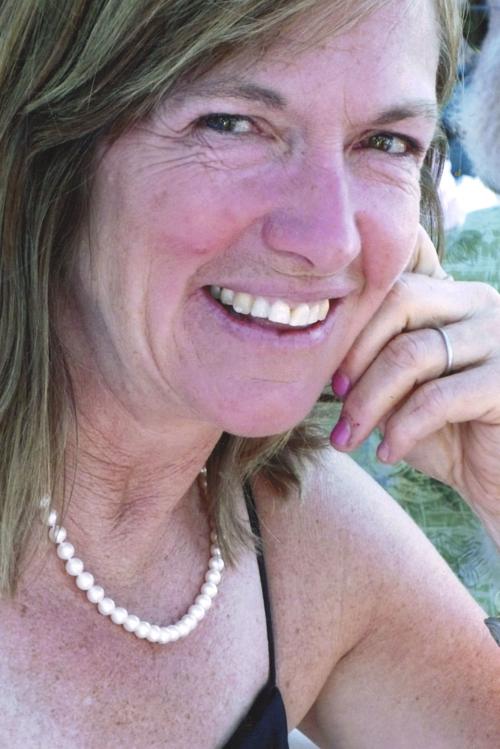 MISSOULA — Kathy Owens died on the morning of Saturday, Oct. 6, 2018, at her home in Missoula.
She was born on Aug. 26, 1951, to Keith and Marlene Owens in San Diego. She was the big sister to Kevin, Mark, Mike, and Kelly. She loved them, and bossed them, and taught them all many things. Although she spent her childhood traveling the world because her dad was in the Air Force, she was a fifth generation Montanan and she attended Sentinel High School and spent most of her life in Missoula. She learned at a young age to find peace and excitement in the natural world at their family cabin on Glacier Creek where many bocce ball tournaments, horseshoes, miniature golf, raucous card games into the night, shots of whiskey, and stories by the campfire were shared with her entire family whom she loved dearly and laughed with heartily.
In 1972 she fell in love with Taj Liszak, a 3-year-old boy with giant eyes and heart, and with his dad, Ron Liszak. Ron and Kathy were married in a bathtub in some sort of legitimate hippy fashion. Taj, Ron, and Kathy then lived in a school bus made into a home and traveled to Albuquerque New Mexico, where they sold flowers on the street corner, and where their daughter Kia was born. Shortly after they moved to "The Land" on The State Line between the Idaho and Montana border near Troy with their family of best friends, Jace, Rae, Lukas, and many others who came to visit and found a welcoming home. There, they lived off the land and put their ideals at the center of their existence: a trait at the heart of Kathy and one that she inspired in many others throughout her life.
Then there was some time in Troy, followed by a life back in Missoula and the River House in the Jocko Valley. There she continued to live a life she loved: growing food, soaking in the sun, cross country skiing, picking wild flowers, swimming in the ice cold swimming hole, getting her teaching degree, teaching at Sussex School, and sharing life with new friends and family, Bente, Don, Francisca , Tor, Catherine, Bob, Johanna, and Lauren and many others.
Eventually they moved to town (Missoula) and Ron and Kathy got divorced. They remained friends throughout the rest of their lives and their love continued on through Kia.
Kathy taught at Sussex school for 30-plus years, and she was fiercely devoted to alternative education. If you were a kid, she had your back. And she gave all of her students permission to be who they are and nurtured everything about their very being. She loved teaching and it came as naturally to her as breathing. She was the Best Teacher in Missoula according to The Missoula Independent one year. She seemed to have a sixth sense about how to make people feel good and provided whatever that was to all of her students, colleagues, family, and pretty much everyone she met.
Sussex also brought her the love of her life, Jon Ellingson, with whom she spent the last 32 years. Jon ignited her love of hiking Mountains, paddling rivers, and adventuring to the fullest. After a passionate courtship that involved many summits, they married themselves on the top of Mount Sentinel with friends and family joining the celebration. Their equally passionate love for life took them on many more adventures: Kilimanjaro, Mount Everest, Baja California, Machu Picchu and the Amazon to name a few. But always they remained lovers and explorers of Montana's special treasures. Chico Hot Springs and Polebridge were favorite places.
In 1990, a sweet son, Erik, was born on a beautiful summer day and Kathy fell in love all over again with her new son. Her family was complete with Kia, Erik, and stepsons Nate and Mark. She loved each of them deeply. Kia, Erik, Nate, Mark , Taj, and Silas all went to Sussex where they were lucky enough to be taught by Kathy, an inspiring and remarkable educator.
The other love of her life was her grandson, Silas Smith. She was there when he came into the world and she gave him her entire self, picking him up from school every day, jumping with him on the trampoline, taking him to the library, the bookstore, the Fair, the park, the swimming pool, volunteering at The Missoula Food Bank with him, and cherishing every single thing about him.
She was strong and her energy knew no bounds. She hiked every mountain and trail surrounding the Missoula Valley a thousand times or more. She rose to every adventure and challenge and constantly asked, what's next?
She was tough. She was a worthy competitor in any game, any challenge, and any argument. And when cancer came, she was a worthy competitor there too. She endured an incredible amount of pain, invasive treatments, and surgeries, and she didn't want your sympathy. She spent the last three years of her life still showing up for her family, visiting new grandchildren, looking for the bright spots, and soaking up each moment she could in between the weakness and fatigue from the treatments.
She was beautiful. Her smile was as bright as the sun. And she excelled at being a mom and grandma and a wife. She put her whole heart into her daughter Kia, son Erik, and grandson Silas. Relentlessly showing up at every possible moment to cheer them on, comfort them, delight in them, or advocate for them, and they equally delighted in her. Her love was an enveloping light of sweetness and strength that cannot be diminished by the death of her body.
Most of all she lived. She loved life and she was committed to making the most of every moment. She valued having fun, and always found a reason to laugh even in the hardest times. This value infused her teaching, her parenting, and her adventures.
We hate losing her. She would tell us to cry it out, to sob and feel our hurt, and then to try to move on. And so we will try. We will look for her in the mountains. She will be in the wind rippling through the grasses on Mount Sentinel, and the rush of the icy cold waters of Glacier Creek, and the warm sun on the rocks. We will look for her inside our appreciation of a good joke and in our very breath.
She is survived by so many who loved her. Her children Kia Liszak (Doug Smith) Erik Ellingson, grandson, Silas Smith, husband Jon Ellingson, stepsons Mark Ellingson (Kate), grandsons Windham and Weston, Nate Ellingson (Julie), granddaughters Scarlet and Romy, Brother Kevin Owens (Wendy), brother Mike Owens, sister Kelly Owens, nephews Zack and Keegan, and extended family Ron Liszak, (Martha) Taj Liszak, and Caleb and Lucy Liszak.
In Lieu of flowers, please consider a donation in her name to the Zootown Arts Community Center or Sussex School.
A memorial and celebration of life will be held for Kathy on Oct. 20 at 2 p.m. in the Sussex School auditorium at 1800 S 2nd W, Missoula.