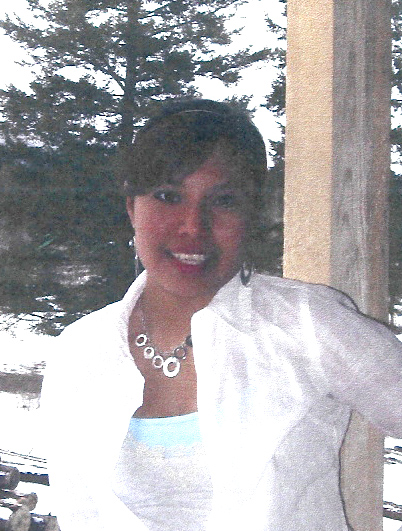 ST. IGNATIUS - MacKenzie Lily BraveRock Plant, 20, went to be with the Creator on Tuesday, Aug. 3, 2010.
Born on July 11, 1990, in Lethbridge, Alberta, to Virgil BraveRock and Dale StandingAlone, as a small girl she was raised on the Flathead Reservation by her father and stepmother, Brenda. She attended schools in Pablo and Ronan before going to the University of Montana-Western in Dillon and later the University of Calgary.
In May 2010, she married Louie Plant and they made their home in St. Ignatius.
She was preceded in death by her sister, LaKishia Curley, who passed in July 2009.
She leaves behind her husband, Louie Plant of St. Ignatius; her son, Pius Francis BraveRock DeRouche; her parents, Dale StandingAlone of the Blood Reserve, Alberta, and Virgil (Brenda) BraveRock of Ronan; grandparents, Mervyn and Louise BraveRock and Alfred and Lily StandingAlone, all of the Blood Reserve; her siblings, Chelsea (Stephen Hunt) BraveRock of Post Creek, Jera Wagner of Browning, Cecilia Shorty of Ronan, Elisha (Rayne) Shorty of Polson, Michael StandingAlone of the Blood Reserve, Chase and Feather Curley of Ronan; aunities, Tessie Curley, Marcia White, Filma DeRouche, Melvin BraveRock, Kathy Brewer and Betty Whitford; uncles, Alfred StandingAlone Jr. and Ronny StandingAlone; as well as a large family of relatives, including Curleys, DeRouches, BraveRocks, StandingAlones, Aulds and the Plants from the Flathead and Blackfeet reservations and the Blood Reserve.
A wake began Wednesday at the Longhouse in St. Ignatius with Rosary being held on Thursday. Wake closing will begin at 8 a.m. Friday with Mass being held at 9 a.m. in the St. Ignatius Catholic mission. Interment will follow in the Elmo Cemetery with the feast following in the Cultural Hall in Elmo.