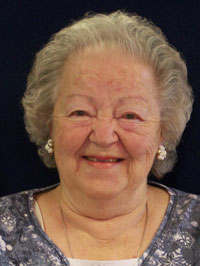 HAMILTON – Mary Ann Olds, 81, of Hamilton, went to be with her savior on Saturday, July 26, 2014. She passed away at Discovery Care Centre in Hamilton.
Mary Ann was born June 13, 1933, in Wynot, Nebraska, the daughter of Jake and Anna (Lenzen) Kleinschmit. She was raised and educated in Lodi, California. Mary Ann married Robert D. Olds in 1954 in Lodi and they had four children. Together they raised their children on a ranch in Lodi, where Mary Ann was a dairy farmer, a bus driver and eventually a day care provider. She moved to Victor in 1993 and remained in the Bitterroot Valley until her passing. She will be dearly missed by the staff and her friends at the Discovery Care Centre.
Mary Ann enjoyed fishing, crocheting, cooking and baking, and playing games with family and friends. One of her greatest enjoyments was spending time with her grandchildren and great-grandchildren.
Mary Ann was preceded in death by her parents, four brothers and one sister. She is survived by her four children, Robert Olds Jr. of Lodi, James Olds of Lodi, Steven Olds and wife Sandra of Hamilton and Patricia Gibbs of Lodi; 12 grandchildren; and eight great-grandchildren.
Visitation will be held Friday, Aug. 1, from 10 a.m. to 1 p.m. at the Daly-Leach Chapel. Funeral services will follow at 1 p.m. Friday at the funeral home followed by burial at Riverview Cemetery in Hamilton and a reception at 435 Redtail Lane. Condolences may be left for the family at dalyleachchapel.com.