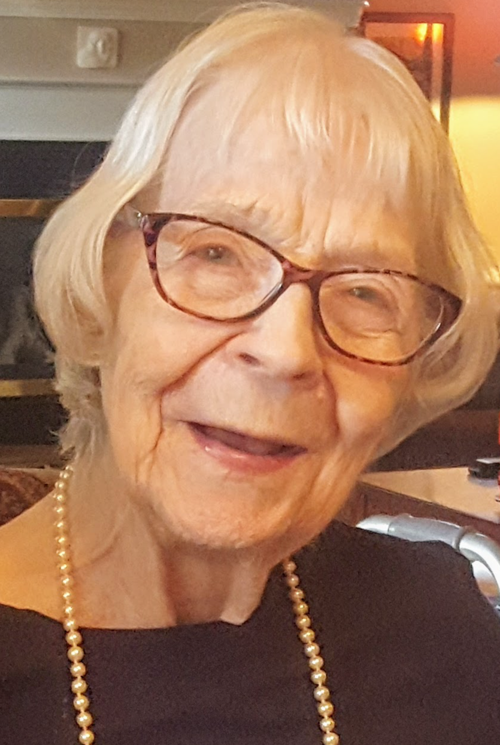 BOZEMAN - Loved by all who knew her, Mary LeCain dedicated her life to creating beauty and happiness for others. Born in the roughhewn lumber town of Coeur d'Alene, Idaho, in 1933, Mary was the third of five children, and the only daughter. Her father left when she was 7, and her mother was often overwhelmed and distracted. Her stepfather, Helmer, provided some stability, as did her maternal grandparents, Mary and James. But money was tight. Their ramshackle house was not on the wrong side of the tracks so much as  on the tracks: The clanging big trains ran straight through the backyard. Mary shared the cramped house with four rambunctious brothers, Howard, Robert, Allen and George.
Hard childhoods often breed hard souls. But for Mary it was the opposite. She somehow always found a spark of beauty and light no matter how dark the day. She remembered how the railroad engineers would throw her candy as the trains cut through her backyard. She remembered kicking her way down Government Way in the autumn when the sidewalks were buried in drifts of red and gold leaves. Neighbors loved the kind and reliable Mary, and weekends always kept her busy babysitting. In her teens she worked the concession stand at the Coeur d'Alene movie theater. When business was slow, she'd steal glimpses of a different world of possibilities in those flickering Hollywood images.
Mary met Robert LeCain in high school. Two years her senior, he was a handsome varsity athlete with a calm responsibility that she admired. After graduating from Coeur d'Alene High in 1951, her excellent grades won her a scholarship to the local junior college where she would earn her associate's degree. Distant world events intruded, and Bob was drafted into the army during the Korean War. Alone and lonely at a California army base, he took the uncharacteristically bold step of calling long distance to propose marriage. A few days later Mary bought a train ticket, and without family or fanfare, became a wartime bride, starting a union that would endure for nearly 70 years.
After the war, Bob completed his architecture degree and they moved to Missoula. From an early age, Mary had treasured children. Their first born, Gary, had arrived while they were still stationed at a Texas military base. Four others came in quick succession: Daniel, Douglas, Timothy and Ronald. Mary devoted much of her life to her children, determined that their childhoods would be better than her own. None of Mary's boys would ever doubt for a second that he was safe, supported and loved. Every one of us remembers those special Saturday trips with Mom to Missoula's old Woolworths lunch counter, where we could have a sandwich, a milkshake and the undivided attention of our beautiful young mother. She was a Cub Scout den mother for years, a school library volunteer, an inexhaustible source of bake sale cookies, a teacher, tutor, and last-minute-school-project genius, and a rock of calm love and stability no matter the adversity.
Though so much of her identity was invested in her five children, when the time came, she gave each of them the gift of guiltless freedom to find their own paths. In those bittersweet days when the last of her children were no longer boys, she reinvented herself, going back to work in her 40s as a florist for Missoula's Heinrichs Flowers. Her beautiful wedding and prom arrangements were a favorite of Missoula couples for a generation.
It was only much later in life that Mary would admit she had hoped at least one of her five children would be a girl. But marriage finally brought her daughters-in-law if not biology — Sandra (Daniel), Fran (Gary), Cheri (Timothy) and Sara (Ron). At long last, she also had a little girl to spoil when her treasured first granddaughter Allison (Dan and Sandy) arrived. Two more grandchildren, Daniel and Carina (Tim and Cheri), would be the joy of her later years.
In 2017 Mary began her final adventure, moving to Bozeman's Gallatin Rest Home, where she could be near family. She had three wonderful years of Sunday dinners, joyful family holidays and birthdays, outings to school plays, holiday concerts, and a memorable Christmas trip to see her beloved "Nutcracker" ballet. Even the best of nursing homes can sometimes be sad places. But as she had throughout her life, Mary found joy in the small things, becoming a beloved regular at the Gallatin's Saturday bingo games (she saved all her prizes to give to her grandkids), and making many new friends among the staff who frequently volunteered how much they loved and admired her.
After 87 years of life well lived, Mary passed over to the unknown on the evening of Dec. 23, 2020, surrounded by pictures of her grandchildren, listening to Christmas carols, and with her son at her side. Mary loved the Christmas season, and it might seem doubly sad that she should die then. But it is perhaps good and right that in these times of trouble, when a hard meanness and petty selfishness have too often shaken a battered nation and world, we will henceforth mark this season by remembering a woman who kept and honored the true spirit of Christmas all her life: kindness, decency, and respect for all the sisters and brothers with whom we share this small planet. Our beloved mother Mary.