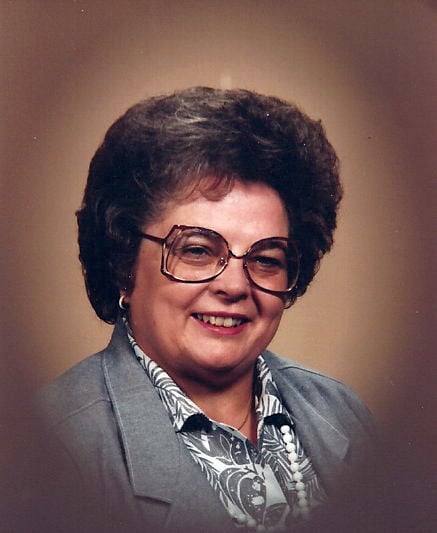 MISSOULA - Mildred S. "Millie" Hanger, 82, passed away on Monday, Feb. 6, 2012, of natural causes at her home surrounded by family. She was born July 27, 1929, to Charles and Ida Niemi. Millie had many fond memories of growing up in Milltown with her older sisters, Virginia and Erma. In 1947, just after finishing high school, she went to apply at the Association of the Western Building and Loan. She submitted a sample of her signature to Mr. Fremou, who was too busy at the time for an interview. Finding it worthy of making the many handwritten entries into the posting journals of the day, she was hired. This began a 40 year career at Western Federal. Over those years she saw many changes as the association grew. In the beginning, everyone shared the same cash drawer and there were no tellers assigned to help customers. Whoever walked by would step in and help. Millie was assistant secretary for the association before taking five years off in the 1960s to raise her two children, Brad and Brenda, whom she loved dearly.
After returning to work, Millie became the association's first drivethrough teller. She often stopped after work to be sure she had dog treats for her customers' furry companions. She later became the first full-time savings counselor and eventually chairman of the savings department. For four years she served as controller for the association. From that time until her retirement in 1994, she was vice president and office manager for the downtown Missoula branch. Millie most loved to take care of the many longtime customers who had grown to know and trust her. Millie was also active in the community. She was treasurer of St. Paul Lutheran Church for five years. In 1983, she was president of the Rocky Mountain Chapter of Financial Managers Society. She had been a member of the Missoula North Chapter of Soroptimist International since 1974, and served as its president in the 1980s. Her time in Soroptimists was highlighted by a trip to the national convention in Alaska. She was also on the board of the Missoula Multiple Sclerosis Society. And despite being Finnish, she was an active member of the Sons of Norway.
In 1989, Millie and Harold were married. They spent their honeymoon traveling in concert through Europe with the Missoula Mendelssohn Club. They made stops in Germany, Latvia, Poland, Russia and Finland where Millie had the opportunity to meet with relatives. They also enjoyed their yearly trips for Harold's USS Essex Association Reunions. From Seattle to Detroit, to Atlanta and many more places, those trips provided the opportunity to visit much of the country she otherwise may not have seen.
At home, there were many happy memories of time spent at Mel and Erma's cabin on Lake Inez. She loved the lazy summer days watching and feeding the wildlife. The evenings were often spent gathered around the campfire, visiting or dancing with family and friends. A yearly winter trip wading through waist high snow to clear the cabin roof provided many laughs. Millie had a wonderful smile and contagious giggle. She willingly lent a helping hand to anyone who needed it. She had a great love for animals, especially dogs and cats. She had a heart full of love for family and all those close to her. She was preceded in death by her parents; her sisters, Virginia Lizotte (1973) and Erma Jorgenson (2009). Survivors include her devoted husband, Harold Hanger; son Brad Smith and only grandson Wesley Smith both of Missoula; and daughter Brenda Smith of Spokane; and many nieces, nephews, extended family and surrogate grandchildren.
She will be greatly missed. Services will be held at 11 a.m. on Saturday, Feb. 11, at Our Savior's Lutheran Church in Bonner. Burial will follow at 1:30 p.m. at Missoula Cemetery. Memorials may be made to Partners Hospice or Our Savior's Lutheran Church. Garden City Funeral Home is assisting the family with arrangements.