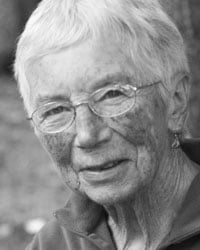 MISSOULA – Ripley Schemm Hugo died Tuesday, Dec. 18, 2012, at her home on Wylie Avenue in Missoula with her family and friends nearby. She was 83 and had been in failing health.
She was born Margaret Ripley Schemm on April 18, 1929, in Ispheming, Mich., the daughter of cardiologist Ferdinand Ripley Schemm and celebrated novelist Mildred Walker Schemm. The family moved to Great Falls in 1933, where Dr. Schemm founded and ran the Western Foundation for Clinical Research and traveled throughout Montana consulting on complex cardiology cases. Mildred wrote half of her 13 novels while raising Ripley and her brothers, George Walker Schemm and Christopher Merrifield Schemm, both of whom became physicians.
Ripley loved her Montana heritage, growing up during war time in Great Falls along the Missouri River at the family home, Beaverbank, riding horses with her brothers and raising 4-H steers. The family enjoyed their cabin on the South Fork of the Teton River in summers, and Ripley and her brothers helped out at the nearby Circle 8 Dude Ranch. The Schemms enjoyed deep friendships with Joseph Kinsey Howard and A.B. "Bud" Guthrie Jr. and their families, who also had cabins in the canyon and shared love for the wildness of the countryside and for the craft of writing. Throughout Ripley's life, the cabin was a constant, beloved refuge that she called "the place I inhabit."
She graduated from Great Falls High School in 1947 and left for Swarthmore College on the train that fall. She spent a summer bicycling through Scotland, which gave her a lifelong love of the country and the Gaelic language. She graduated from Swarthmore in 1951 with a degree in English literature. She then returned to Scotland and studied in Edinburgh for a year. She married David Hansen in 1952. While David served in the Korean War, Ripley earned a master's degree in English at the University of Montana. Ripley and David had two children, Matthew Ferdinand born in 1961 and Melissa Merrifield born in 1964.
In 1972, Ripley and David separated, and Ripley moved with the children to Missoula, where she began teaching writing at the University of Montana. They settled into what became Ripley's home of 40 years on Wylie Avenue, where her near neighbors were close friends Lois and Jim Welch. At UM, she met poet and creative writing professor Richard Hugo, and they were married July 12, 1974. Dick enthusiastically embraced the family, and they enjoyed fishing, trips to the cabin, picnics and the Missoula literary life. When Dick won a Guggenheim Fellowship in 1977, they spent a year on the Isle of Skye in Scotland, creating inspiration for poems in both of them and a lifelong connection to the place. Ripley remembered her years with Dick as the happiest of her life.
Dick died of leukemia in 1982. Matthew died of lymphoma in 1984. After their deaths, Ripley returned to teaching in the Montana Poets in the Schools program. She inspired a trail of young students stretching from Rudyard to Browning. She also taught at the Two Eagle River School in Pablo.
Once Ripley retired from teaching, she turned to writing. She published a memoir/biography about her mother and two books of poetry. She continued to spend time at the cabin, took walks with her beloved dogs and cultivated a large circle of friends.
Ripley's friends and family will remember her for her storytelling, her fierce love for them, her advocacy for the Rocky Mountain Front, her passionate Democratic politics, her love for animals and underdogs, and her refusal to let anyone else do the dishes. She'll be remembered in the crackle of a fire in a woodstove, the swish of a horse's tail, a full moon, a good blizzard, a fine poem and the heavenly constellation Orion.
She is survived by her brothers, George (Janet) and Christopher (Deniza); eight nieces and nephews, Ici Schemm of Missoula, Jennifer (Wes) Williams, Joanna (Ivan) Slatkine, Jessica (James) Peykanu, Ariadne Schemm and Bob Holbert, Ylann Schemm and Arnout Looye, Oliver Schemm and Paul (Helen) Schemm; numerous grandnieces and grandnephews; and her daughter, Melissa Hansen and grandson Derek Hansen.
Memorial contributions can be made to the Matthew Hansen Endowment at the Montana Community Foundation or the Richard Hugo Memorial Scholarship at the University of Montana.
Plans for a memorial service are pending.