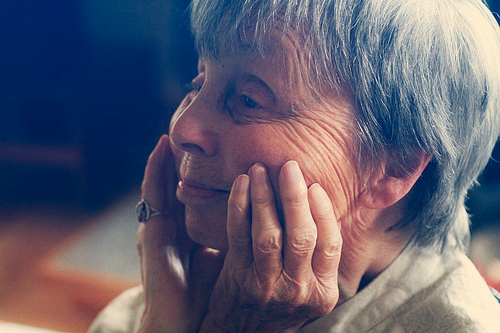 STEAMBOAT SPRINGS, Colo. - Sarah Jean Galusha passed away on the evening of Wednesday, Dec. 1, 2010, at the Doak Walker Care Center in Steamboat Springs, Colo.
Jean was the daughter of Henrietta "Buttercup" Jacob and Roy Allen Shumate. Born on Feb. 23, 1917, Jean was raised on her parents' dairy farm and ranch in the Helena Valley. After graduating high school, Jean attended secretarial school and earned enough money working as a bookkeeper and secretary to attend the University of Washington School of Music, majoring in piano.
After the bombing of Pearl Harbor, Jean joined her cousins in Panama to work as a bookkeeper and secretary for a construction company working on the Locks.
Homesick, she returned to the ranch in summer 1944 and met a young accountant named Hugh D. Galusha Jr. He began to court her on horseback, driving out to the ranch every night after work to saddle up and ride with her to the Scratch Gravel Hills or north to the Sleeping Giant. On Sept. 20, they were married at St. Peter Episcopal Cathedral.
Their life in Helena was full of extended family, clients and community projects. While Hugh took over the accounting firm and started a law practice with Pete Meloy, Jean ran the house they had built together in the corner of the ranch. She became a 4-H leader and a devoted volunteer to projects like saving the Fire Bell Tower, docenting at the Pioneer Cabin with her dear friend Betty Doering, and working on the territorial celebration. She learned to drive horses while Hugh restored buggies and carriages for her. Hugh and Jean shared a love of wilderness and took annual trips into the Bob Marshall, floated different sections of the Colorado River and visited Yellowstone Park several times a year. Through her friendship with her sister-in-law, Betty Bray Galusha, and Betty's father, Jean fell in love with ceramics and championed the cause of the Archie Bray Foundation.
In 1965, Hugh was appointed to the presidency of the Ninth District Federal Reserve Bank in Minneapolis. It took awhile, but Jean grew to love the Twin Cities. She was a devoted volunteer to the Minnesota Arboretum, public radio, and the St. Paul Chamber Orchestra, keeping the books for the Friends of the Orchestra group for many years as well as serving on the board of directors. She was a literacy tutor at the Mary Bethune School on the north side of Minneapolis, and a member of the Board of Page Hall and the Women's Christian Association for over 20 years.
After Hugh died on the Beartooth Pass on Jan. 31, 1971, Jean remained in Minneapolis. She loved Peripatetics, a woman's study group, and her home on Christmas Lake. When dementia made it impossible for her to live independently, she moved to Florida with her daughter Hope, a nurse by profession. When Hope and her husband retired to Steamboat Springs, Jean moved into the Doak Walker Care Center. It is a testimony of the love and devotion Jean received from Hope and her family and the Doak that kept her alive despite physical limits and memory lapses.
In addition to her husband and parents, Jean was preceded in death by her brother Allan Shumate, dear friends and many cousins.
She is survived by all her children, Hugh Duncan Galusha III, and his wife Socorra Galusha-Luna of Coolidge, Ariz., their children Luz and Paz; Emily Galusha and Don McNeil of Minneapolis; Hope and Ret. Col. Michael Cook of Steamboat Springs, their children Gene and Amelia; Molly Galusha and Grant Parker of Missoula, and their children Matt and Jackson.
A celebration of Jean's life will be held in July at the top of Galusha Peak in the Bob Marshal.
Memorials may be sent to any of the causes mentioned above, and stories sent to the family in care of molly@thebuttercup
Obituaries Newsletter
Sign up to get the most recent local obituaries delivered to your inbox.