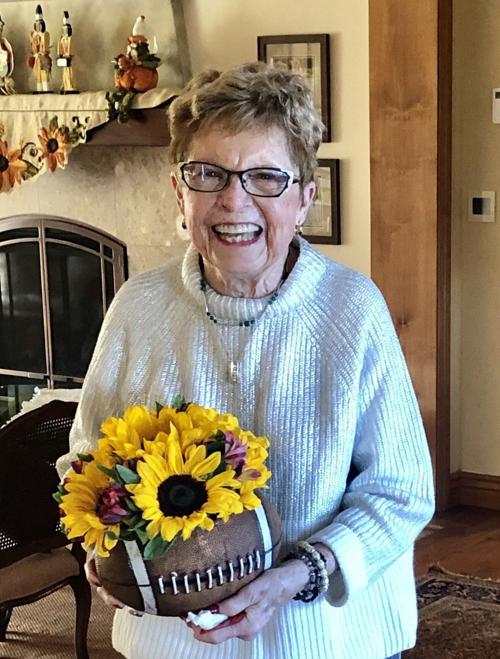 RENO, Nevada - Shirley Mae Moore passed away at home in Reno, Nevada, surrounded by family in the early hours of Tuesday, Dec. 15, 2020.
Shirley was born in Powell, Wyoming, on Dec. 18, 1927. She was the oldest of the three children of Frank and Mary Rice. Shirley was selected for an early entry into the Nurses Corp due to her aptitude in science, and graduated from Montana State College in Bozeman in 1946 at the age of 19!
She married the Love of her Life, Dale Grant Sherman Moore, on Sept. 9, 1949 in Glasgow. Shirley and Dale lived an amazing life, primarily in Missoula, covering occupations in nursing, radio & television broadcasting, ranching, and a fine jewelry store. Shirley and Dale had six kids: Douglas (wife Cathy, sons D.J. and Devlon), Richard (wife Cindy, daughter Tracy and son Will), Dalynne (daughters Kendra and Daira), David (wife Suzanne, sons Adam and Eric), Dale D (daughters Drew, Danni, Destinee, Devon, Delaney, Dale L, Dylan and Davis), and Dawn (husband Frankie).
Shirley was many things to many people: from a true friend to a sweet aunt; a loving and supportive wife; an amazing mother; and quite possibly the greatest grandmother and great-grandmother that ever lived to her 16 grandchildren and nine great-grandchildren.
Shirley loved all things that sparkled and was fully accessorized every day! She was a lover of all animals (except mice!), an incredible gardener, absolutely magical with orchids and roses, could spend all day working on puzzles, and never missed placing a bet on her favorite football teams every week at the Tamarack Casino. She loved to travel and went all over the world with her family until she was 91 years old.
After Shirley's husband's death in 1981, Shirley moved to Reno, Nevada, where several of her kids were living. There she started a successful jewelry store called Je T'aime, and became a gemologist in her 60s. She retired from the jewelry business in the 1990s and lived out the rest of her years in Reno.
Shirley was preceded in death by her husband Dale, father Frank Rice, mother Mary Rice, and sister Ruth Firehammer. She is survived by her brother James, and all of her children and grandchildren.
Of all the things she loved about life, which were many — she lived life to the fullest and then some — it was family that she loved the most. Shirley fostered a legacy of love of family by teaching every family member to be the best version of themselves, and she led by example throughout her nearly 93 years. Her love went far beyond just setting a good example to follow. Shirley played wild games of volleyball, Scrabble and Monopoly, or a hilarious round of charades with her family, and did it often, even into her 90s. The truth of her unconditional love was felt with every pat on the back, every shake of her "crooked" finger to make a point, or hug and kiss she often shared with her family. If anyone reading this were to ever wonder how best to love their family, just research the life of Shirley Moore and you will have the perfect roadmap to follow.
Shirley's family has asked that in lieu of flowers, to please consider a donation to the Nevada Humane Society: 2825 Longley Lane, Suite B, Reno, NV 89502-5942.