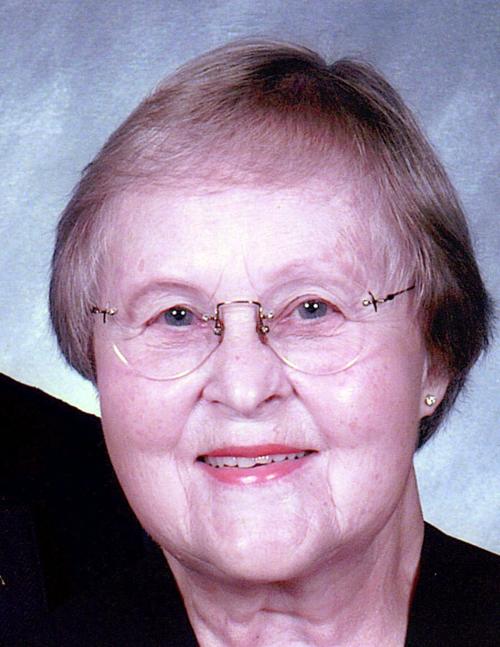 MISSOULA — Virginia M. (Ginny) Dove, 89, of Missoula passed away on Tuesday, Jan. 7, 2020, in Footsteps Memory Care at The Springs Missoula from dementia. She was born on Sept. 12, 1930 to Henry N. and Olga A. (Pederson) Johnson in Watson, Minnesota. She attended grade school in Watson and high school in Montevideo, Minnesota, graduating in 1948. 
Ginny was secretary to the president of the bank in Montevideo, Minnesota for several years after graduation. She was honored to be crowned Fiesta Queen in Montevideo in 1951. Ginny met John Dove at the roller rink in Milan, Minnesota and they married on June 27, 1953 in Northwood, Iowa. They shared 63 beautiful years of marriage before John's passing, and they could often be seen walking down the street or the mall hand in hand. 
Ginny and John lived in Minneapolis, Minnesota while John finished his college degree, and Ginny worked as a secretary at the business school. When John graduated and was employed by Federated Insurance, they moved to Owatonna, Minnesota where they lived for many years. During that time, they were relocated to Iowa and St. Louis for short periods, and Ginny was always happy to return to Owatonna. Their daughter, Carla, was born in Owatonna in 1961, and Ginny was a devoted and loving mother. 
The family moved to Missoula in 1973 when John bought into Larry Larson and Associates (now Payne West Insurance). It was hard for Ginny to like Montana at first, but she learned to love Missoula and Montana and was proud to call it home. 
Ginny took great pride in her home and taking care of her family. She was a very talented seamstress and sewed almost all the clothing for she and Carla, and taught Carla to sew and love fabric and fiber. They shared many happy hours shopping for fabric and sewing together. 
You have free articles remaining.
Ginny had a witty sense of humor and loved being silly. She was one of the great letter writers of all time and was known for her beautiful penmanship.  Those that were lucky enough to receive cards and letters from Ginny felt like they were sitting down for a cup of coffee with her while reading her newsy correspondence.   
In their leisure time, John and Ginny enjoyed travelling together, often camping in their trailer, with many trips centered around aviation events and good fishing spots. After John's retirement, John and Ginny spent winters in Palm Springs, California and summers in Missoula.  
Ginny's faith was very important to her and she regularly attended services, ladies' circle meetings, and volunteered at the church in the office and kitchen. For many years she hand embroidered napkins to be given to those newly baptized into the church. She had a strong commitment to serving others and volunteered at blood drawings with the Missoula Red Cross, and was known as "The Cookie Lady" at the Radio Reading Service where she and a friend read the Butte newspaper every Monday afternoon, often having to mute the microphone when they got the giggles over an article. 
Ginny is survived by her daughter and son-in-law, Carla and Jim Hvid of Reno, Nevada, sister-in-law Audrey Johnson of Otsego, Minnesota, and many nieces and nephews. She was preceded in death by her husband, John, parents Henry N. and Olga A. Johnson, sisters Mavis (Russell) Gates, Carolyn (Donald) Frederick, Dolores (William) Smith and brother Lowell (Audrey) Johnson. 
The family is grateful to the kindhearted and compassionate staff members at Footsteps Memory Care who cared for Ginny, the warm and gentle Home Instead caregivers and staff who helped keep her in her home as long as possible, and Palliative Care of Missoula who helped guide Ginny and her family through end of life. We also thank Dr. Michael Caldwell for many years of care. 
Funeral services will be held on Thursday, Feb. 13 at 1 p.m. at St. Paul Lutheran Church with the Reverend Chris Flohr officiating. Interment will be at the Western Montana State Veteran Cemetery. Garden City Funeral Home is overseeing cremation and arrangements. The family suggests that donations be made in Ginny's name to St. Paul Lutheran Church, 202 Brooks Street, Missoula, MT 59801 or to a charity of the donor's choosing. 
To plant a tree in memory of Virginia Dove as a living tribute, please visit Tribute Store.