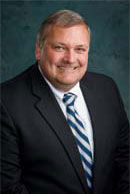 Some have the gift of making others better.
MISSOULA – William A. Squires died on Friday, Nov. 18, 2016, from complications of progressive muscular atrophy. He was 54.
Bill was born in Butte on July 14, 1962, and lived in several cities around western Montana as he pursued his professional goals and career.
Only death could separate Bill and the love of his life, his wife Sherry. From their early days in Butte as junior high school sweethearts, through undergraduate degrees at Montana Tech and 32 years of marriage, Bill and Sherry were, and are, inseparable in spirit. That spirit gave birth to their son Tucker and daughter Ashton. With their family traditions, cabin bon fire chats, gentle (and not so gentle) humor, family vacations and Sunday night dinners, the four were a unit of fun and love. Family above all. Tucker and Ashton have grown with that ever present support to be fine adults, with their own adventures yet to come, and a large "family" at their side.
Sherry, Tucker and Ashton were with Bill as he left our lives. Together always and ever.
Bill was a man of wide tastes and passions and an ever present sense of humor. As comfortable at elegant state dinners as Boy Scout cookouts, he found ways to engage with others, to find solutions to problems that moved others forward and to lighten loads with humor.
Impromptu fireworks displays (on the other side of the city limits, of course). Fine wines and good food. A well struck snap hook. Cold beer on the deck at Discovery. Tailgates at Grizzly football games. Golf road trips with plenty of aiming fluid. Bill greeted all of life with optimism, joy in the moment and grace. And brought so many of us along with him.
Bill most recently served as the chief executive officer of Blackfoot Telephone Cooperative, Inc. and its related companies, leading the companies through years of growth and expanded opportunities for the company employees, its members and the communities it serves. After 14 years in private legal practice, Bill joined Blackfoot Telephone as legal counsel and held executive positions before beginning his too short tenure as CEO in 2012. Bill also recently served as a director of CoBank, Syringa Networks, Alaska Power & Telephone, the Missoula Economic Partnership and Vision Net, Inc., and as co-chair of Governor Steve Bullock's Broadband Key Industry Network committee. Bill was a graduate of Montana Tech with a B.S. in Chemistry (1984) and of the University of Montana School of Law (J.D., 1987). He remained engaged with both alma maters and was a prominent leader in the telecommunications industry, serving in a variety of leadership roles in state and national industry associations.
Bill is survived by Sherry, Tucker and Ashton; his sister Deb (Keith) Koprivica; his extended family, a wide circle of friends in Montana and around the country and by his colleagues at the Blackfoot Companies.
Bill is also survived by his corneas, his last gift to others. May the recipients see the world with Bill's humor and joy.
Bill was preceded in death by his father, Albert, and his mother, Shirley, both of Butte.
Bill's remains have been cremated and will reside close to his family.
A party in celebration of Bill and our times with him will be held at 4 p.m. on Monday, Nov. 28, at the Hilton Garden Inn ballroom in Missoula. The family requests that any memorials be made in Bill's memory to the Watson Children's Shelter, 4978 Buckhouse Lane, Missoula, Montana or to the ALS Association, alsa.org/donate, designated for research.
Bill, our friend, you are missed.