This year marks the 50th anniversary of the first McDonald's restaurant in Montana.
The grand opening took place on Aug. 20, 1969, on Grand Avenue in Billings. The mayor, Miss Montana and Ronald McDonald, a semi-retired former television clown living in Great Falls, were on hand to mark the historic event.
Owner Noel Meisner had hired 46 high school and college boys "and plans to employ two girls to wipe off tables," the Billings Gazette reported.
Granted, it was one of the lower-profile stories of a half-century ago, in a year that witnessed the first man on the moon, Woodstock, the Beatles' last public performance and the opening of the Pony Palace in Pablo.
Montana probably won't be marking the latter — the roof of the 2,000-seat indoor arena collapsed under snow in 1978. It was later replaced by Sqelixw-Aqlsmaknik (The People's Center), which turns 25 itself this August.
No word if the University of Montana will be feting in late summer the 50th "birthday" of the 7-foot grizzly sculpture on the Oval, designed by art professor Rudy Autio.
Come June, the world will tune in to the 75th anniversary of D-Day. Montana will have a special role, flying one of roughly 40 C-47's to Normandy, France, from its home at the Museum of Mountain Flying in Missoula.
Nicknamed the "Mann Gulch plane" for its role in flying smokejumpers to their deaths in 1949, and renamed "Miss Montana" last year, the twin-engine aircraft was not part of the actual D-Day drops. But it turns 75 as well, having rolled off the assembly line in Long Beach, California, on May 3, 1944, a month and change before the Normandy invasion.
We'll try to forget 1919 in Montana, when the third wave of the deadly Spanish flu pandemic ran rampant across the state and nation, the last of 78 men and women were convicted for so-called seditious acts during World War I, and a devastating, years-long drought beset Montana.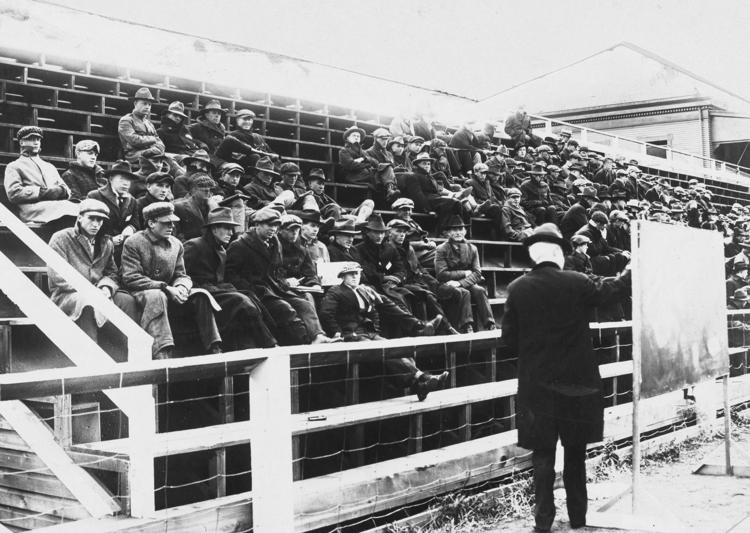 Come October, the good folks of Mineral County can be counted on to commemorate the sesquicentennial of the discovery of gold on Cedar Creek near Superior. It begat the first gold rush to these parts, which begat the Missoula and Cedar Creek Pioneer, which turned in 1873 into the Weekly Missoulian, which led to that thing you've got in your hand right now.
A glance backward through Montana milestone anniversaries 50, 75, 100 and 150 years ago is like a quirky stroll through time. 
1869: Gold strikes earlier in the 1860s are more celebrated, but the Cedar Creek rush was the first to draw hordes of folks to remote western Montana to stay.
Louis Barrette was just another down-on-his-luck prospector until he scratched up flecks, then nuggets, of gold in lower Cedar Creek on Oct. 9, 1869. A month later he and partner Basil Lanthier had mined some $350 in gold dust and staked the Discovery Mine claim on Louisville Bar, 11 miles up the creek.
They paid a visit to Adolph Lozeau's Forty Mile House on the Mullan Road and showed him gold. Lozeau agreed to go up to Frenchtown for supplies and keep the discovery on the down-low. It didn't work. As the story goes, Lozeau's lips were loosened with liquor, and "Cedar Fever" was on.
In early December, a miners meeting was held to lay out rules in the new camp, and an estimated 3,000 eventually wintered in the vicinity of Barrette's discovery. The rush to Cedar Creek attracted the first significant population of Chinese to Montana the following year.
1919: Zoe Ann Stoltz, reference librarian at the Montana Historical Society, tells of a forgotten special legislative session 100 years ago.
You have free articles remaining.
"Historians are all over the (1918) session called to prepare the state for World War I," Stoltz said in an email Friday. "However, we hear very little on the session held in hopes of assisting Montana farmers/citizens in surviving the drought and the war's aftermaths."
Gov. Sam Stewart was midway through his second term as Montana's Democratic governor.
"Interestingly, he called two special sessions during his terms, just 17 months apart!" Stoltz said in an email on Friday. "First to survive the war, second to survive post war."
The two-week session began on July 29 with drought relief, highway construction and women's suffrage on the agenda.
According to Stoltz, legislators created a relief commission with branches in every county to stage fundraising drives in order to help out farmers.
"The irony is that just a few months earlier (there were) drives for monies to fight the war," Stoltz said.
Among the 58 measures passed at the session was the establishment of a state highway commission, which was enabled to employ day labor instead of hiring contractors for road work.
Prohibition in Montana began Dec. 31, 1918. 
"So 2019 is the centennial of the state's first year as a dry state," pointed out Maggie Ordon, the Montana Historical Society's curator of history.
The historical society in Helena is planning to open an exhibit on Montana's brewing history later this year, "which correlates to some centennials for prohibition," Ordon said. And one of its current exhibits, "Time of Trouble, Times of Change: Montana During the Great War," touches briefly on the Spanish flu pandemic of 1918-19, which hit Montana particularly hard.
1944: As 75th anniversary commemorations go, nothing in Montana figures to match D-Day on June 6, not even President Franklin Roosevelt's signature on a bill authorizing $40 million to build Hungry Horse Dam the same day. Construction on the uppermost dam of the Columbia River Basin began in 1948 and was completed five years later.
One of Stoltz's favorite "wacky" anniversaries is coming up March 21. On that evening in '44, in the midst of world war, an Air Force bomber from Colorado Springs dropped 16 150-pound bombs in the Yellowstone River near Miles City to break up an ice jam.
May 23 will mark 75 years since Pvt. Henry Schauer, who honed his rifle skills shooting coyotes on his boyhood farm near Scobey, gunned down 13 German snipers and soldiers near Cisterna di Littoria, Italy. The next day he forced a German tank to retreat by killing its four occupants. Schauer died in 1994, the last of seven Medal of Honor recipients from Montana to pass away.
Word came from the FBI on Dec. 18, 1944, that a Japanese balloon bomb 52 feet high and 105 feet around had been found by Owen Hill and his father, O.B. Hill, while cutting wood near Kila southwest of Kalispell.
1969: Seems like only yesterday that Dustin Hoffman and the gang were filming scenes for "Little Big Man" in Montana.
"It's 15 miles southeast on Highway 87-212 to the turnoff to the Rosell Ranch on the Crow Reservation," began a New York Times Service story with a Billings dateline on Oct. 2, 1969. "A mile farther, over a winding gravel route, lies the peaceful tepee encampment in a cottonwood grove along Pryor Creek where scenes for 'Little Big Man' are being shot."
This is also the 50th anniversary of the start of large-scale strip mining at Colstrip. The Montana Power Co. subsidiary Western Energy had started mining and shipping coal to the Corette plant in Billings the year before. Now Peabody Coal Co. of St. Louis, the world's largest coal producer, was making the first out-of-state shipments.
"Every week for the past month a 100-car unit train carrying 10,000 tons of sub-bituminous coal has rumbled from Colstrip to feed Minnesota Power and Light Co.'s 140,000-kilowatt stream generation plant at Cohasset, Minn.," the Great Falls Tribune's John Kuglin reported on Nov. 9.