A reservation system for the entire Going-to-the-Sun Road corridor, timed entry permits at entrances, and parking permit systems for popular sites are among the more drastic measures under consideration by Glacier National Park officials as they seek ways to alleviate congestion brought on by the unprecedented increase in visitation.
"The overall goal of the plan is to provide a high-quality visitor experience and protect park resources," Lauren Alley, a spokesperson for the park, wrote in an email to the Missoulian. "For visitors, the plan identifies ways for them to plan in advance to have a better sense of what their trip may look like (permit for a parking spot at Logan Pass, for example, rather than having to circle for over an hour), more shuttle availability, safer trail conditions particularly in narrow trail sections due to less congestion (Highline), restrooms in a few new key locations."
The proposed plan adds that the desired condition for the 50-mile corridor is to allow predominantly free-flowing traffic, with occasional congestion that doesn't compromise safety and emergency responses. Visitors would be able to find parking spaces at their destinations most of the time, but also would use the historic shuttle services more often.
Glacier Superintendent Jeff Mow said the public, local businesses and elected officials all participated in creation of the changes proposed in a newly released Environmental Assessment.
"Maintaining a quality experience while sustaining the park for generations to come will continue to be a community conversation as we develop tools and implement strategies to address substantial increases in visitation to our park and surrounding local areas," Mow said in a news release.
A public meeting on the Environmental Assessment is set for 6 p.m. to 8:30 p.m. Sept. 17 at Flathead Valley Community College's Arts & Technology Building #139.
Between 2015 and 2017, 3.3 million people visited Glacier, which was a 40% increase — about 1 million people — during that time. During the peak season, visitors have endured two-hour wait periods for shuttles and faced long lines for basic facilities like restrooms and information desks. A record number of vehicle crashes occurred in 2019, and keeping up with disposing human waste "has become a challenge," park officials noted.
Collectively, the proposed changes would add about 400 parking spaces in the corridor, for a total of 2,400 spaces. That move also includes possibly closing the Avalanche campground during peak season, and converting it to a parking lot.
The reservation system for the entire Going-to-the-Sun Road corridor would only be considered if implementing the management plan doesn't succeed in reaching desired conditions for the corridor, Alley noted. She wrote that the plan says, "The National Park Service would complete additional analyses and compliance, as appropriate, before implementing such a system."
The possibly "phased day use" parking permit system initially would be implemented at Logan Pass, St. Mary, and the Virginia Falls trailhead, and possibly later at Avalanche, Big Bend and St. Mary Visitor Center as part of an adaptive management option.
Alley said the phased day use parking permit system would hold a percentage of permits aside for short-term purchase, for either the day of use, the day before being used, or the week before being needed. Any leftover advance registrations and no-shows would be added to the short-term reservation pool. The permits would be available online and at locations through the park and the local community.
The timed entry permits would be valid only for entering during a specific time, and only when accompanied by an entrance pass. Those could be purchased in tandem with parking permits, separately online and at locations including visitor information centers. Currently, traffic can back up so far at the West Entrance that people are just waved in to prevent problems on Highway 2.
Funding for both the parking and entrance reservation system would come from a fee that's tied to the cost of operating the reservation system. 
You have free articles remaining.
Another item on the table is using emerging technology to connect visitors with in-car information systems to find available parking and identify congested areas.
The proposals also include changes for popular trails, including Avalanche, Logan Pass and Big Bend. Some ideas included in the plan would prohibit commercially guided hikes during the peak season of July and August, and limiting them to two trips per day and 25 people per trip per operator at times. The proposed plan notes that the Avalanche Lake Trail experienced a 250% increase in use since 1988, with 1,482 hikers on average. But the popular Loop trail increased from 1,800 hikers in 1988 to 29,779 in 2015.
"As a result, trails do not always provide the wilderness experience that some hikers seek," the plan notes. "The additional use also negatively impacts vegetation, wildlife and water quality."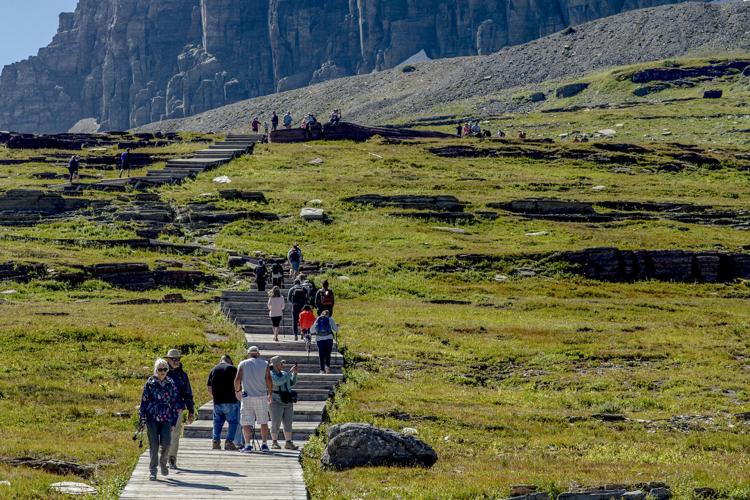 If conditions exceed what the park deems is capacity and/or thresholds, one-way travel could be implemented along the Highline Trail from Logan Pass to the Big Bend cutoff during peak season, or a 3-mile-long soil footpath could be constructed from Big Bend to the Highline Trail for two-way travel at that time.
The park also could construct more vault and backcountry toilets, and is considering adding 7.5 miles of new trails, or possibly making some routes one-way to alleviate congestion.
More volunteers, or a park service site manager, could be added to areas to educate visitors about wildlife safety topics and manage routine visitor/wildlife encounters at Logan Pass. If conditions warrant, the park service also could implement a "timed-entry" permit system for foot traffic control on the Highline Trail to Big Bend.
The Environmental Assessment notes that some of the work would need to be done in consultation with the Endangered Species Act and the National Historic Preservation Act.
The park may try to expand opportunities for bicyclists to use the shuttle system by putting bike trailers on some of the shuttles, and is considering bicycle-only events, like "car-free mornings" in the unlikely event of decreasing parkwide visitation. It also suggests installing more bike racks to encourage bike use.
Another suggestion to alleviate transportation woes is to add buses to the shuttle system, extend the hours of service and create six new stops.
Despite the 12-year, $160 million road rehabilitation project completed this year and the use of a popular voluntary shuttle system that reported 227,700 boardings in 2017, visitors still consistently cite parking woes and traffic congestion at popular destinations along the 50-mile Going-to-the-Sun Road corridor as one of the park's biggest problems, according to the Environmental Assessment outlining proposed changes.
"Since the GTSR (Going-to-the-Sun Road) opened in 1932, annual visitation to the park has increased from 53,000 visitors to approximately 3.3 million in 2017," the EA notes. "In 2018, monthly record visitor numbers included the busiest May on record and the second busiest June and July, only surpassed by 2017 in which 1 million visitors came to Glacier in July; more than any park has ever received in a single month."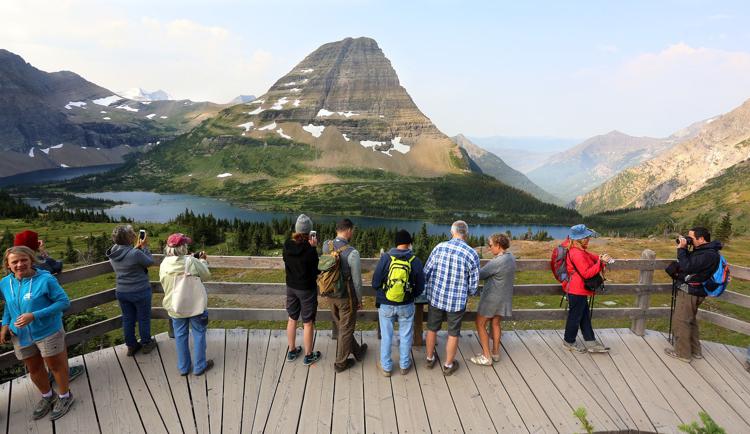 While visitation has declined slightly this year, congestion is still easily apparent at the more popular locales. Park officials write that parking lots at places like Logan Pass and Avalanche Creek frequently fill to capacity between 8 a.m. and 9 a.m. most days, and beginning in 2017, Logan Pass began filling as early as 7:30 a.m. and now closes three or four times a day for short periods during the peak season.
Comments will be accepted through Oct. 6, and can be posted on http://parkplanning.nps.gov/GTSRPlan or mailed to Superintendent, Glacier National Park, Attn: GTSR Corridor Management Plan, P.O. Box 128, West Glacier, Montana 59936.