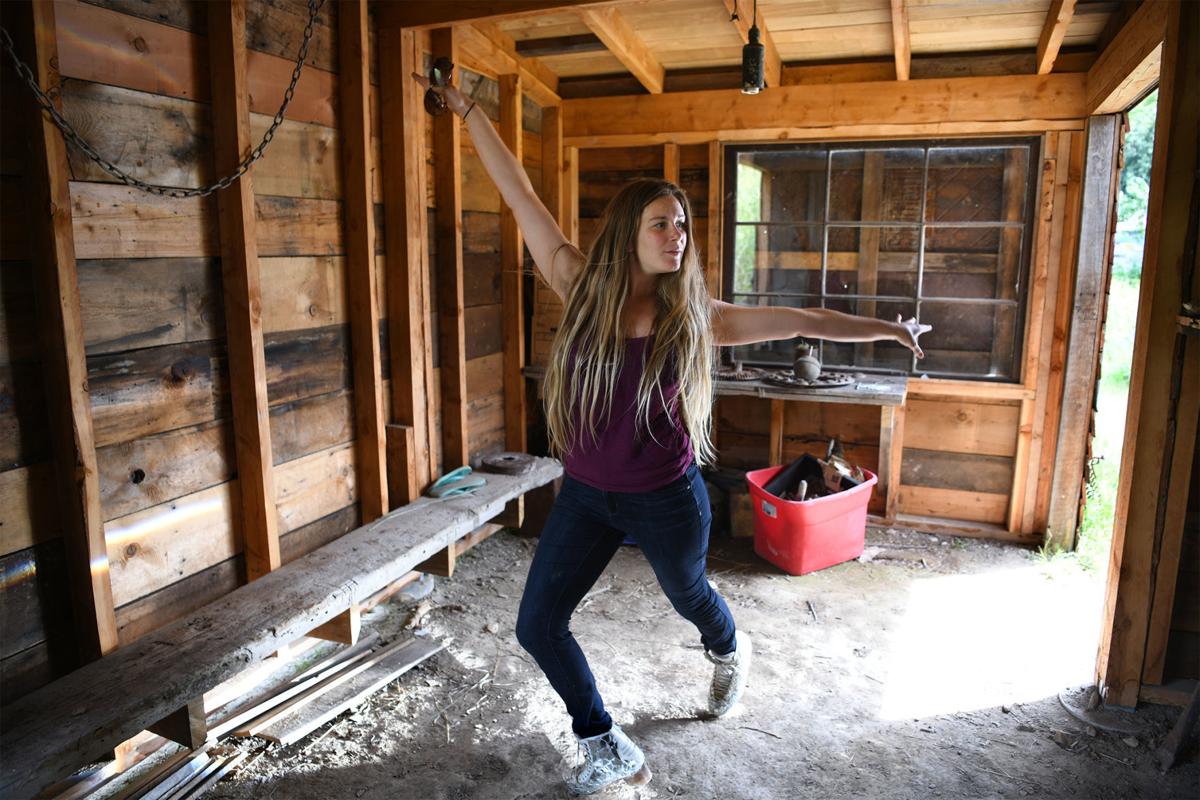 Laine Bonstein, a performing artist, stepped out of the vineyard at Ten Spoon Winery, strapped on a pair of boots and neurotically set about placing vases at each table. In between tables, she fell to the ground and pulled at her hair.
When every table had a vase, she tugged off her boots and left the winery's patio to Jessica Catron, who drew a bow across her cello, drawing out a long hum that melted into the hum of bees in the nearby garden.
Their audience included a Japanese visual artist, a dancer, a musician and others who'd taken a break from their work to join their colleagues in Open AIR, a six-week artist-in-residence program hosted by the Western Montana Creative Initiative.
Since the end of June, Bonstein and Catron have developed their art at Rattlesnake Dam, a place that city planners describe as currently "inoperable and not essential." Within the next year, the dam will be torn down and the Rattlesnake Wilderness will be reconnected with the Clark Fork River after more than a century of separation.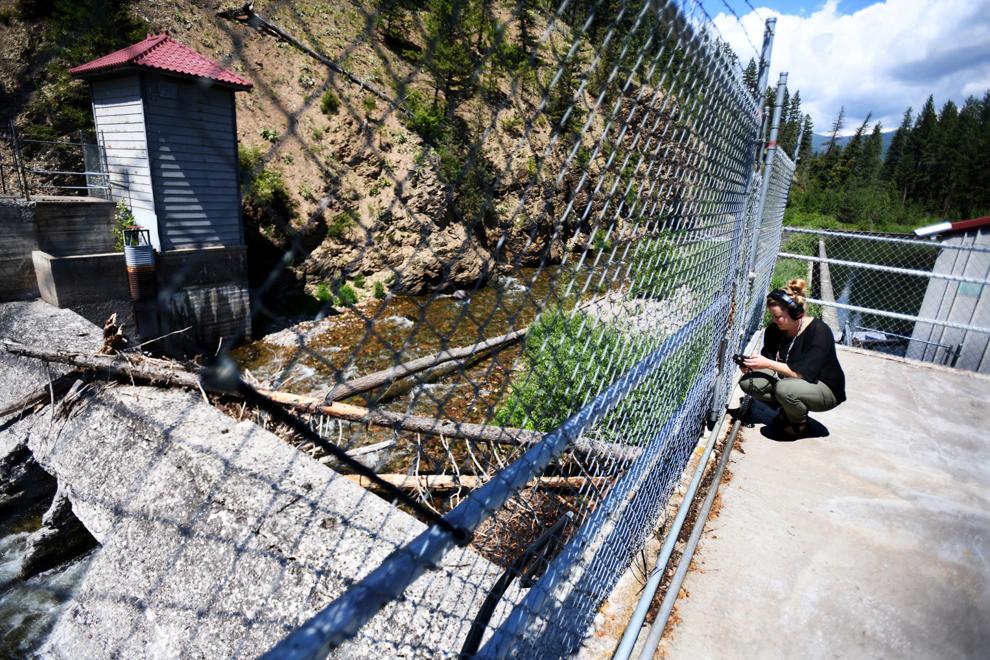 Bonstein, who spent years performing Shakespeare and Chekhov, drew from the dam's relationship with the surrounding forest to create her performance for those attending the luncheon at Ten Spoon Winery.
"In the past, I've done residencies that were more in the way of structured theater, so this is the first residency where I'm building a performance on my own," she said.
Like the unused dam holding back the water of Rattlesnake Creek, Bonstein said she wanted to explore societal structures and the pressure they place on humans.
"We have these emotional responses within us that can't be extricated," she said.
Catron, who still has not decided whether her cello will be a part of her final work at the dam, spent the past three weeks recording the residents there: crickets, birds and bees. She also captured the textures of the site, taking high-resolution recordings the sounds made by rubbing her hands against the bark of a tree or the concrete of the dam.
"I don't know if anyone else gets tingles or chills down their spine when they hear certain sounds," she said, "but I chase after that."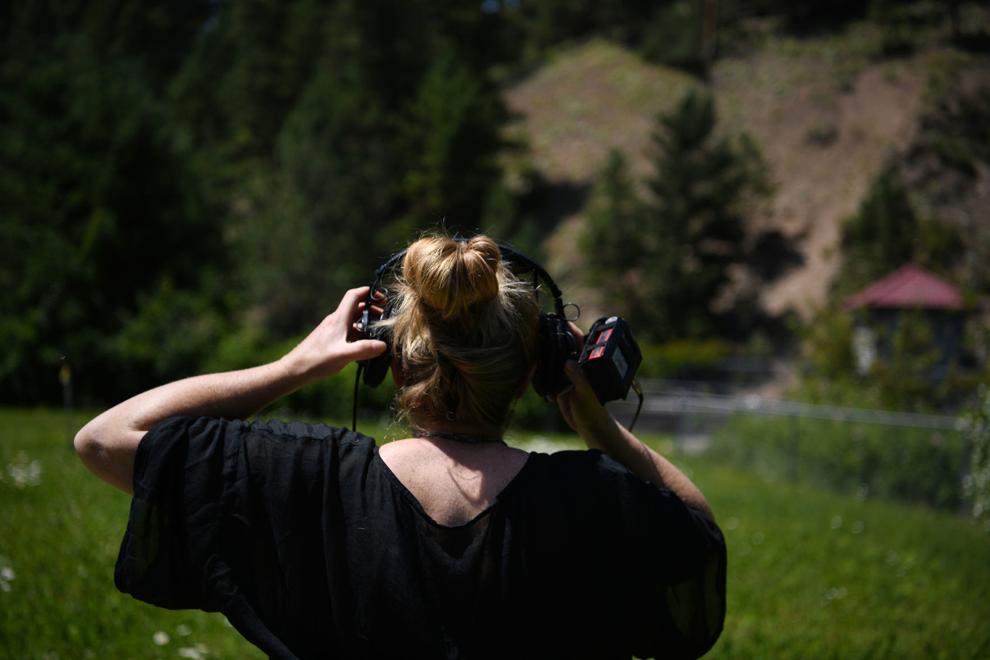 The two artists who performed at Ten Spoon Winery are among several of the artists in Missoula selected by Western Montana Creative Initiative. In January 2019, the nonprofit opened up applications with a goal of attracting 100 artists and installing them in the some of the city's most iconic locations. It received 140 applications.
"The response was absolutely overwhelming," said Stoney Sasser, the cofounder of WMCI.
The residencies, planned throughout the year, began in spring with artists from Montana staying for nine days in April at Fort Missoula, the Moon-Randolph Homestead, Home ReSource and the Flathead Lake Biological Station. For the summer program, running June 24 through August 4, the location stayed the same for the most part, but the artists came from across the country.
According to Sasser, she and Hadley Ferguson, who also serves as WMCI's board president, founded the organization as a way to eliminate barriers for artists and give them a space that allows them to draw from whatever artistic resource they liked, be it painting, writing, dancing or music.
"It all depends on what kind of creative you are, but when it came to designing this program we thought, 'What kind of experience would we want as artists, and how do we cultivate that for others?'" she said.
Sasser, who earned bachelor's degrees in psychology and painting from the University of Montana, said she is more interested in the processes than the products of art. With WMCI's Open AIR program, the artists will be able use the "context and history of each site as a lens" to focus their work.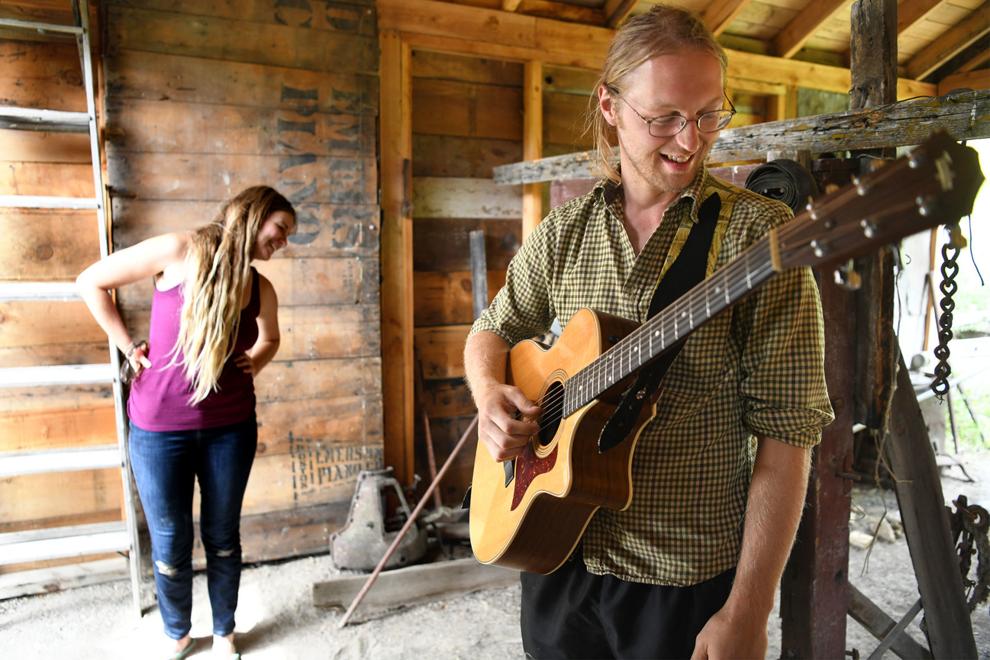 Matt Runciman and Dani Galietti, who spent the winter in Iceland creating pieces inspired by the Northern Lights, absorbed the context and history of the Moon-Randolph Homestead and turned it into a light show.
Galietti, a former competitive figure skater, walked into property's restored winch shed in bladeless skates. Fragments of a shattered mirror covered the skates. With sunlight directed into the shed from carefully placed mirrors, white orbs danced around its walls as Galietti took each step.
"We're standing at the bottom of what used to be frozen glacial lake. It may sound outlandish, but I'm performing in the future of frozen water. I'm a kind of post-apocalyptic figure skater," she said.
Although she has a background in figure skating, painting, video and even welding, Galietti, 32, currently focuses on using natural light in her art.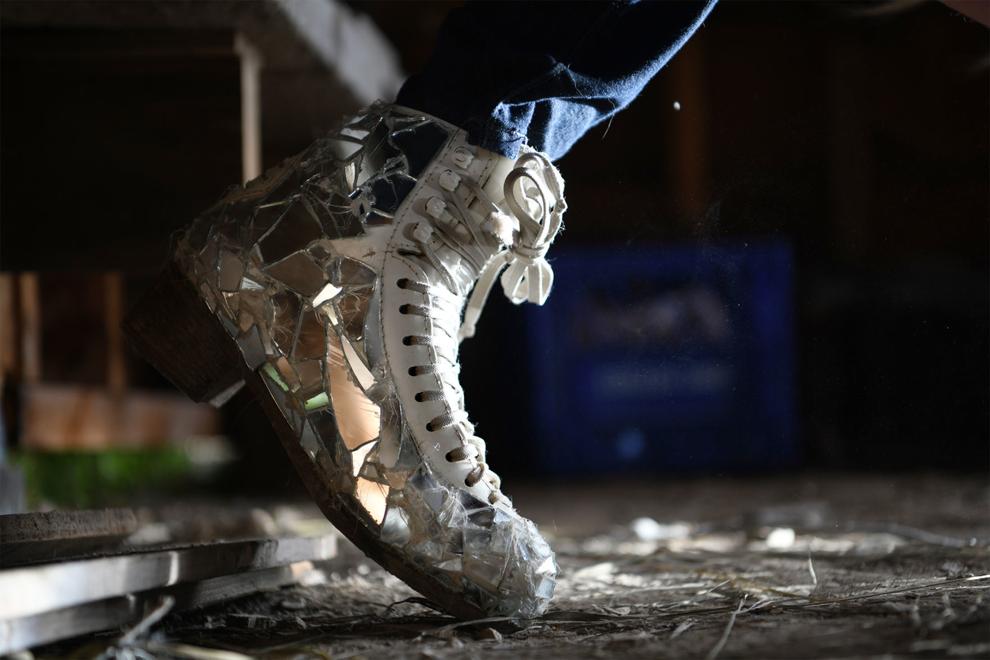 "Watch what happens when I do this," she said before kicking the dirt floor of the shed and sending dust into the rays of light coming from her skates. "Light's invisible, but when you marry something invisible with the physical, you can get something incredible."
Runciman, who has collaborated with Galietti since July 2018, described her performance as "one and one equaling three."
The 30-year-old musician has walked the homestead — which was rehabilitated using recycled materials to resemble its appearance in the 1890s — taking field recordings and translated its ambience into notes on his guitar. While he played, Galietti danced.
"I'm not just taking in the sounds of the property," he said. "There's also the train that rolls past, and the commotion at the dump. In the same spirit of those who built and rebuilt this place from the materials they had, I'm taking in everything and repurposing it. Everything gets used."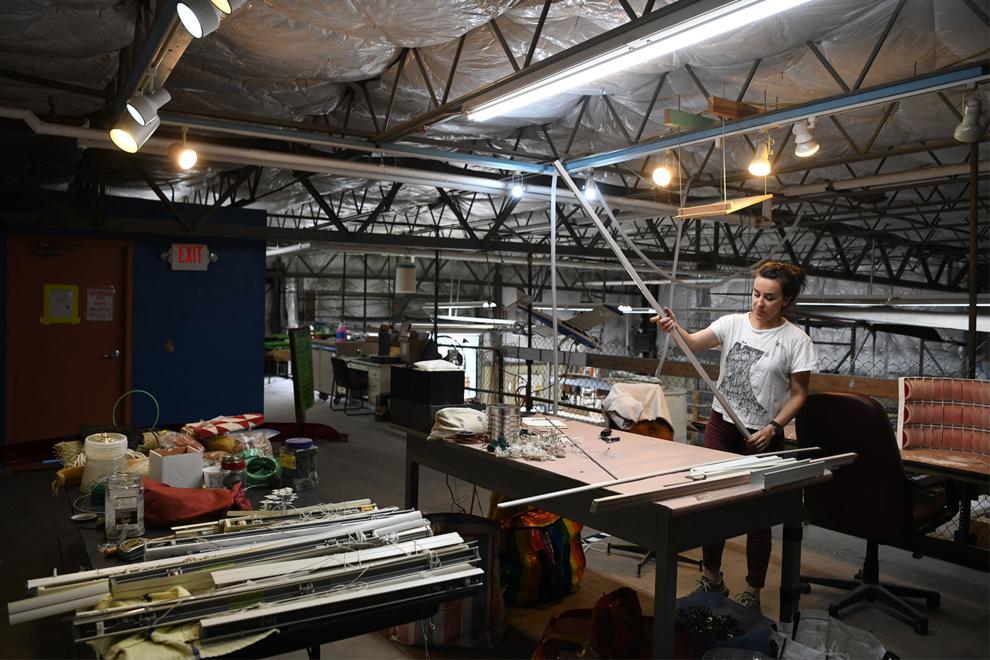 Since her residency began at Home ReSource, Kate Rusek has repurposed discarded bits of plastics, wires and metal into her work. On the wall of her studio hangs a plastic "map of materials" woven from nylon cord, fake coffee beans and stirring straws. Bent over a pile of aluminum blinds, she's gathering supplies for her next project.
"Aluminum blinds aren't in fashion anymore, and to me that's a jackpot," she said.
The site gives her access to all of the building materials donated to the nonprofit. She said she starts every day walking the facility's labyrinth of cabinets, bathtubs and carpets, looking for anything new to work with.
"I don't know what I'd use it for, but I could haul that Viking stove up here if I wanted to," she said.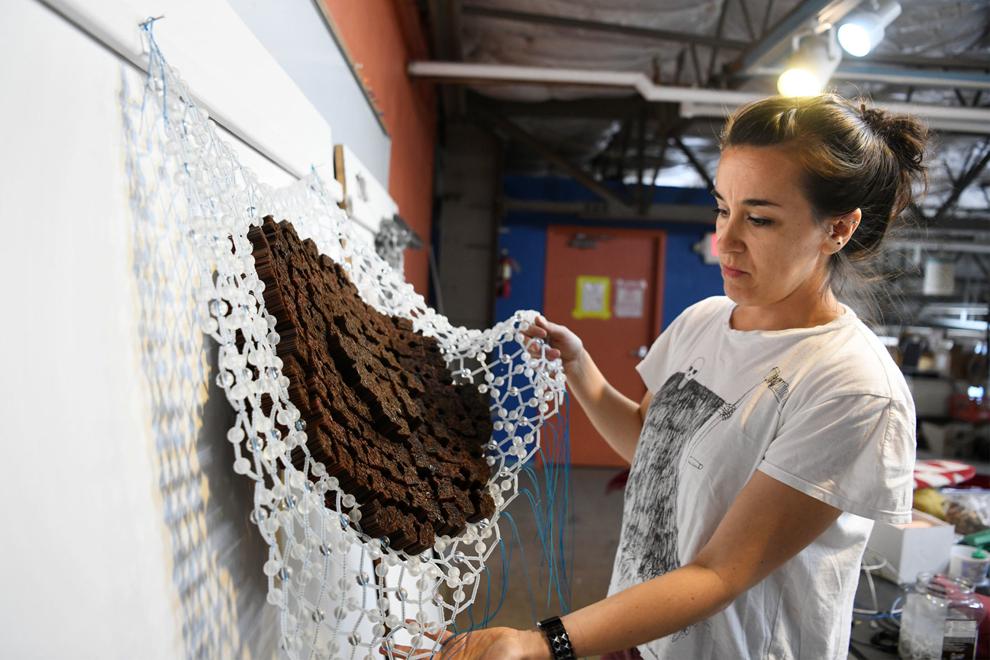 This is Rusek's first visit to Montana from her home in Queens, New York, where she also works as a clothing designer. In recent years, she's utilized products that typically end up in a landfill.
"Using what's discarded has taught me a lot about both what's in fashion and what we hold valuable. The evaluation of materials trickles down into how we value people," she said.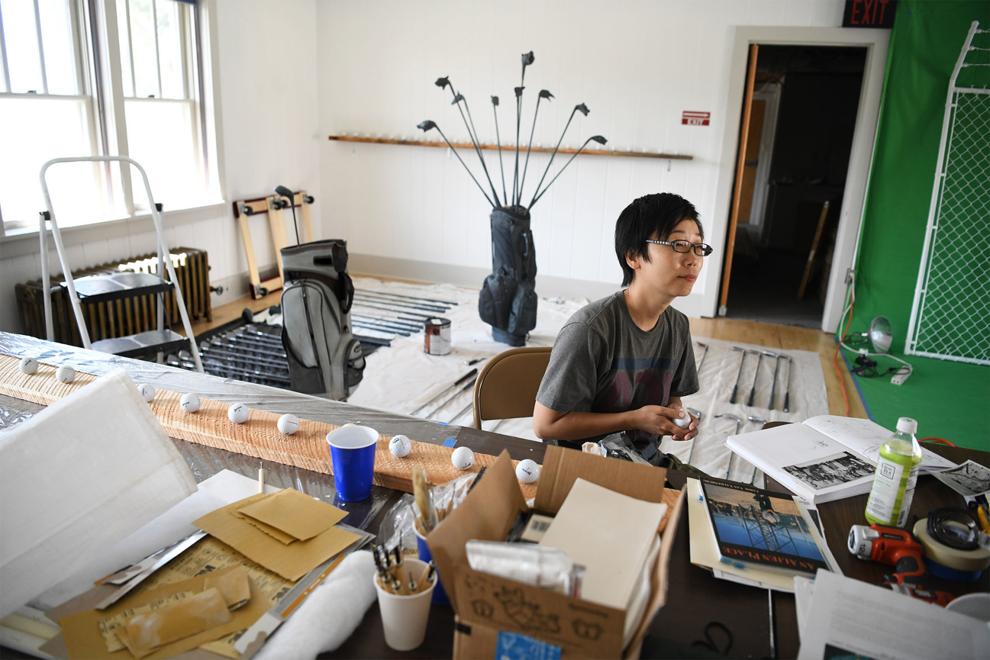 Gaku Tsutaja, a native of Japan who has spent the last 13 years in New York, said she finds value in the opposing narratives that history can create.
Grant funding restored the courtroom at Fort Missoula, where more than 1,200 Japanese Issei — first-generation Japanese immigrants — faced loyalty hearings following the December 1941 attack on Pearl Harbor. According to Fort Missoula Historical Museum Curator Ted Hughes, none was deemed a threat.
Tsutaja set up part of her studio behind the courtroom, in the judge's chamber.
Three pieces of barbed-wire fence, painted white, sat against a green screen. Dozens of golf clubs line the ground. In the corner sat a golf bag  full of clubs whose heads now resembled animals: bears, crows, badgers and coyotes.
Working with Hughes, Tsutaja threw herself into the history of Fort Missoula. She's pulled records, read first-hand accounts and pored over photographs of those interned. From that research, she's begun an animation project centered on the game of golf.
"The Italians here, they had soccer. But the Japanese, like my own father, played golf," she said.
After reviewing the photographs of the golfers and consulting a map of the grounds. Tsutaja and Hughes walked around the fort, photos in hand, until they found the Issei golf course in Fort Missoula Park.
"The shacks in the photos moved or were taken down, but the mountains never change,' Tsutaja said.
Next to the golf bag with the flowering animal heads in her studio, Tsutaja placed a row of golf balls. Each has a face becoming more and more contorted, a result of an impact with the head of one of the clubs. Each head is a character: an inspector or police officer who rounded up the Japanese living on the West Coast; Cordell Hull, secretary of state during World War II, and President Franklin D. Roosevelt.
"My work aims to raise the conversation in fatal social problems. I work with the history of symbols, allegory, satire, and caricatures to break the spell of our prejudice and belief," she said.