About three weeks ago, Phillip Benjamin was looking forward to wrapping up his shift at Opportunity Resources, Inc., but he was sure to take his time sweeping up in the building's foyer.
His anticipation was building for that night's Halloween dance put on by the company. Benjamin, 42, didn't quite have a costume, but he was sporting a nice shirt and tie. 
"He was looking extremely dapper," said Sheila Thompson, residential services director. 
Kurtis Mayne, director of vocational services, smiled through a deep sigh at Opportunity Resources' offices on Friday just thinking about Benjamin's getup that night. Benjamin had been with the company for more than 10 years by Mayne's count. To Mayne, Benjamin wouldn't have set a foot on the dance floor until he finished his cleaning duties because of the work ethic he developed while growing up on his family's ranch in Shelby. The shirt and tie attire was perhaps best explained by how Benjamin saw himself.
"Phillip was always extremely polite," Mayne said. "He considered himself a gentleman."
On Nov. 3, Missoula police found Benjamin dead in his apartment with an apparent stab wound to his chest. A woman with whom neighbors say Benjamin had been quarreling at their apartment complex was arrested Tuesday on suspicion of his killing.
Staff last week mourned Benjamin's absence from Opportunity Resources, which helps hundreds of adults with disabilities with support and employment. Benjamin worked with the company's janitorial services. 
"We've got staff having a really tough time with it," Mayne said. "He was compassionate. He was really able to connect with people."
Benjamin was still very much a country boy whose roots lie in eastern Montana, staff told the Missoulian. His mother would visit from Shelby often, and his father, who worked part of the year in Alaska, would join her as often as he could. He very much wanted to make his parents proud, Thompson said.
You have free articles remaining.
He lived with epilepsy that could sometimes hospitalize him from long and violent seizures, as well as a traumatic brain injury that caused his responses to questions to stall by 30 to 60 seconds, according to court records filed this week. A caregiver with North West Home Care would visit Benjamin at his Parkside Village apartment twice a day to help with medication and spend some time with him outside of work. 
But it was Benjamin's character that was top of mind for staff last week as they recalled him as more than a victim of troubled circumstances. Particularly his gift for painting, as seen in two pieces hanging in the offices. One is a water color painting of an antelope buck on the sun-baked grasslands. The other is an oil painting of a moose in the foreground of a wooded marshy setting, the whole canvas draped in a purple hue from the early sunrise. Considering them together, a person could see the two separate scenes from where he grew up east of the Continental Divide and came to live west of it.
"That was a great way for him to express himself," Mayne said.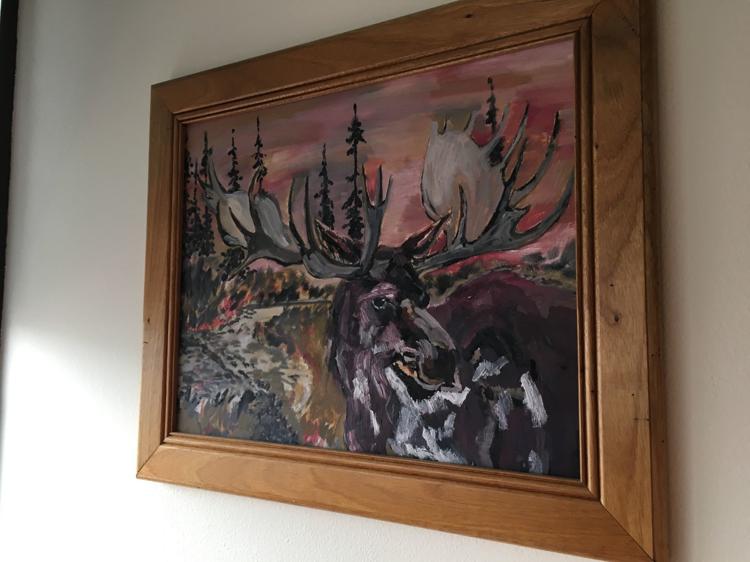 Benjamin's talents went beyond painting. Thompson remembered hearing him playing a piano that once sat towards the back, and knew he was taking lessons to play the bass guitar. Thompson said Benjamin's proudest moment came in December at the company Christmas party, where he played his bass guitar in the talent show with his parents proudly smiling in the audience. 
He would often get the tune of a song stuck in his head and then hum it to a staff member, she said. Together, they would look the song up and print out the lyrics so he could learn to sing along instead of hum. Recently, Benjamin had taken a liking to the Monkees, but he also enjoyed the occasional heavy metal, old country and grunge rock.
"I'll always think of him as a thoughtful man," Thompson said. "He was always trying to improve himself and live a good life."
On the cleaning crew, Mayne said Benjamin was thoughtful, and quiet — which would give sort of an extra punch to his jokes when he took the opportunity. But he also took time out of his day when others were having a hard time, Mayne said. It didn't matter who it was at work, Benjamin would dispense his compassion equally. 
"There was no designation with Phil, and I think that's a really beautiful thing," Mayne said. "We could use a lot more of that in this world."
After Benjamin finished up sweeping in the foyer, Thompson saw a staffer straighten out his tie. Then, Benjamin hit the dance floor. It was the last time she saw him.
"That night, that weekend was good for him," Thompson said. "We were all happy to see him have a good night. That's what I keep holding."