While a young girl recovers from serious injuries after falling from a high-speed ride at the Western Montana Fair on Thursday night, a county official confirms there are no Montana state laws, or Missoula County or City of Missoula regulations concerning carnival ride safety. 
Erica Grinde, the county's risk manager, said Montana is one of only a handful of states lacking safety oversight of amusement rides.
"Montana doesn't have any laws or regulations specific to carnival ride operation that other states do," she explained. "There is no state oversight, the county doesn't have authority to have any specific regulations set in county ordinance, and city does not have any city ordinances. That's the legal landscape of it."
The county signed an agreement allowing Northstar Amusement to operate the carnival rides, and the company conducts its own inspections.
The contract — signed June 6, 2017, for fair years 2018-20 — between Missoula and Northstar Amusement has no specific safety inspection guidelines.
At 6:45 p.m. on Thursday, an 11-year-old girl fell off a carnival ride called the Typhoon. Sgt. Jim Klawitter of the Missoula Police Department described her condition as "serious, but not life-threatening." A Missoulian photographer captured an image of a dented metal fence at the ride caused by the girl's fall. The girl was carried away by stretcher and ambulance to Providence St. Patrick Hospital in Missoula.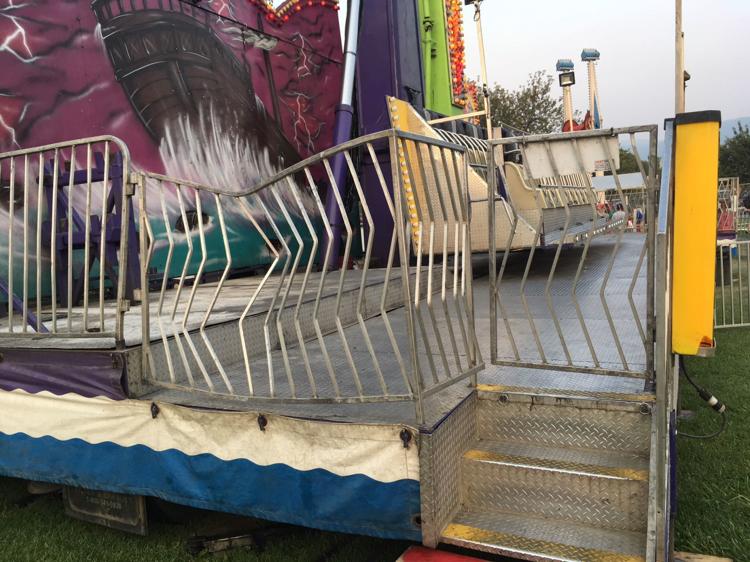 Grinde said the Typhoon ride has been shut down for the remainder of the fair, and county staff was to accompany Northstar staff for an inspection on Friday. She said there's no reason to believe any other rides are unsafe and they will all still be operating.
The company that manufactures the Typhoon ride describes it as an open-air "extreme thrill ride" that "unleashes the screams of passengers" as the ride generates enough momentum to complete a full 360-degree rotation.
Tyler Smith, a local resident, said his two young boys, ages 10 and 13, felt in danger on the ride on Wednesday evening.
"Their mom took them yesterday, and they only went on one ride, the Typhoon," Smith explained. "I get home last night and Brysen, my youngest, said, 'Hey, Dad, I almost died at the ride.' Jaxon, my 13-year-old, said, 'I had to grab onto him to keep him from getting thrown off.'"
Smith said his boys described a bar that comes down over the shoulder to keep kids in the ride, but there is a "little plastic nub" that keeps kids from sliding forward.
You have free articles remaining.
"With the centrifugal force, he went over the nub," Smith said. "Brysen is a small 10-year-old. He made the height requirement, but he's only 55 pounds. My 13-year-old is 150 pounds."
Smith said when his son told him he almost died, he didn't take it seriously at first.
"I was thinking, these rides are designed to get at you a little bit," he said. "But when my son heard about that little girl, he broke down crying. He didn't think I believed him. He's really worried about that girl."
Missoula Fairgrounds Director Emily Brock said she wants to convey in the strongest terms how deeply everyone at the fair feels for the girl and her family.
"The entire county, fairgrounds staff, 4-H, rodeo contestants, MADE Fair and vendors are pulling for her," she said.
Brock also said that while she's saddened by the accident, the fair is rallying and moving forward.
"I want to remind folks that the fair has been going on for over 100 years," she said. "We had a major fire that burned down the grandstands at one point. The fair goes on. We know that folks will come down here to support our local nonprofits, the 4-H exhibits and the vendors. As Erica explained, there's no reason to believe other rides pose a risk. As the weather cools this weekend, we anticipate large crowds."
In 2014, Missoula City-County Health Department officials threw away a large amount of food that was going to be served by Northstar Amusement vendors at the Western Montana Fair after it was discovered the food hadn't been properly refrigerated as it was driven from eastern Montana.
The Billings Gazette, citing Montana Department of Human Health and Services statistics, reported that there have been five hospital admissions in Montana since 2010 due to carnival rides, and no deaths. The U.S. Consumer Product Safety Commission is aware of 22 fatalities associated with amusement rides since between 2010 and 2017 nationally.
In Billings, Mighty Thomas Carnival runs the carnival at MontanaFair, which started Friday and continues through Aug. 18. Mighty Thomas Carnival was in Great Falls before that.
Ray Massie, marketing and sales director for MetraPark/MontanaFair, said Friday that Mighty Thomas is doubling its safety efforts this year by hiring an independent inspector. "Anytime any incident happens at a fair, we are concerned. We hope the child recovers quickly," he said.
"As far as MontanaFair and the Mighty Thomas Carnival are concerned, we have continuous inspections of our rides for safety," Massie said. "... Safety is our first priority for all our guests. Inspection and training are ongoing with the carnival."