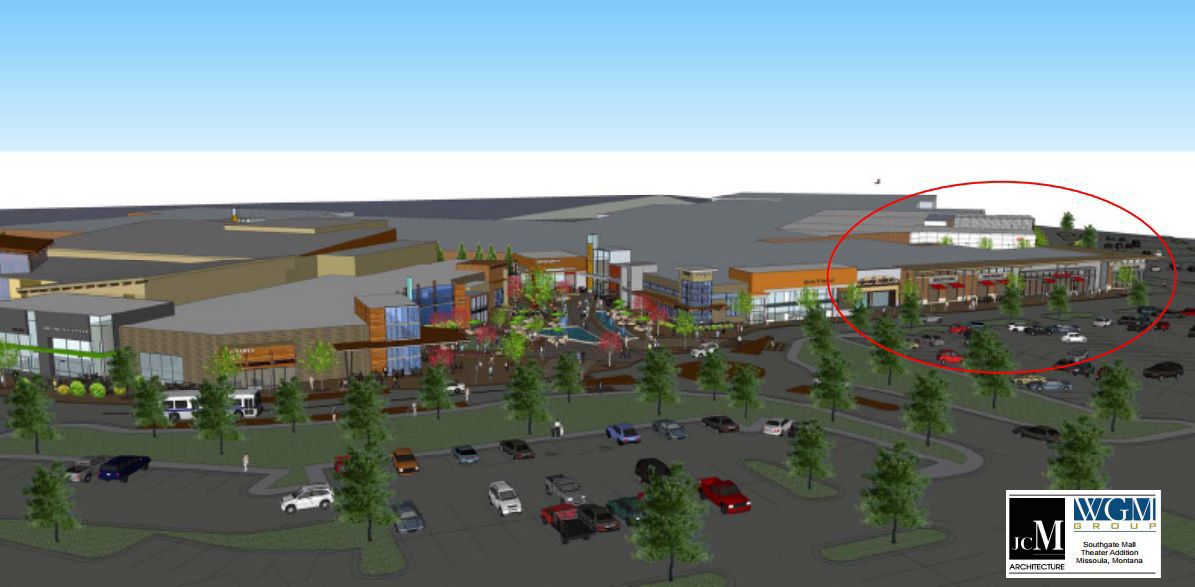 Southgate Mall in Missoula is under contract to be sold from a local ownership group to an Ohio-based real estate investment company for $58 million, according to Peter Lambros of Lambros ERA Real Estate.
Washington Prime Group of Columbus, Ohio announced on Thursday that it has executed a purchase agreement to acquire Southgate Mall, and the transaction is expected to close during the second quarter of 2018. Lambros, a representative of the current local ownership group, told the Missoulian on Saturday that he and the Lambros company want to focus on developing housing on land parcels adjacent to the mall, and in order to fully focus on that gigantic task, they needed to find a partner to manage control of the retail development future of the mall.
"Not only do I expect (Washington Prime) to continue the current development trajectory, and that's why we chose these guys, we realized the development that will come from having completed the present development is probably more than our group can handle," he said. "(Washington Prime) is the player to take it to the next level. We really want to tackle the housing piece, and the purchase will allow us to put our efforts into the housing piece."
The news comes as a newly-built 1000-seat, dine-in AMC movie theater at the mall has announced it is opening to the public on Monday. Right next door, a new specialty grocery store focused on organic, natural and locally-grown products called Lucky's Market is under construction in the old Sears space. The mall is in the midst of what officials have said in the past is a $64 million renovation of the massive mid-town complex on Brooks Street. In 2015, the Missoula Redevelopment Agency approved a request to apply $6.9 million in tax increment financing to help build a new road, an extension of Mary Avenue between Brooks and Reserve, which will direct much more traffic through the mall property. The money will be paid back by what city officials estimate will be more than $320,000 a year in new property taxes, which are diverted away from the city's general fund and put back toward the property, since it sits in an Urban Renewal District.
Lambros said his ownership group is retaining parcels adjacent to the mall.
"Instead of us driving the retail development, it really becomes more of a collaborative development," he said. "We had many interested parties when we began conversations in terms of various levels of partnership, and we selected these guys to make long term decisions based upon the best interests of the community. They're very aligned to the way we've run our property and our own value set."
Lambros said he has been assured that Washington Prime will continue to run the mall in much the same way the Lambros family has since it opened in the late 1970s.
"We plan to remain there and all be working in a strategic capacity for (Washington Prime)," Lambros said. "My role stays similar to what it is now."
Washington Prime Group is not related to the Washington Corporation, which is owned by Missoula billionaire Dennis Washington. Washington Prime owns nearly 100 shopping centers across the country.
"Over the past five years, we've put into motion the evolution of Southgate, from a mall, to a mixed-use town center," Lambros said. "Our efforts have focused on the development of a top tier grocer, Lucky's Market, state-of-the-art entertainment, with AMC's dine-in theater, and enhanced neighborhood connectivity. As we near the completion of our vision, we believe Southgate's current potential is so significant, that it will outgrow the existing ownership group. Washington Prime has the capacity to further Southgate's development, and shares our philosophy of commitment to our community, and our retailers."
In a statement to investors, Washington Prime group said Southgate Mall is the dominant town center in Missoula and the largest retail center in western Montana, comprising a significant catchment area that extends 130 miles.
"The hybrid asset, with both enclosed and open air tenants, comprises approximately 632,000 square feet of gross leasable area," the company said. "Southgate Mall is anchored by a dynamic mix of retail, entertainment and dining options, national home furnishing retailers Bed Bath & Beyond and Cost Plus World Market; a regional sporting goods retailer; popular local restaurants; and national department stores and specialty retailers. In addition, Southgate Mall hosts numerous community events and activities throughout the year."
The company said the price of the sale reflects an approximate 10 percent capitalization rate on Washington Prime's underwritten net operating income, "with solid long-term growth potential."