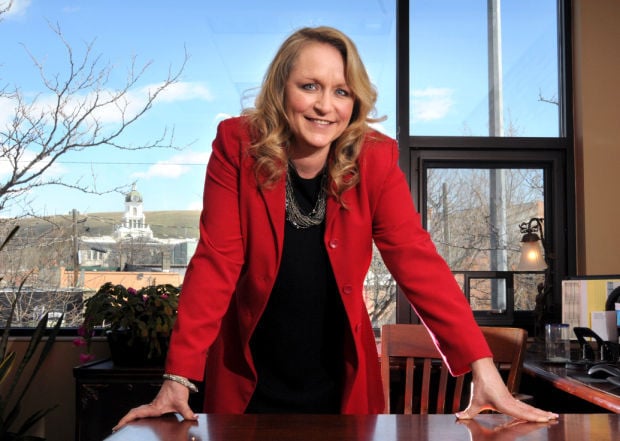 Alleging "actionable libel" against "several young men" and damage to her own character, Missoula County Attorney Kirsten Pabst made a last-ditch effort to delay the release of Jon Krakauer's book about rape in Missoula, according to a letter she wrote to the publisher.
In a 10-page letter dated April 16 and sent to Doubleday, Pabst urged the best-selling author to stall the release of "Missoula: Rape and the Justice System in a College Town." She alleged the book was based on "half-truths, omissions, inaccuracies, unsupported conclusions and, sold as non-fiction narrative, constitutes one-sided journalism."
"Missoula" was available in bookstores Tuesday, and the publisher released only a limited number of copies beforehand. Pabst did not appear to have obtained a copy before writing the memo; she appeared to be responding to information she had received about the publication, including questions she received from Krakauer in connection with his reporting for "Missoula."
In an email, a Doubleday spokesperson said the publisher informed Pabst that "her allegations were incorrect." In an earlier note about the book, Doubleday described the author's investigation as "uncommonly thorough."
In the book and in an interview, Krakauer pointed to Pabst as a major problem for rape victims seeking justice in Missoula. Pabst argues the Missoula County Attorney's Office has had a higher rate of prosecuting sexual assaults than the national average, and she has initiated improvements for victims and aided a federal investigation of gender bias in law enforcement.
On Tuesday, Missoula County announced Pabst will issue a statement at noon Wednesday. The email to media outlets noted "the printed statement will be made available immediately following the event. County Attorney Pabst will not be granting individual interviews."
In a brief telephone conversation, Pabst said she did not plan to answer questions raised in the book following her statement. She said she made the decision in consultation with other county officials, including communications director Anne Hughes.
"We just thought it would be best to put out a statement about all the hard work that we're doing," Pabst said.
She also said the decision to refrain from taking questions is not necessarily a permanent one: "I'm not saying that this is a forever thing. It's just for tomorrow because we're getting bombarded, and I'm sure you can understand that."
Last week, Pabst said Krakauer had not agreed to her requests that he delay publication until he speak with "people who have actual knowledge of the events in his novel."
On Monday, the Missoulian requested Pabst provide all communications associated with her appeal for a delay. On Tuesday, after the county attorney had not replied, the newspaper forwarded the request for records to Hughes.
Pabst subsequently provided the Missoulian a letter she sent to Doubleday as well as a redacted email she sent to Krakauer's lawyer: "I am having to redact the letter to Mike Meloy because it repeats Krakauer's false accusations of misconduct."
In the memo to Doubleday written on Missoula County letterhead, Pabst describes her reasons for writing to the the publisher directly and the shortcomings she sees in the author's investigation. She also defends the decision the County Attorney's Office made against prosecuting an alleged gang rape, and she touts improvements in Missoula since a U.S. Department of Justice investigation.
"The book apparently ignores that our community has banded together and is breaking ground on great and permanent changes in the area of sexual assault prosecutions," Pabst wrote. "The Missoula County Attorney's Office is committed to taking the lead and becoming the flagship model for other communities facing similar challenges. To do that, we are examining past practices, studying the nation's best practices, and engaging in specialized training."
In fact, the county attorney notes that Anne Munch, a "renowned sexual assault consultant out of Colorado," is scheduled to spend three days with Missoula prosecutors in May. Munch will review cases, "look at the efficacy of our new processes and offer trial strategies to help increase convictions."
In the memo, Pabst blasts Krakauer for not interviewing her. He had sent her questions on Feb. 19, but she earlier said it was clear Krakauer was not after the truth, and she elaborated on her position in her letter to Doubleday.
"Krakauer has been writing the book, according to your publicist, for three years. However, in those three years he has not spoken to most of the people whom he intends to destroy," Pabst wrote. "During those three years, Krakauer chose not to interview me, despite his apparent decision to develop my character in the book as a central antagonist."
She continues to name a long list of people Krakauer did not interview from law enforcement, the University of Montana, the media and City Hall. She also cites documents she believes the author failed to obtain.
"He did not file a declaratory action under Montana State law to obtain police reports that might contradict his allegations," Pabst wrote. "... One of his attorney's filed an action to unseal university records, but Krakauer finished his book prior to receiving those records.
"Sexual assault is a very important matter. It deserves serious attention and serious non-fictional treatment. Krakauer's book provides neither," the county attorney wrote.
In the book, Krakauer writes about a gang rape allegation, and in her memo, Pabst discusses the reasons the allegations did not result in charges. She said the woman "claims she was gang-raped by University of Montana football players.
"Krakauer believes her. The investigation showed that (the woman) got very intoxicated with her best friend, made out with the other woman in front of the men, and then engaged in what appeared to all present to be consensual oral and/or vaginal sex with three men.
"No doubt she was traumatized. She remembers very little.
"The suspects said the sexual contact was consensual and their accounts were consistent with the woman's friend who was present throughout. The two women were clearly intoxicated but facts in the investigation show they were not incapacitated, as defined by Montana law."
In the memo, Pabst wrote that the woman didn't stop performing sex or say anything to her friend "because she was scared." According to the memo, the woman agreed the men "would have believed she was a willing participant."
"In order to obtain a conviction, the prosecutor is required to prove that the accused acted purposely and knowingly," Pabst wrote. "(The woman's) statement, coupled with the other facts showing actual consent, rendered the case lacking probable cause. It couldn't be charged."
She notes the Missoula Police Department investigated and found probable cause was lacking; the prosecutor concurred; and the Montana Attorney General's Office agreed after a review at the request of then-County Attorney Fred Van Valkenburg.
"Krakauer tells a story of a brutal gang rape but fails to account for all of the facts inconsistent with his theory, while maintaining a constant theme that the police, university and prosecutors mishandled all of these cases," Pabst wrote.
In the book, Krakauer shares the story as told by the woman. At a party, football players competed to see who could drink the most, and they urged the woman and her friend to join them, according to "Missoula."
She drank between eight and 11 shots in some 45 minutes, ended up in a dark bedroom and felt like she could not move, the book said. She drifted in and out of consciousness as "different men entered the room, had sex with her, and left."
Later, she ended up vomiting in the bathroom, and a friend took her to the emergency room, the book said. She told the nurse she thought she "may have been raped," and she told her mom the same thing, according to the book.
Then, at First Step, an examining nurse found " 'multiple genital lacerations' indicative of penetrating trauma." The woman found detectives suspicious of her account, however.
"They seemed skeptical ... like they thought I was just another drunk girl. I began to feel like I was the perp. ... I showed them exactly how he did it, but they didn't seem to believe that I really resisted or said no," she said in the book.
Wrote Krakauer: "With a blood alcohol content of .219 percent more than two hours after the alleged rapes began, it's hard to imagine that (the woman) wasn't mentally incapacitated to a significant degree."
The book names the woman; the Missoulian did not make contact with her for this story and is not naming her here.
Pabst copied her memo to Montana Attorney General Tim Fox; Steve Coll, dean of the Columbia University School of Journalism; Norman Solomon, executive director for Public Accuracy; and Eric Newhouse, of the Great Falls Tribune (Newhouse is retired).