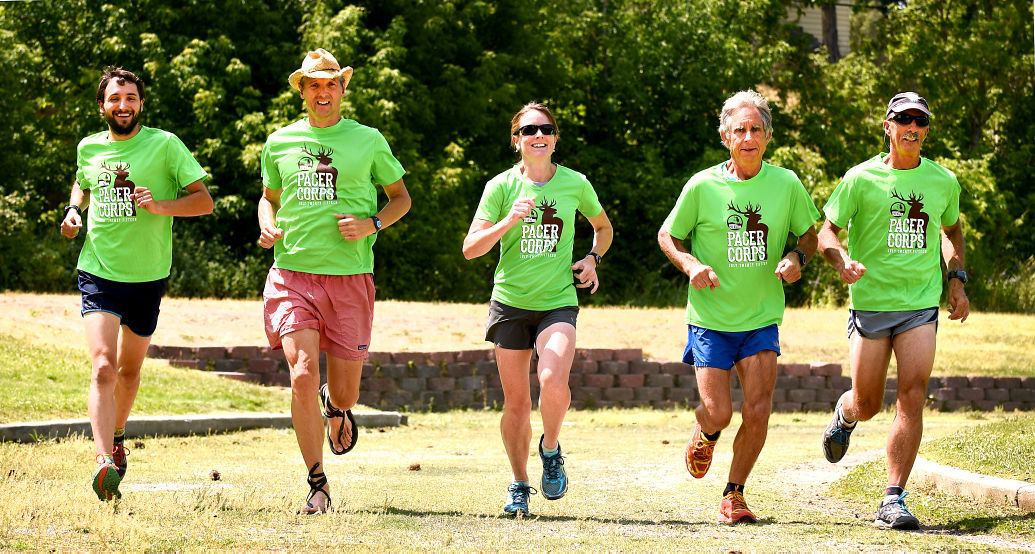 Almost everyone running the Missoula Marathon on Sunday will be trying to finish in their fastest time, but 23 experienced racers will purposely be covering the 26.2 miles quite a bit slower – and more methodically – than usual. And they'll be carrying bright balloons on sticks.
The pacers are a group of dedicated volunteers whose job it is to give runners an idea of how fast or slow they should be going throughout the race if they want to hit a certain finishing time.
"We work as a moving clock from start to finish," pacer organizer Dean McGovern explained. "We don't just try to hit our marathon goal pace. We try to hit it every mile, so that spectators and runners always know where we are on the course, where you are on the course – so we kind of move with the clock."
Without the pacers, some runners – especially newcomers to marathons – might expend too much energy at the beginning of the course and run out of gas at the end. Others might hold back on the throttle too much only to later realize they should or could have been pushing harder. Maintaining a consistent pace over the course is important for runners who want to finish in a specific time.
"Pacing is a big deal in a marathon, especially for a beginner," McGovern said. "Most people finish their race much slower than they started it, and that's exactly what you don't want to do. Most people run the first half relatively fast, sometimes too fast, and then they fall apart the second half or the last quarter. If you can keep yourself under control, and have somebody running and talking with you in the beginning, and keeping the reins on you, that will hopefully and theoretically save you from falling apart when you get to Bonner Park."
The pacers – 10 pairs and three who will be on their own – will run at 13 different speeds, finishing the race at between three and five hours. The balloons they carry allow runners to keep track of them. 
McGovern has all the pacers run about half an hour slower than their best marathon time. They all will wear watches or wristbands that show their splits – the time they should be hitting every mile marker.
"I think it's just a matter of going out and knowing what the pace is you have to hit," said Jesse Carnes, who will be setting the 3-hour 20-minute pace by himself. "And I've run practice laps around the track and try and just hit that pace just right. It's tough because you're used to kind of nailing a certain pace for your marathon pace. You're having to slow it down. For me it's almost exactly a minute per mile (slower). And it's an awkward thing to try and find it. But for me also, it works out well because my classic training pace is a 7:38 (per mile) pace."
In the first Missoula Marathon nine years ago, the pacers split up so each ran only 13 miles.
"We found that was sort of demotivating and upsetting to a lot of the runners because their pacer, who they've come to know over 13 miles, disappears and this new fresh person comes in and it sort of demoralizes them a little bit," McGovern recalled. "And the majority of pacers want to do the whole race."
There is an art to not running too fast or too slow.
"Katie (Gibson) and I will usually put a minute or two in the bank before that hill at mile 13," said pacer Ken Ellis. "Just because it slows everybody down. And we'll let everyone in the group know that we're going to pick up 15 seconds per mile or something like that. Nobody runs as fast as they would going up and then you gotta kind of put on the brakes going down."
Carney said he never slows or increases his pace, even on hills, so he lets people know in advance that they may lag behind him going up but will catch him coming down.
Most of the 23 pacers are from Missoula, and many of them are avid trail runners.
Katie Gibson is using it as a training for a 100-mile trail race in Washington later this summer. She said she still gets nervous about pacing.
"I don't want to disappoint the people that have worked so hard because it is their goal, and Ken and I are at that pace group where there's people that are trying to qualify for (the Boston Marathon) and we've seen people achieve that and they're so excited and we feel that pressure, too," Gibson said. "We want to see them succeed and get them invested in what they have been training so hard for. I don't want to let them down."
For many of the pacers, this race will be the only time they run on pavement the entire year.
"These are amazingly accomplished runners," McGovern said. "It's a bunch of committed people who want to give back at least one race a year, and sort of give this race to the community. So they run this 26 miles not for their own glory or their own time or anything else. They do it for others."
The pacers say they all try to keep up conversations with the runners who are following them, but toward the end of the race they may find themselves alone.
"Another thing that's interesting as a pacer is around mile 22 or 23 it starts to get really lonely because that's the point when everyone is either not feeling it and drops off the back or is feeling it and starts to pick up," Carnes said. "And you've got people flying by you and people dropping behind you and there's no one running your pace anymore. But they know you're there. I always tell people, you've got four miles left, I don't expect you to run with me."
McGovern said pacers are humans, too, and occasionally they get tired during the race.
"You just have to dig deep and keep going," he said. "People are depending on us."
Ellis said people sometimes accuse them of speeding up, and he has to politely remind them that they are always exactly right on pace.
For all of the pacers, it's a rewarding experience.