While Missoula's an eight-hour drive from Seattle, the birthplace of grunge, it's never been a bad location for a Pearl Jam fan.
Thanks to bassist Jeff Ament, a native of Big Sandy and part-time Missoula resident, the arena-grade band has booked tour stops at the University of Montana dating back to 1993.
On Monday, the group will return to Washington-Grizzly Stadium for its seventh concert here. To mark the occasion, the Missoulian staff dug through its archives of reviews and photographs from the concerts, many of which have never been published online, to give a look back at the band's shows here.
By the summer of 1993, Pearl Jam was one of the biggest bands in the world. Its debut album, "Ten," released nearly two years prior, had made them stars based on songs like "Even Flow," "Jeremy" and "Alive." The highly anticipated follow-up, "Vs.," wouldn't be released until fall.
The band was preparing to tour with U2, one of the only bands in the world who could claim to be bigger. Yet Pearl Jam booked a gig on the UM campus, in what's now called the Dennison Theatre, capacity 1,300.
It was a stealth gig, announced only a week in advance.
"They wanted to have a nice little intimate show," Jeff Kicklighter of the University of Montana's ASUM Programming told the Missoulian at the time.
Orgone Box, a local hard-rock band, were asked to open four days before the show. Drummer Dan McGuire said they were "ecstatic." A few weeks earlier they were playing at the Elks Club. It was the biggest gig he and his bandmates could imagine.
"We just thought, to them, it was probably like playing somewhere out in Lolo," he said.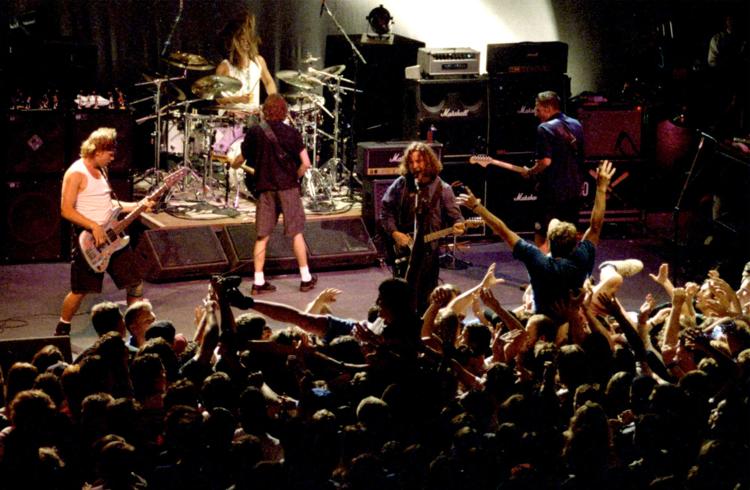 As soon as Orgone Box started, the lights went down and the crowd pushed to the front and "pogo'ed" through their whole set. McGuire said it was so packed that people couldn't move.
According to a Missoulian review, between Orgone and the headliners, "bouncers poured water on the sweating, squished revelers in front of the stage."
"Yes, Pearl Jam had a TV in their dressing room tuned to the NBA playoffs and didn't saunter on stage until the game's end at 9:55 p.m.," according to review J. Mark Dudick.
"Intimate" isn't synonymous with quiet. The band "made the walls shiver," Dudick wrote.
McGuire said they got a sneak preview of future classics like "Rearviewmirror," as they watched "the biggest rock band on earth at the time" from backstage.
The review noted the presence of Ament's family.
"Jeff Ament's parents sat at the side of the balcony, videotaping the entire scene. It's nothing new to them (they've seen the band in Seattle and Bozeman), just another opportunity to see their son play," he wrote.
"He's worked hard," said Mrs. Ament of her son. "He deserves all the attention he's getting."
Eddie Vedder's wild-man energy was often noted in the early days, and Missoula was no different.
"At one point, someone from the surging, bopping crowd threw a tennis shoe on the stage. Vedder picked it up, licked the sole, and threw it back," the article said.
Afterward, Orgone Box headed to Charlie B's for a victory beer. McGuire said Vedder walked in and joined them. Eventually, they decided to pick up some beer at a gas station for an impromptu house party. It was Vedder's idea, and he picked up the beer.
"Pearl Jam as people are amazing, friendly, get-along kind of guys," McGuire said.
The prior November, the band released its third album, "Vitalogy," a strong competitor for the its best full-length.  A crowd of around 7,000 turned out for the show, which was kicking off a tour.
"The concert was also designed to showcase new drummer Jack Irons, who enjoyed one of the show's few flashy solos during the song 'Immortality,'" Mike McInally wrote.
He said that "for much of the evening, Vedder was more low-key, intently hunching over his microphone as he sang."
The crowd, however, doesn't sound mellow in the slightest.
"Throughout the concert, fans near the stage threw themselves over the barricades that had been set up between the stage and the crowd. Security guards behind the barricades spent the evening catching these fans and escorting them back into the 'mosh pit' in front of the barricades," McInally wrote.
Washington-Grizzly Stadium
"This is a great place to start a tour," Vedder told the crowd of 22,000 people packed into the stadium. "I think we'll make it a usual thing."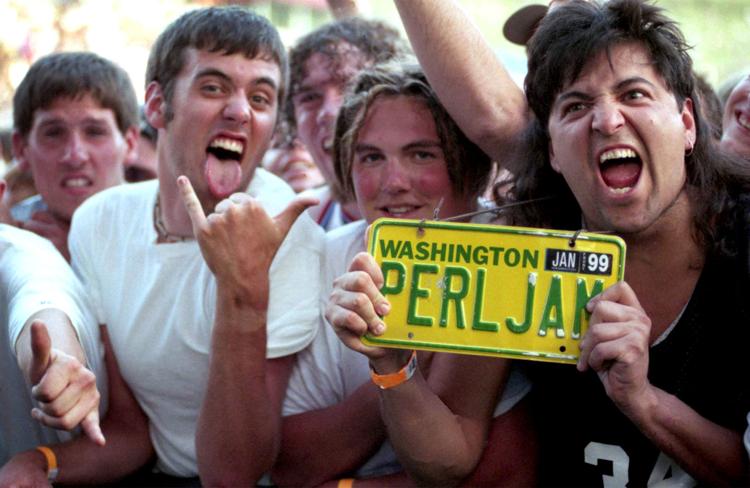 In February, the band released its fourth studio album, "Yield," which had future concert staples like "Given to Fly" and "Do the Evolution" and reached No. 2 on the Billboard album chart, second only to the "Titantic" soundtrack.
The show sold out within a week. Scalped tickets were marked up to $30 from the original $25. Some fans traveled from as far away as Africa and Amsterdam, according to the Missoulian write-up.
Pearl Jam opened with "Corduroy," a song that merged the band's punk tendencies with Who anthemics and Vedder's softer confessional modes.
"A half-hour into the Pearl Jam set, young men began hurling their bodies over the rails and across the floor, starting into the thick crowd to elude security guard[s] as cheers swelled from the stands," Jones wrote.
Vedder introduced "Pilate," a new song by Ament, by saying, "I believe this next song was actually born in Montana, I might be wrong."
In his review, reporter Jamie Kelly describes the intensity level after starting out in the stands and venturing closer:
"I took a quick trip to the core, the earbleed section known as stadium floor. About 8,000 of us and growing, as rabid fans escaped their seats, dodged security and disappeared into anonymity. (The conspiracy was borne, at least partly, of bathroom chatter. 'Dude, we're going to crash the floor! Who's in with me?')
"Sweat and alcohol, marijuana, too, these are the smells that dominated here. Random hands probed and prodded, grasping for my flesh. Some moshers wanted to carry me atop their shoulders. Others wanted to be carried.
"The fringes of the pit were raucous. These guys and gals were crazed, dazed and delirious. Pearl Jam's guitar-laden grunge is undeniably powerful, but there was more to it than the music. The moshers' bodies were convulsively wracked in their Dionysian dance, pounding and beating their fellow humans indiscriminately."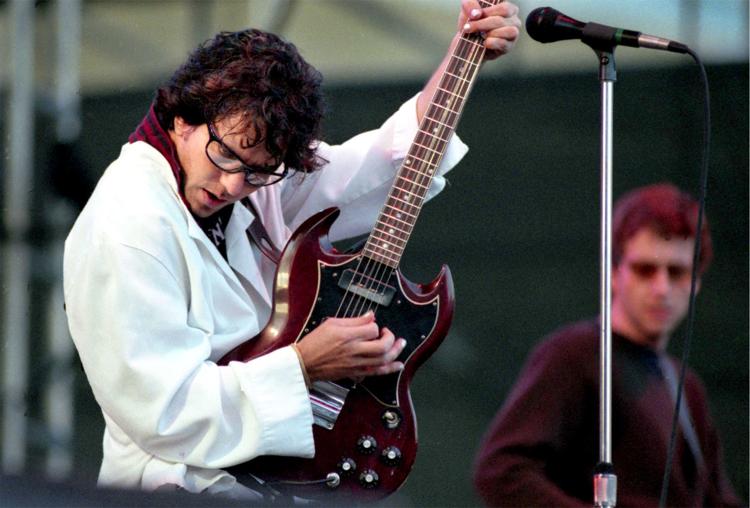 The band played through staples like "Jeremy," "Even Flow," "Daughter," alongside newer tracks like "In Hiding" and "Wishlist."
You have free articles remaining.
"Eddie Vedder was Eddie Vedder," Kelly wrote, "Enigmatic as usual. He roiled and rocked, hurling his body across stage. At one point, he appeared to be — how shall we say? — enamorately engaged with the stage."
On a bootleg on Archive.org, you can listen in as they return on stage for an encore. Vedder pauses to introduce a man identified only as Wayne, who spent the whole show standing in the front holding a sign.
"Give him a hand and then a moment of silence," Vedder says.
Wayne says, "I want to say thank you to the band … who else would do this? Pearl Jam is the best." He then pulls out a ring and asks a woman named Kelly to marry him.
"He spent so much money on the ring, she's sitting in the very back row," Vedder says.
He wishes them good luck and then the band launches into one of its standards, "Better Man." It's a lovely song, but the lyrics ("She lies and says she's in love with him, can't find a better man") aren't something you'd print on an engagement announcement.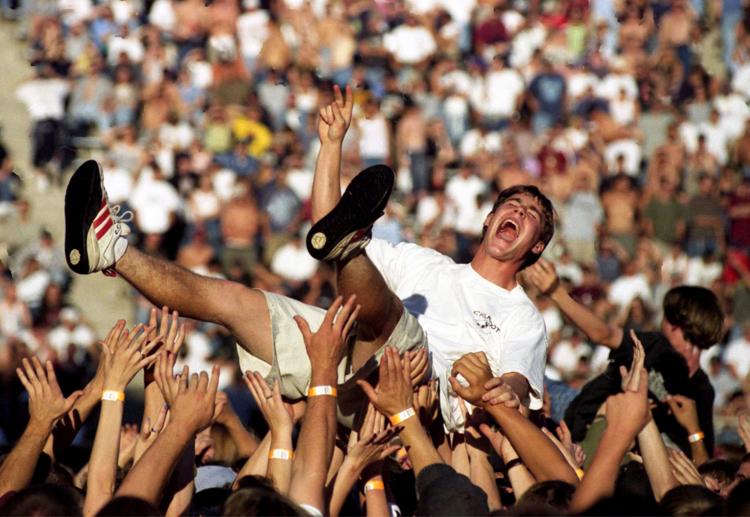 Kelly wrote that they'd been warned that "post-concert traffic would be hell" as a crowd roughly a quarter the size of Missoula circulated out of the stadium and out in the streets.
"Concert mayhem spilled into downtown as youthful exuberance gave way to downright anarchy. Twenty minutes to get a drink, if you could get through nearly impermeable walls of sweaty bodies. Suddenly, curling up with a book or movie sounded like bliss."
He closed out by saying that "Pearl Jam has wielded its power once again, showing its reign as a singular musical force in this decade, even if grunge is really dead."
After the 1998 stadium show, Pearl Jam has played the Adams Center three times, the first in 2003.
Fans began lining up as early as 4 p.m. on a Friday in early March to buy tickets the next morning, waiting out the night in temperatures that pushed to 10 to 20 below zero with wind chill.
"They set up tarp-shielded tents like an ice-fishing camp to stave off the wind. Some people barbecued dinner, while others had pizzas delivered to the line," according to the Missoulian.
"Travis Faller said the effort was part of the whole concert experience," reporter Rob Chaney wrote.
"Even if Pearl Jam did an all-accordion set," Faller said, "it would still be cool."
Vedder told the sold-out crowd, "We wanted to play someplace where we thought it would go well on the first night" after a two-week break from the road.
The crowd chanted "A-ment" and the band offered $50,000 toward MoBash, Missoula's planned but not-yet-built skatepark. The band segued from "Know Your Rights," by the Clash straight into "Alive," and threw in covers of "Won't Back Down" and "Fortunate Son."
In the 2005, a farmer and state senator from Big Sandy found an unlikely ally in his bid to unseat U.S. Sen. Conrad Burns.
Pearl Jam booked a show at the Adams Center as an outright campaign fundraiser to help Jon Tester. He and Ament knew each other from Big Sandy, and the political hopeful broached the idea for the benefit concert.
"When we first talked about it, I told Jon, 'Wherever you want to play, it's your show,'" Ament told the Missoulian at the time. 
All told, attendance was 4,700 people who paid $46 per ticket. It yielded $85,000 for Tester's campaign after paying all the concert-related expenses.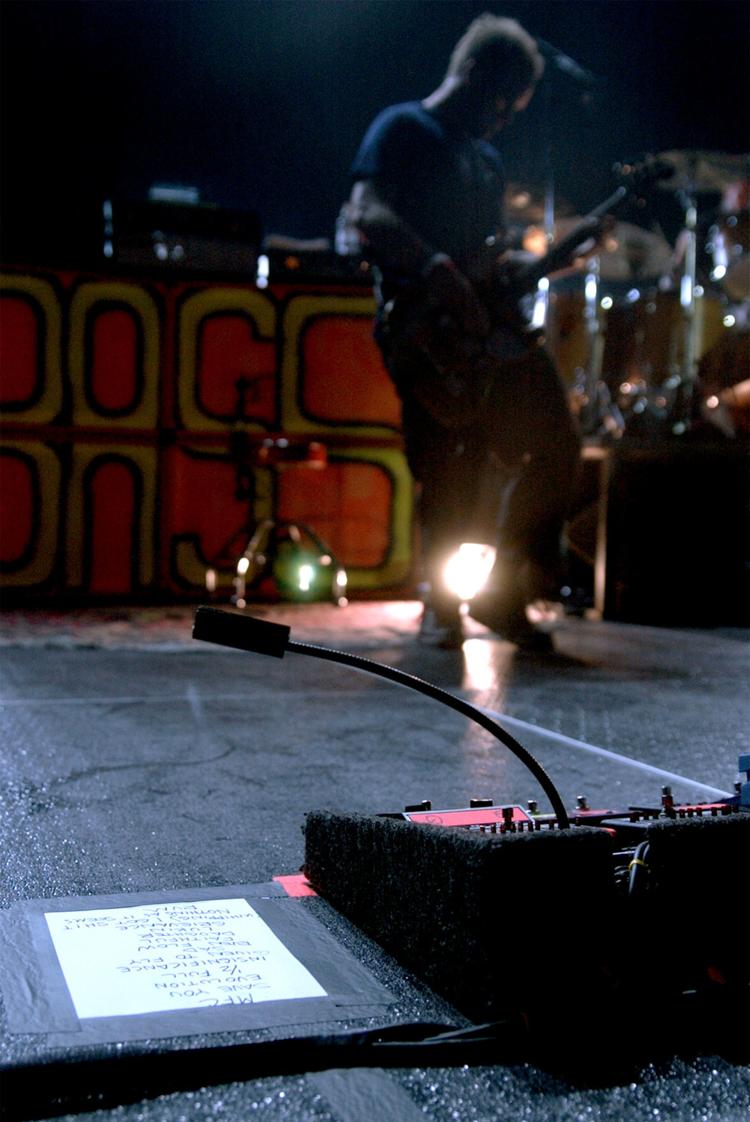 A benefit for a Democratic candidate shouldn't have surprised anyone. The  content of a song called "Bu$hleaguer" isn't hiding anything. Nevertheless, a reporter talked to one conservative UM student who came out, regardless of the other fans in "Bush Sucks" and "Tester for Senate" shirts.
"I'm a Republican," the 20-year-old said, "but you can't pass up Pearl Jam."
In a review, Jamie Kelly said it was the band's best showing here.
"For nearly three hours, including a full 10 encore songs — Pearl Jam rocked the Adams Center into a stupefying frenzy. It was the best Pearl Jam concert in Missoula. Ever. And I should know. I've been to four of them."
Of course, by 2005 the band's live shows had become sprawling events and the subject of deep bootlegging. (Dig around online, and you can find audience recordings of every Missoula concert.)
The 2005 concert has everything you'd expect from the latter period of the band's live show: extended versions of "Rearviewmirror" and "Even Flow" that will satisfy both fans of Vedder's howling and guitarist Mike McCready's soloing. Kelly joked that the latter song was "cranked out at approximately quarter note=456, so fast that it was barely recognizable."
"Daughter," the band's greatest acoustic song, segued from its minor-key outro into a jammy version of Pink Floyd's "Another Brick in the Wall, Pt. 2" with Vedder improvising his own lyrics:
"We don't need no misrepresentation/We don't need no Fox News reports/Take your bias/shove it up your a--es/Don't you remember what the truth is worth."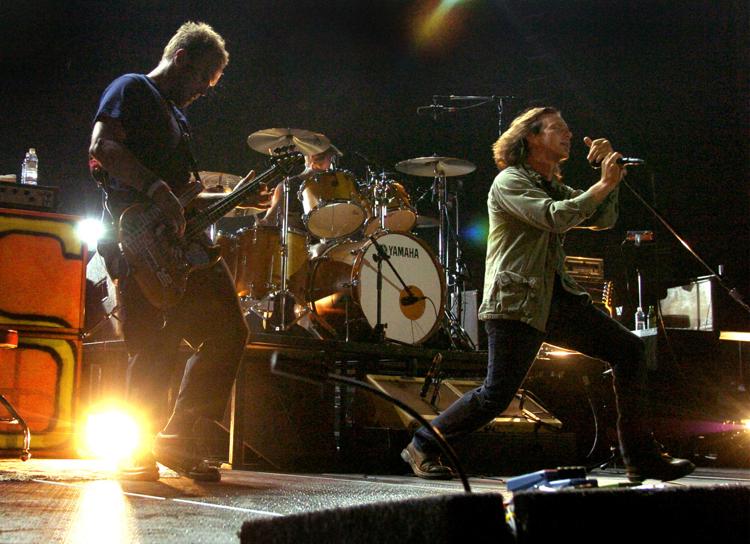 At the end of "Glorified G," Vedder paid some tribute to Ament as a bandmate and friend.
"It's an interesting barometer of what kind of what type of human being a person is, when they acquire a bit of money," Vedder said. "What do they do with that money? What do they spend it on? Who do they take care of? What do they do for themselves? Who are the other people they take care of? And I'll tell you, when Jeff got a bit of money from our band working in Seattle, the first thing he did was move back here."
During the two encores, Kelly wrote that "not a stitch of humanity — left that place, outside the few who were drunk and combative and got a quick date with a police officer."
No review is necessary for this one. It's sole Missoula show you can buy through an official bootleg on the band's website.
As opener, they brought Mudhoney, a fellow pioneer in the Seattle grunge scene. Lead singer Mark Arm commented that it was the band's first Montana show after a quarter-century. He wasn't a fan of the altitude.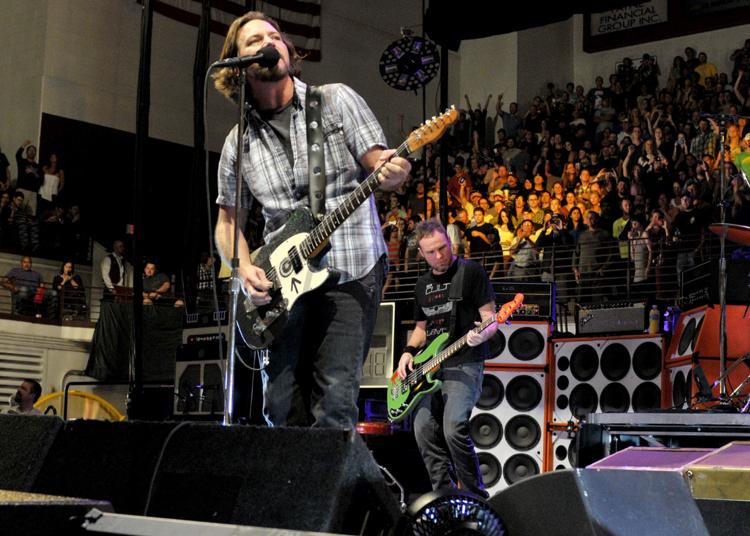 Like their 2005 show, they did an affiliated fundraiser for Tester, this time facing a challenge from U.S. Rep. Denny Rehberg.
"It's not every day you get to do a benefit for a candidate you believe in," Vedder said on stage. "Actually, we get asked a lot. The difficult part is finding a candidate you can believe in."
Pearl Jam Dennison Theatre 1993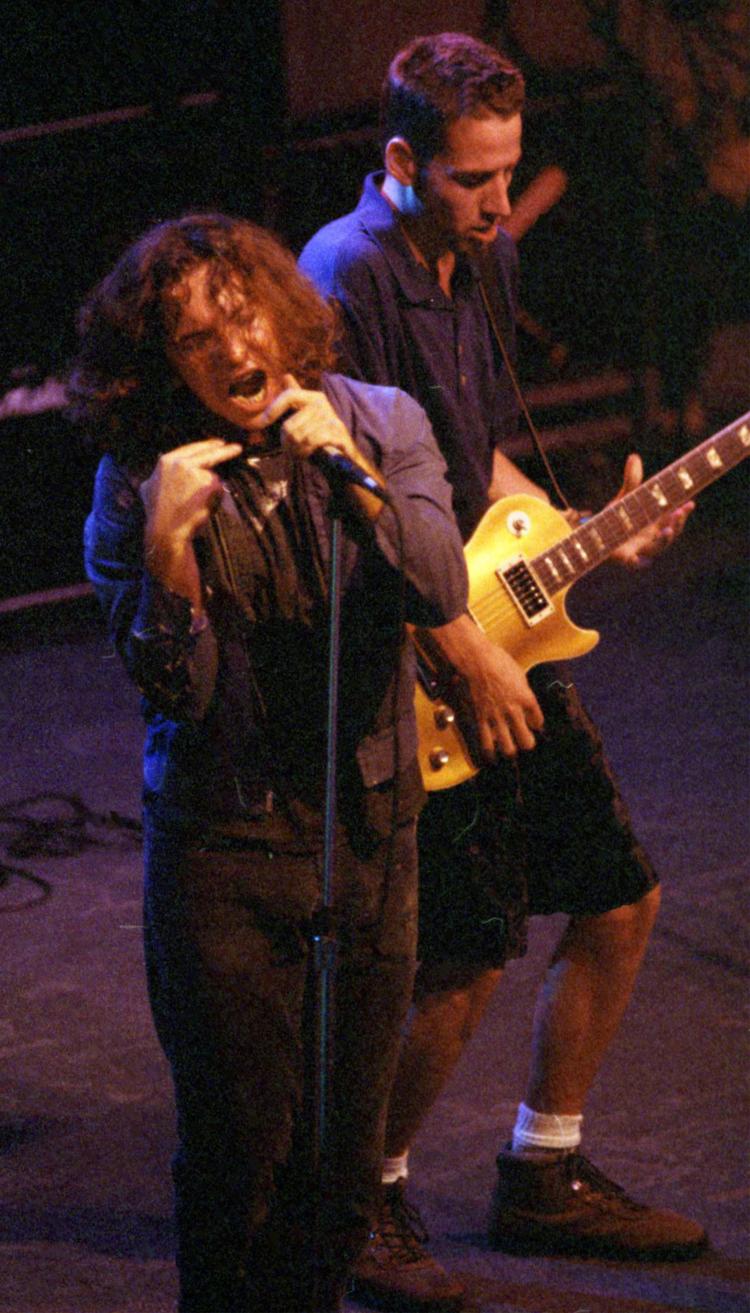 Pearl Jam Dennison Theatre 1993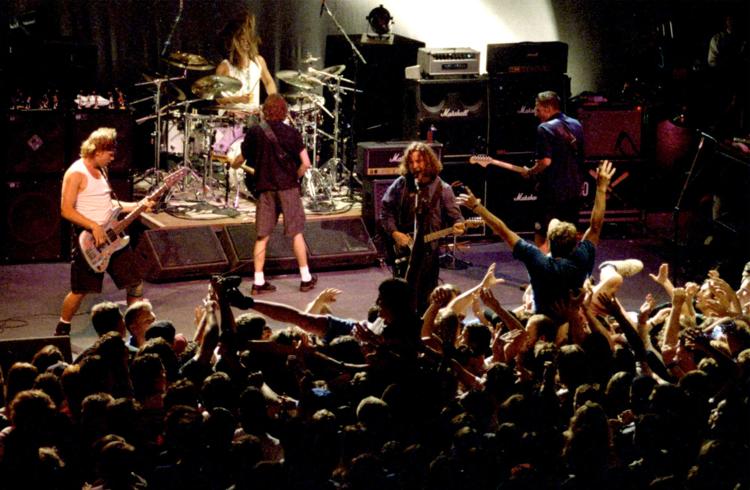 Pearl Jam Washington Grizzly Stadium 1998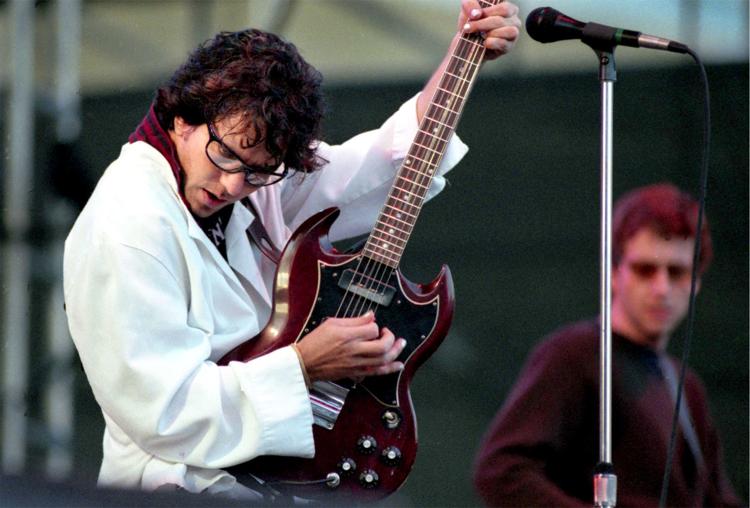 Pearl Jam Washington Grizzly Stadium 1998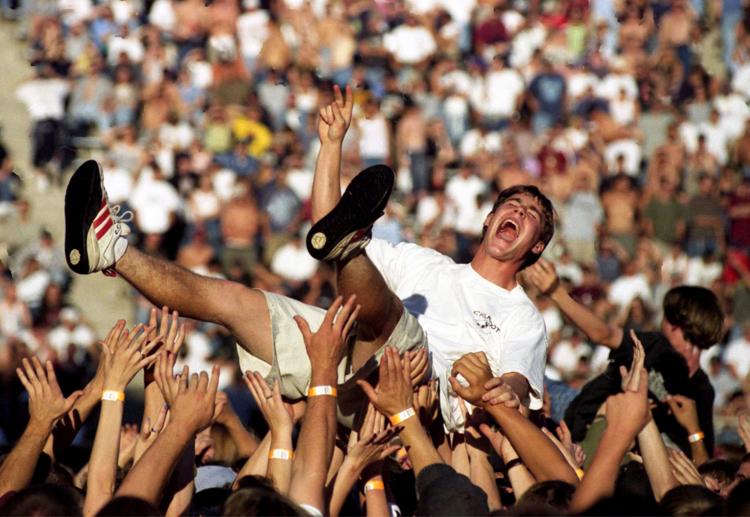 Pearl Jam Washington Grizzly Stadium 1998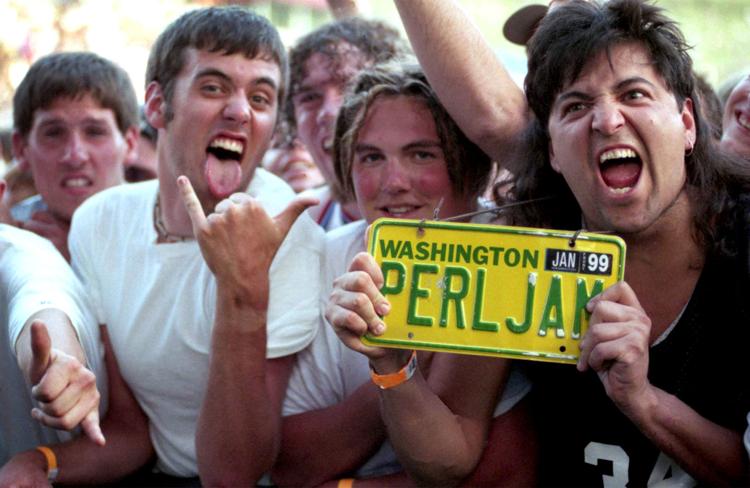 Pearl Jam Washington-Grizzly Stadium 1998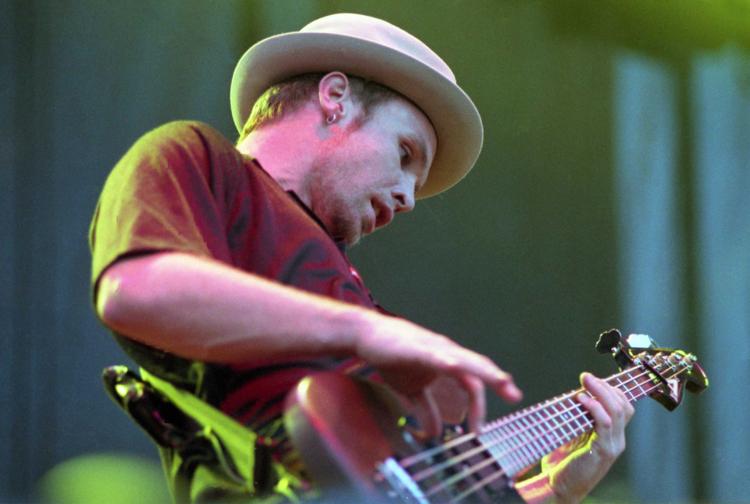 Pearl Jam Washington-Grizzly Stadium 1998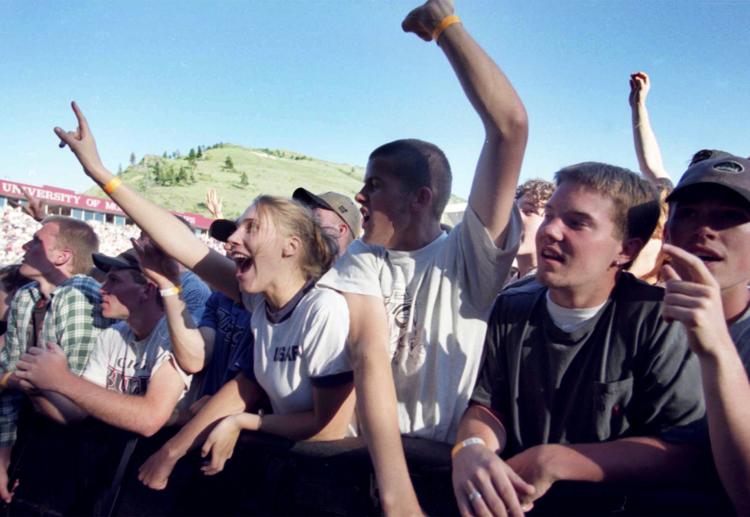 Pearl Jam Washington-Grizzly Stadium 1998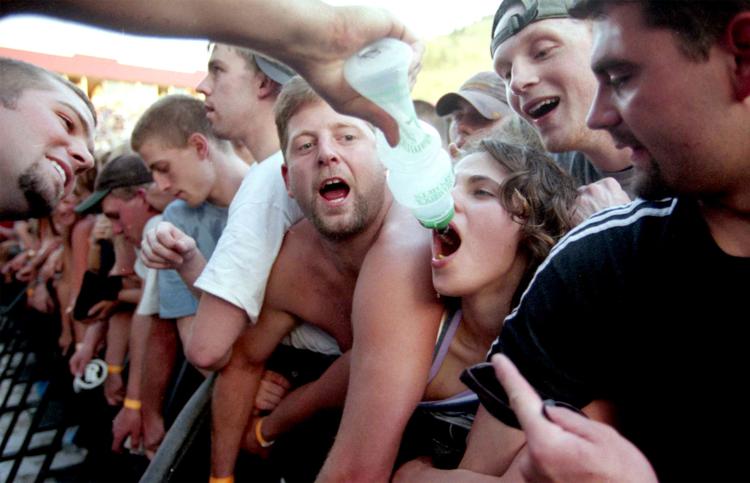 Pearl Jam Adams Center 2005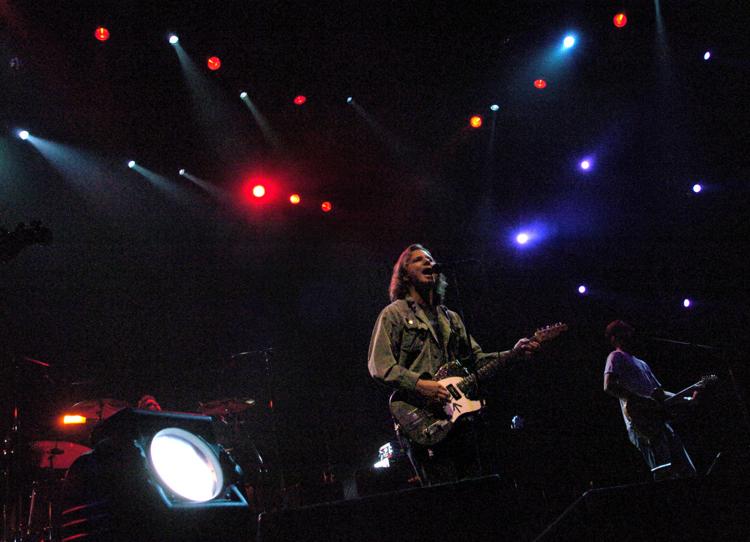 Pearl Jam Adams Center 2005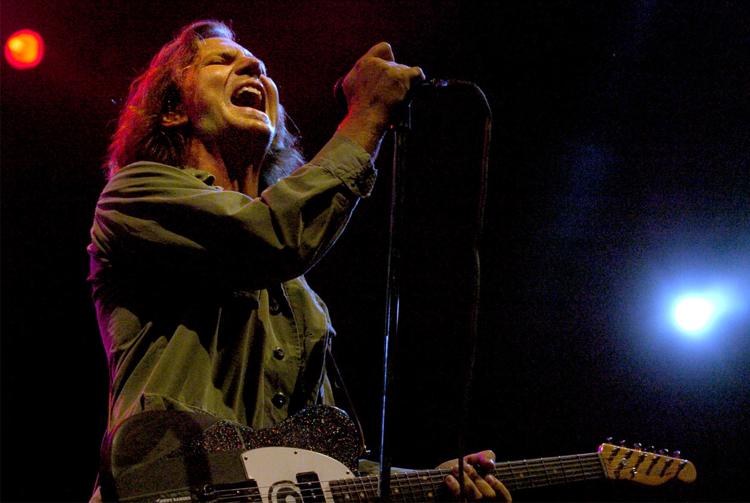 Pearl Jam Adams Center 2005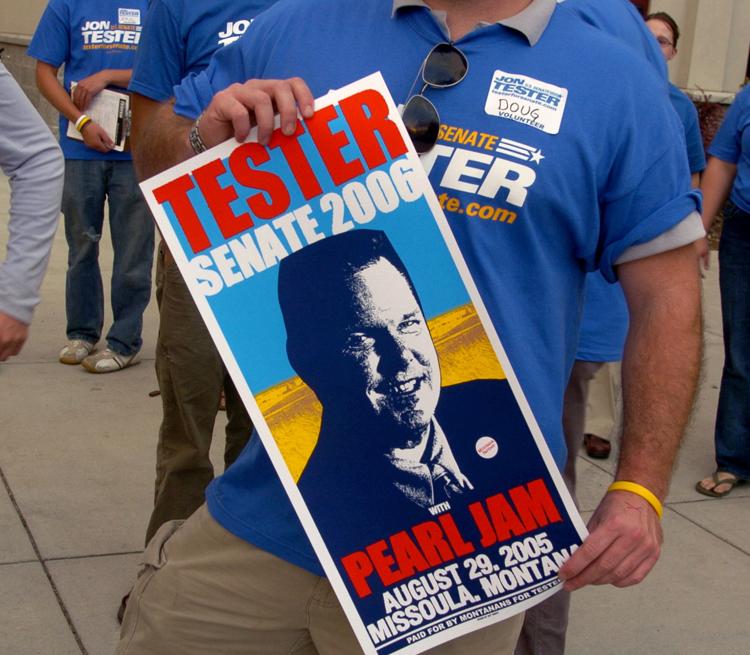 Pearl Jam Adams Center 2005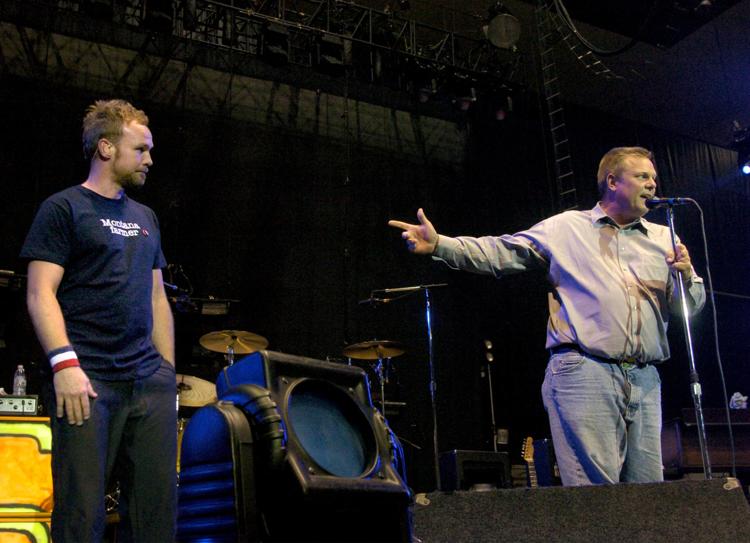 Pearl Jam Adams Center 2005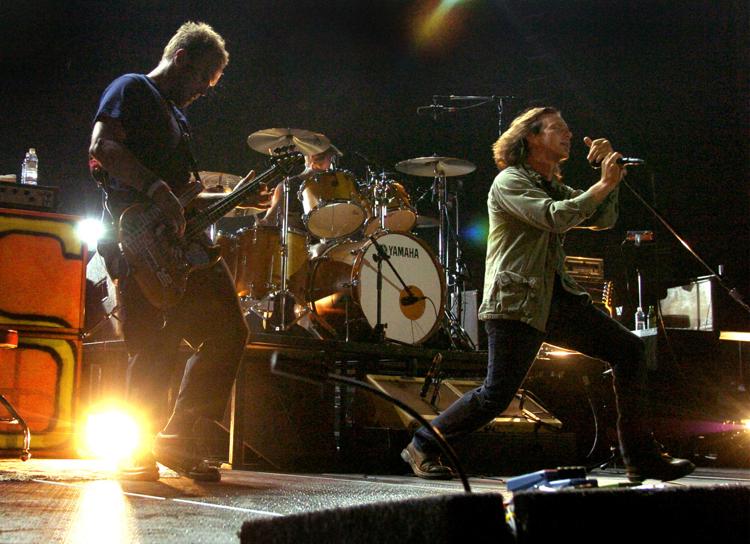 Pearl Jam Adams Center 2005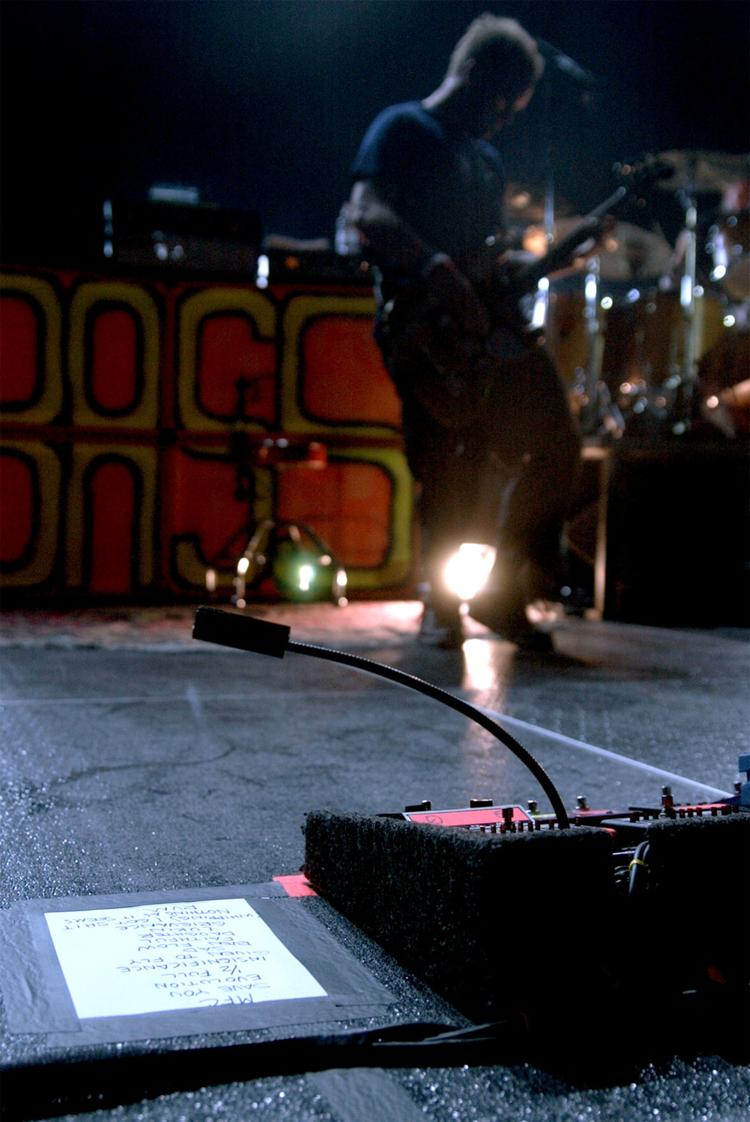 Pearl Jam Adams Center 2012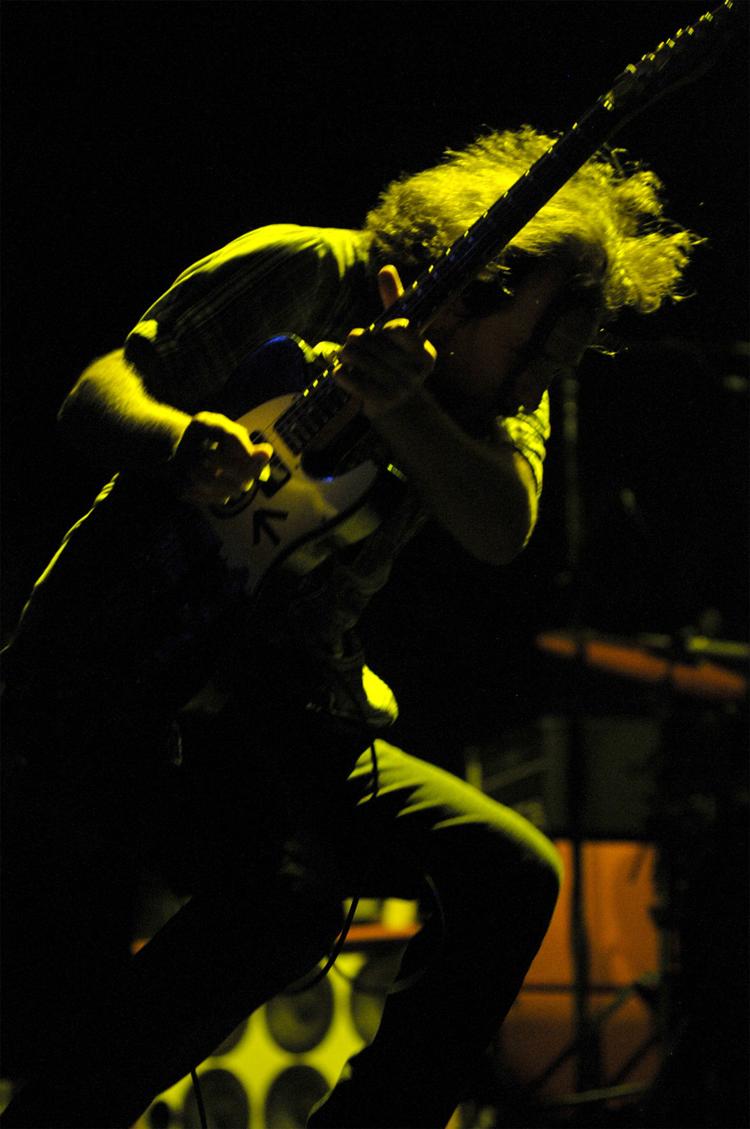 Pearl Jam Adams Center 2012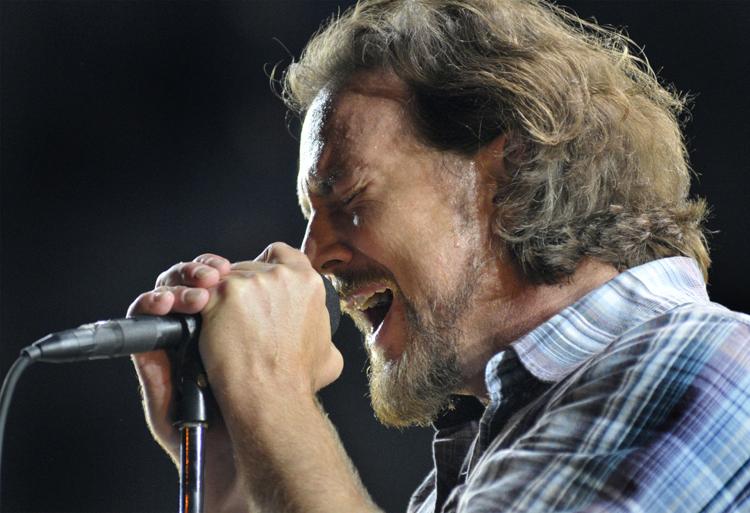 Pearl Jam Adams Center 2012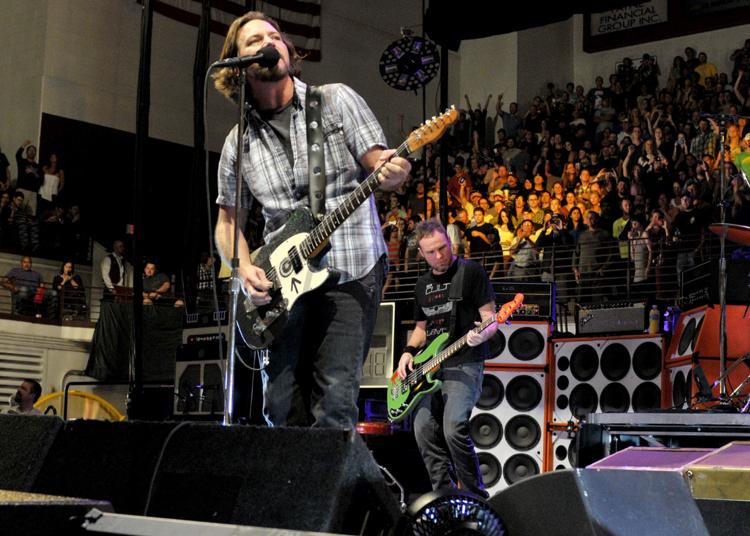 The second encore ended with a set of covers that double as admonitions (MC5's "Kick out the James" and Neil Young's "Rockin in the Free World,") and a quietly defiant original, "Indifference," that closes with the line: "How much difference does it make?"