Nearly a third of Missoula is covered by impervious surfaces such as streets, parking lots or buildings, but another 13.4 percent is covered by trees – an estimated 2,053 acres. 
Some neighborhoods in Missoula are less green than others, and there's a clear economic advantage to having trees in your yard.
An assessment of Missoula's urban forest canopy by the Parks and Recreation Department has found that these trees provide roughly $8.6 million in annual environmental service benefits, such as energy savings, carbon capture, air filtering and stormwater diversion.
"Missoula's early investment in a healthy urban forest helped our city claim the nickname the Garden City, and our community has since reaped the rewards," wrote Chris Carlson, the city's research program specialist, in a report to the city parks and recreation board. "The trees that line our streets and backyards cool us during the summer heat, filter pollutants from the atmosphere, reduce energy bills, and provide habitat for birds and critters to co-exist with us in our city in the forest."
Chris Boza, the city forester, assisted Carlson in writing the final assessment.
They concluded that Missoula's urban forest faces a number of challenges. Older neighborhoods have aging trees that need replacement and demand attention, and newer trees require care to reach their full potential. With all the new development and infill projects going on around town, planning is required to integrate trees into the landscape.
"The primary goal of this project was to provide a robust and repeatable estimate of forest cover on public and private lands in Missoula," Carlson wrote. "The information generated will be used to improve planning efforts, and set measurable goals for maintenance and expansion of forest cover in Missoula."
The survey was conducted using aerial photography and a tool developed for citizen science, called iTree Canopy, to estimate the percent cover of trees and other surface covers in each of 20 neighborhoods in town.
They found that the Lower Rattlesnake is the most forested part of town with 24 percent tree cover and was only 19 percent covered by parking lots, streets and structures. On the other end of the spectrum, the Westside neighborhood had only six percent tree cover and 57 percent impervious surfaces that don't allow rainwater to soak into the soil.
About 68 percent of the urban forest is on privately owned land, and 25 percent is on city land or in the public right-of-way. The rest is either held by the county, the federal government, the Montana University System or other stakeholders.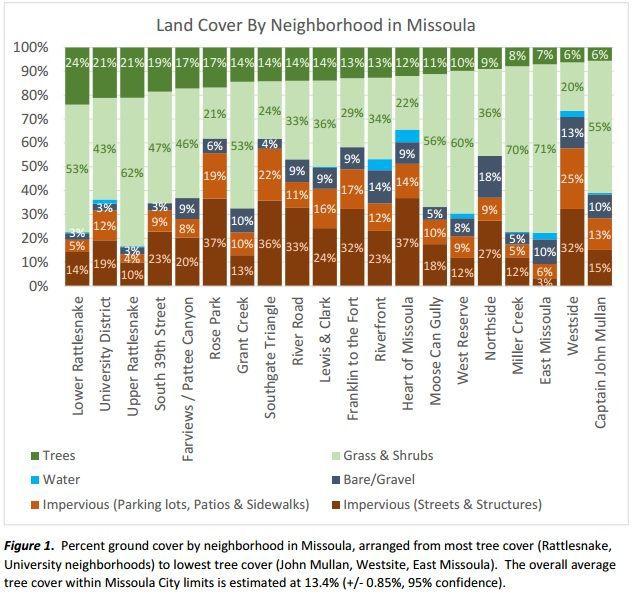 Carlson and Boza found a positive correlation between tree cover and median home value.
You have free articles remaining.
"For every additional percent of tree cover, median home value was estimated to increase by $4,121," Carlson wrote.
The found that the estimated replacement value of the urban forest on public land was about $68.4 million and $162.9 million on private land, for a total of $239,664,336.
Although neighborhoods like Miller Creek and East Missoula have relatively little tree cover, eight percent and seven percent respectively, they are both roughly 70 percent covered by shrubs and grasses.
Carlson found that aside from being aesthetically pleasing, these trees provide a clear economic benefit to the residents of the city.
"Trees managed by the city provide an estimated $2.5 million in annual environmental services," he wrote. "Privately owned trees provide $5.8 million in annual services."
Karen Sippy, the executive director of Trees for Missoula, a nonprofit group that advocates for the city's Urban Forestry Division, said there are maybe 30,000 city-owned trees that have to be cared for in Missoula.
"There are 7,000 trees slated to come down – they are dying or dead," she said. "We need to be replacing those and planting new trees in neighborhoods. There's a lot going on in the urban forest. It's a crazy amount of trees."
Sippy said that an urban forest management plan for the city, adopted in April 2015, included a goal to eventually get Missoula to be 40 percent covered by tree canopy.
"Of course industrial areas will have less than that, so residential areas will have to have more," she said. "We want homeowners to take advantage of all the benefits of planting trees, and we're looking at areas where we do need more canopy cover."
By comparison, a 2001 Forest Service study found that trees cover 20.9 percent of New York City, a place many people think of as a concrete jungle.
However, Sippy said that if Missoula had used the same methodology that the New York study used, the Garden City's urban forest would have covered a much higher percentage.