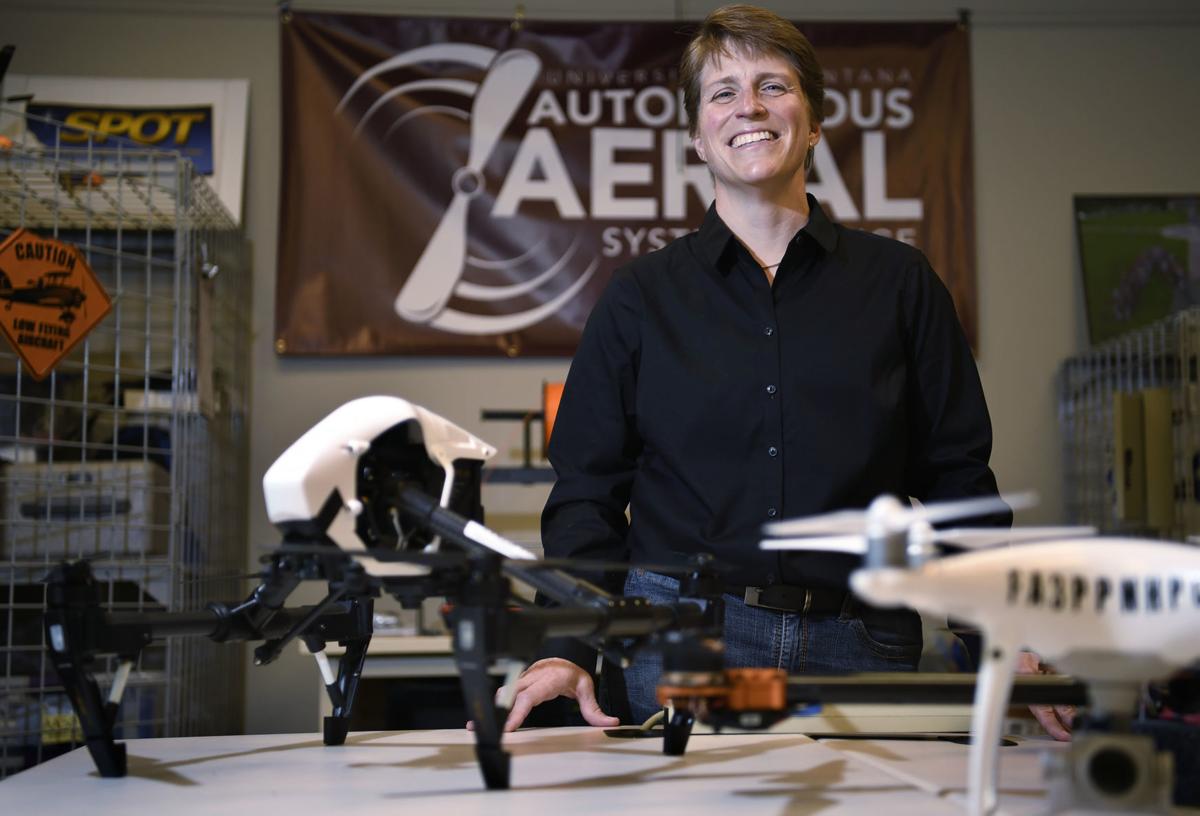 Jen Fowler looked the part of a physicist when she arrived at the University Center Theatre on Thursday. Wearing a light-blue jacket emblazoned with a NASA patch, she strode in to talk about her work for the Montana Space Grant Consortium to elementary, middle and high school students.
A closer look makes it clear that while the patch on her jacket resembles the iconic NASA logo with stars and a red chevron, it varies slightly. Instead of the original round planet shape of the logo, hers is shaped like the state of Montana and instead of "NASA," it reads "MSGC."
The Montana Space Grant Consortium is part of a national network of NASA programs that work toward the goal of strengthening aerospace research and education. The Montana branch of the program started at Montana State University and, with Fowler's help, made its way to the University of Montana shortly after.
"It all started with middle schoolers and balloons," Fowler said, referring to her work with weather balloons to explore the atmosphere, which eventually turned into the UM BOREALIS ballooning program.
Since the program's inception, Fowler has successfully applied for many grants to fund research at the university and elsewhere. It's hard to imagine that she has any time to rest.
After her talk at the UC Theater, she walked to the Autonomous Aerial Systems Office at UM, her latest project. At AAS, Fowler sorts out the nitty-gritty of drone regulations.
She was on her way to meet one of her colleagues, Joe Youngberg, a high school science and AP physics teacher at Frenchtown High School. Youngberg needed Fowler's help setting up his new Phantom 4 drone, which he received as part of a M.J. Murdoch grant that he worked with Fowler to get.
Fowler worked after hours to help Youngberg activate the drone, which he plans to use with his students to measure atmospheric conditions in Frenchtown. "Jen's been so helpful," Youngberg said. "She knows pretty much everything about regulations."
Drone regulations are a new area of interest for Fowler, who has a knack for balancing numerous projects at once. When she was an undergraduate physics student at Rutgers University in New Jersey, she spent her summers fighting fires in California and Montana. After she graduated, she decided to stay in Montana, where she got a job teaching at an all-girls boarding school. There, she met Jim Jacobs, another teacher who told her of an opening in the physics department at UM.
She landed a job as a laboratory coordinator overseeing all the undergraduate physics labs. "I wasn't just an instructor," she said. "I developed labs with the faculty and then we built all the equipment that we used."
Fowler cemented her knowledge of physics as a teacher and Jacobs became a mentor to her, always pushing her to think outside the box.
Several faculty members started approaching Fowler, saying: "My kid's bored in school. Would you come do something with physics?" She started teaching lessons on particle physics to middle schoolers on early-out days.
Shortly after she started working with middle schoolers, Montana State University faculty member John Bells visited Fowler at UM in 2003 to do a balloon launch and talk about his work for MSGC.
Fowler learned more about weather balloons, and of Bells' background in particle physics so she asked him to come back again to talk to the middle schoolers. "He walked out that day and went, 'Man, that's a sharp group of kids and you know what they'd be good at doing? Ballooning,'" Fowler said.
Bells told Fowler that he would help her find funding for a ballooning program if she could organize the project. And with that, UM-BOREALIS began as a middle school ballooning program.
In the first year of the program in 2004, Fowler spent the entire summer working with middle schoolers who came for a full day twice a week.
"It was me, one undergrad and 12 middle schoolers and it was insanity," Fowler said. "It wasn't a formal program. It was through the gifted program that I got a lot of these kids, and the parents would drive for these balloon launch days."
Fowler decided that the students' work should be showcased, so she had them create balloon experiments to present at science fairs. Fowler also made a lot of contacts as the result of ballooning.
In 2007, she worked with the Forest Service to do a tether balloon launch, with cameras, on a fire. She also worked with the Missoula Technology and Development Center. "I started getting into drones because they had me come to evaluate some of the drone technology and how that compared to balloons," she said.
Fowler continued teaching in the physics department and working with middle schoolers until she took a leave of absence for professional development and traveled to Bozeman to work with a company that makes atmospheric sensors.
"I realized I wasn't asking enough questions about the atmosphere," she said. "I was so focused on the middle schoolers doing something like particle physics or solar radiation experiments, and I didn't ever really wonder about just the basic measurements you could make and what you could do with them."
Fowler started to rethink how she viewed temperature. "I started looking into it and it's not that simple, especially in the atmosphere," she said. "That led me down this path where I said, 'If we're launching balloons every day, why aren't we making measurements of the atmosphere every day?'"
She discovered radiosondes, the term for telemetry instruments that can be attached to a weather balloon to measure atmospheric conditions and transmit them by radio to a ground receiver.
She searched for affordable radiosondes and found some by GRAW that were within budget, and started measuring atmospheric conditions with undergraduate students. Others were quick to notice her work.
In 2011, she received a call from a group in Leticia, Colombia, on the Amazon River who wanted Fowler to visit and fly balloons because they had a gap in their data and they wanted to find a low-cost method like the one Fowler had been using. "They wanted to use the data for climate studies because satellites have a difficult time getting weather information over the Amazon because it's cloudy," Fowler said. She visited twice and contributed to an article on their work that included a cheaper way to gather data.
Then, in 2012, MTDC and Predictive Services at the Missoula Airport called because it was a big fire season and there was a lot of smoke in the Missoula valley. "They were getting a cold front coming but they weren't sure of the timing so they called and said: 'Would you go down to Kookskia, Idaho, and launch a couple balloons for us?'" Fowler said.
Fowler drove down and launched that night and the next morning, and immediately sent the data to the weather service in Missoula. "That helped them determine their fire and weather forecast for the day," she said.
Despite the recognition, Fowler wasn't sure if she wanted to stay in physics. Jacobs, her mentor, had passed away from ALS in 2011, following Dave Friend, an astronomer in the department who passed in 2010.
"I just started thinking, 'I need to do something new,'" Fowler said, with her work continuing to pile up. But just before she contemplated seriously pursuing a side business of firefighting with a water truck, an assistant director position opened up at MSGC. She jumped on it.
Within her first year at MSGC, she received an additional grant from NASA to work with nearby community college students through a program called LAUNCH. The program lasted from 2013 to 2015, during which she traveled to community colleges throughout Montana every week to teach students about IT and geospatial information systems.
Meanwhile, she continued to do ballooning and began thinking about her next project. She and some colleagues had the idea for a drone competition but she wasn't sure what the regulations were so she emailed the Federal Aviation Administration for guidance.
Instead, she received a call from NASA headquarters informing her that she couldn't fly a drone for the competition because NASA wasn't supporting drone initiatives at the time.
"I was like, 'Why is this so horrible?' so I just started doing a lot of research and talking to people," Fowler said.
She learned that other universities were forming offices on campus to address regulations. Fowler brought some people to the university to talk about drones and earned the support of Scott Whittenburg, UM's vice president for research and creative scholarship. In 2015, they began forming the Autonomous Aerial Systems office.
Fowler divided her time between AAS and MSGC, continuing to work on projects with balloons while learning more about drones and creating a business plan for AAS.
"I didn't know anything about business and I thought, 'I should take some classes,' so I entered this MSBA program," Fowler said.
Fowler also got her pilot's license in 2015, which was required for drone operators at the time. She still flies and she recently took up a student who was studying atmospheric gravity waves.
"Explaining them, I think, is easier when you can feel them," Fowler said. "When I got up to a certain altitude right off the mountains, I knew we'd hit them. We bounced around and I said, 'You're not feeling sick yet?'"
Although the AAS office is still a new addition on campus, Fowler is already thinking about her next step. She recently applied for a grant to go ballooning in Chile and she regularly works with students and teachers such as Youngberg to read over grant proposals and help with whatever she can.
In addition to getting her master's degree, Fowler hopes she can apply her interest in drones to developing security systems. She said she's done some work with the Department of Defense, although she's keeping that part vague for now.
She's also been working in combination with MTDC and the Forest Service to get students to focus on how to monitor and fight fires with drones through their Aerial Firefighting Use and Effectiveness program.
"What I like to advocate is that if students are going to do a research project, I want them to do something that has a broader impact," she said. "If we're going to fly balloons, we can practice but if the Weather Service gets an advantage [from the fact] that we're flying at a time they can use the data, let's do it then."
Fowler said she feels it's her duty to push the envelope. She hopes to eventually combine efforts across the university with scientists, computer programmers and AAS to look into the uses of larger aircraft for things like fighting fires.
"I think we could not need human firefighters," she said. "I claim autonomous systems, whether it's flying autonomous systems or autonomous equipment on a fire. This is years down the road but this is my vision that that's where we could be."