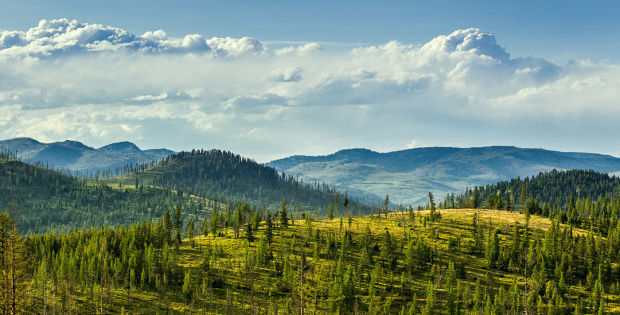 Word of the proposed merger between Plum Creek Timber Co. and Weyerhaeuser Co. to become one of the nation's biggest timber operations hit so fast, even Montana Gov. Steve Bullock was caught off guard.
"I'll give you a comment on that once I learn a little bit about that," Bullock said on Monday morning after a speech at the Montana Farm Bureau Federation. "You'd think we'd have gotten some heads-up on that."
Officials for the two companies announced the merger on Sunday afternoon, but word of the $23 billion deal was just trickling into the financial news cycle on Monday morning.
If completed as planned by the first or second quarter of 2016, the new company would hold more than 13 million acres of timberland in the U.S. and more lands under license in Canada. Both companies are also real estate investment trusts, selling property for housing, recreation or conservation if it's not productive for timber.
"It caught everyone by surprise," added Montana State University Extension forester Peter Kolb, who studies the timber industry. "I'll be curious to see what the official reasons are for the merger. Will Plum Creek stay in Montana? They might close a mill, but everything Plum Creek makes in Montana is in high demand. The marine-grade plywood they make in Columbia Falls is world class, and we have the wood best suited for that plywood. Plum Creek officials told me they're selling everything they produce, and they can't get enough logs to stay in 100 percent production."
While Plum Creek is the largest private landowner in Montana, its operations elsewhere in the U.S. dwarf its local presence. It owns about 6 million acres in 19 states, including 770,000 acres in Montana. Most of that property is in the Southeast, although it also has significant holdings in Maine, Washington and Oregon.
Plum Creek operates sawmill and plywood plant combinations in both Columbia Falls and Kalispell, and a medium-density fiberboard plant in Evergreen. It also competes for both public and private timber supplies with smaller, local businesses.
"These large investor-owned corporations make decisions based on long-term strategic plans and providing the best returns to shareholders," said Gordy Sanders, resource manager for Pyramid Mountain Lumber Co. in Seeley Lake. "Family-owned mills like us are in business because we enjoy the products we make and providing good-paying jobs to the rural communities we're part of. Those larger corporations are more distant."
You have free articles remaining.
Sanders agreed with several market observers that the Plum Creek-Weyerhaeuser deal was a marriage of equally strong partners, rather than the absorption of a weak competitor.
The decision comes at a time of great uncertainty in the global timber market. While housing development is on the rise, a softwood lumber treaty governing trade between the United States and Canada just expired this fall.
"Canadians have been buying sawmills in the U.S., and three of the larger companies have as many or more mills in the U.S. as they do in Canada," said Todd Morgan, director of forestry industry research at the Bureau of Business and Economic Research at the University of Montana. "This deal (between Plum Creek and Weyerhaeuser) could be a reaction to help their economies of scale and purchasing power."
Weyerhaeuser officials also said they would use the deal to "explore strategic alternatives for its cellulose fibers business. Morgan said while that will likely cause ripples through the pulp industry, Bonner's Willis Enterprises pulp mill probably won't be affected because it sells to buyers other than Weyerhaeuser.
Another open question for Montanans is what might happen to Plum Creek's tradition of allowing access to its lands for hunting and fishing.
"Plum Creek has been a great neighbor for allowing access," said Joel Webster of the Theodore Roosevelt Conservation Partnership. "Weyerhaeuser has had more of a permit system in Oregon and Washington, and there was a fee to that. Montana is a different place, and hopefully they will look at what Plum Creek has done and replicate that. It's a good time for sportsmen to get engaged."
At the Nature Conservancy, Chris Bryant had another open question. The land trust helped negotiate the purchase of 310,000 acres of Plum Creek timberland that had conservation value through the Montana Legacy Project, and participated in conservation sales of about 220,000 more acres with other groups. That reduced Plum Creek's holdings in Montana by nearly half around 2010.
While those land transfers have closed, the Nature Conservancy still has agreements with Plum Creek to harvest timber on some of the property. Bryant said he had not received word how those fiber agreements would be handled in the corporate merger.