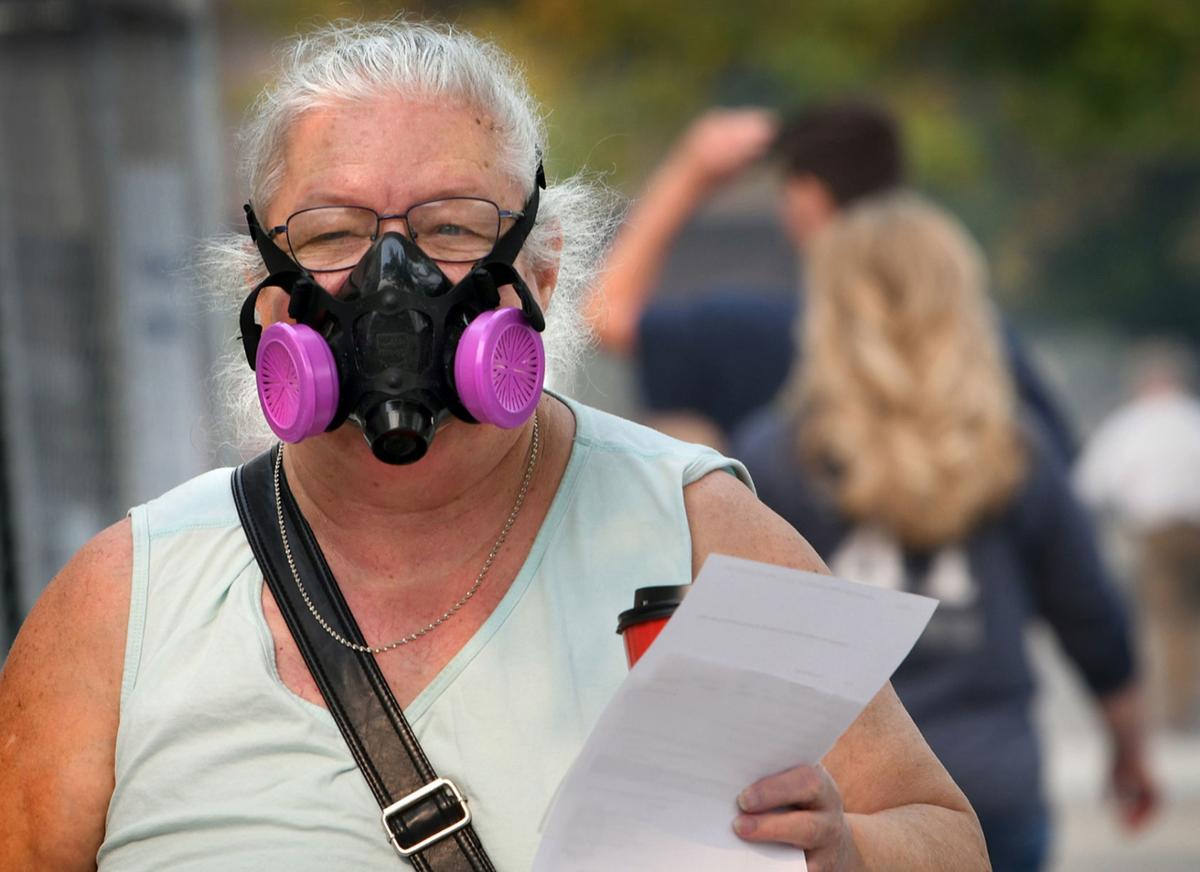 New research on the dangers of pollution exposure adds some disturbing context to Missoula's prominent showing in the annual American Lung Association air quality report.
Missoula ranked 12th-worst for particle pollution in a 24-hour period out of 201 metropolitan areas, largely due to wildfire smoke. It also scored 28th for annual levels of particulate pollution among 187 metropolitan areas.
However, it tied for first place among the cleanest metropolitan areas for ozone pollution, which comes from different sources and causes different health problems.
Pollution particulate matter of 2.5 microns is 30 times smaller than the diameter of a human hair. At that size, particulates easily pass through tissue membranes and trigger inflammation, asthma and more serious problems.
The Missoula Valley often experiences PM 2.5 pollution during forest fire smoke inversions in the summer. Large metro areas often add industrial sources like auto exhaust and factory emissions to the mix, which can persist year-round.
The report doesn't look at smaller places like Seeley Lake, which suffered unprecedented smoke problems last summer during the Rice Ridge fire. And the latest American Lung Association report looks at data from 2014 to 2016, missing the 2017 smoke season. Next year's report could rank the area considerably worse.
"In western Montana, we have air-quality issues in winter from woodstoves, and wildfires in the summer, but we have a lot of good-quality air outside those events," said Missoula County Air Quality Specialist Ben Schmidt. "Those people in Seeley — that was long-term exposure going on and on for months. That has consequences in the future."
Pervasive air pollution doesn't only make it hard to breathe — it may make it impossible to think.
A new study by University of Montana researchers found increased risks of getting Alzheimer's disease and of suicide for people living in haze-choked cities, with even children as young as 11 months showing indicators of dementia developing in their brains.
"Alzheimer's disease hallmarks start in childhood in polluted environments, and we must implement effective preventative measures early," said study lead author Lilian Calderón-Garcidueñas, a physician and Ph.D. toxicologist in UM's Department of Biomedical and Pharmaceutical Sciences.
"It is useless to take reactive actions decades later."
The study published March 13 in the Journal of Environmental Research found increased levels of hyperphosphorylated tau and beta amyloid in the brains of young Mexico City residents who'd lived with the high levels of pollution. Researchers documented a sped-up appearance of early disease factors in those highly exposed city dwellers. And they suspected the problem comes from absorbing the tiny particles into the brain through the nose, lungs and digestive system.
Calderón-Garcidueñas noted her study focused exclusively on Mexico City, which has a specific pollution chemistry and dominant ethnic and genetic factors in its population. Many ethnic Mexicans have a genetic predisposition to diabetes, which can also make them vulnerable to the Alzheimer's factors. So readers should not assume they would find the same air and health risks in smog-ridden Beijing, or during Missoula's intermittent forest-fire smoke inversions.
"New York City has its own profile of pollutants and ethnic groups," Calderón-Garcidueñas said at her office in Missoula. "But with this knowledge, we are obligated to explore what's going on in other places."
The UM study examined the autopsied brains of 203 people ages 11 months to 40 years old. It found evidence of PM 2.5-related damage in 202 of those brains, along with the chemical indicators of Alzheimer's disease development. In addition, the study found the pollution damage also greatly increased the probability of suicide risk, which develops out of similar chemical damage.
"Indeed, we are witnessing an accelerated Alzeheimer disease process with striking timelines, and disease progression pace," the report authors wrote. "We strongly suggest the first two decades of life are crucial for brain damage associated to environmental pollutant exposures(.)"
The UM study coincides with a Health Effects Institute report showing that 95 percent of the world's population breathes unsafe air. Exposure to pollution both outside from industrial sources and inside from inefficient cook stoves and heaters has made air pollution the fourth-highest cause of death globally, following high blood pressure, malnutrition and smoking.
"What the matter is made of can have particular impacts," Schmidt said. "But it all has health concerns."
Fortunately there are many protections to take. Placing air cleaners in people's homes can show immediate improvements for sufferers of asthma and other respiratory problems. Improving filtration systems in public buildings like schools can get particulate and other organic chemicals out of the mix.
Calderón-Garcidueñas added that using your head helps avoid losing it. Reading to children, giving them stimulating educations and mastering a second language all strengthen the brain's resistance to pollution-related damage.
"The brain is in developmental stages until age 26," Calderón-Garcidueñas said. "If you blast the brain with pollutants and give it no stimulation, your chances of doing well go down no matter where you live. The majority of these pollutants are man-made. You can control them in one way or another."
Get local news delivered to your inbox!
Subscribe to our Daily Headlines newsletter.