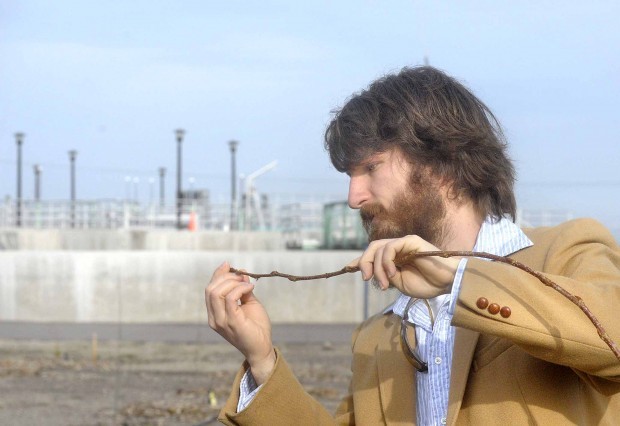 Editor's note: This is the second in a two-day series about Bioroot Energy's plan to turn waste into energy.
Heath Carey planted some 300 poplar trees last year on a couple of acres at Missoula's wastewater treatment plant.
Carey, a University of Montana graduate student in resource conservation, said he poured just about everything he had into the impoverished soil besides tears, and maybe some of those, too.
"I ran a stake through my face when I was planting trees," Carey said.
The trees drink a small gulp of the effluent flowing from the treatment plant into the Clark Fork River. Carey, from Pennsylvania, designed, built and maintains the pilot poplar project because he wants to help create permanent solutions to waste and wastewater.
"We need to start saying, 'Let's start looking at our waste as an unused resource. Let's see how we can make our waste into energy,' " Carey said.
When Carey graduates in May, he will take on the position of business and development director for Bioroot Energy. The job won't pay a salary at first, but Bioroot Energy wants to build a biomass plant in the Bitterroot or Missoula valleys that will demonstrate a viable way to convert waste products, such as small trees, into fuel.
In a small but tangible way, the poplar project already is taking a thin slice of society's waste and turning it into something usable. Carey said some of the short, 18-inch whips on the small plot have shot up more than seven feet in one year.
In the grand scheme of things, he'd like to see the fast-growing and water-gobbling trees feed the proposed biomass plant. But that's getting ahead of things. He still has a young crop to tend.
"If they come back in April in full force and I lost very little trees, then this project overall is a total success," Carey said.
Growing poplar trees with treated wastewater isn't a new idea. The Biocycle Farm, for instance, is a poplar project of the Metropolitan Wastewater Management Commission serving Eugene and Springfield, Ore.
Residuals manager Ken Vanderford said 90,000 trees intended for the pulp industry initially were planted on 395 acres at the farm. Effluent waters the trees, and biosolids fertilize them.
"They're very fast growing trees, and they consume a lot of water and a lot of nutrients to grow fast," Vanderford said.
As in Missoula, the pulp market didn't flourish, and Vanderford said the crop planted in 2004 is being pruned to be sold as logs instead. But he also pointed to biofuels as another possible use.
"That's another emerging market," Vanderford said.
The trees take up a lot of water and nutrients - some 7 percent of the plant effluent and 30 percent of its biosolids. But Vanderford said people probably shouldn't look to them as a way to turn a profit.
The farm is financially linked to the municipal plant. The entire site is 600 acres, and Vanderford is the sole employee dedicated completely to the project. Other plant employees help periodically.
The first crop is still growing, and the trees will need to be harvested by their 12th year to be considered agriculture and not forestry. Already, the public has responded with requests for tours and comments about how fast the trees grow.
"People love trees. What's not to like about trees? Actually, it's been quite positive," Vanderford said of public reactions.
In Missoula, wastewater treatment plant superintendent Starr Sullivan said he started out as a proponent of the poplar project. He views the idea as a great way to use plant effluent instead of letting it run into the river.
A couple of factors have made him skeptical of expansion for the long term in Missoula, though.
"It remains to be seen whether it's viable for us," Sullivan said.
For starters, growing more poplars requires more land. But buying it in this area is expensive, and lease holders can change their minds. The pilot project on an estimated 1.5 acres doesn't have much room to grow in its current location, either.
"We probably have a couple more acres that we could use. After that, we're maxed out," Sullivan said.
Permitting fees and consulting fees have cost "tens of thousands of dollars so far." Other costs go to pumps and sprinklers. Sullivan said electrical costs are minimal.
Deeming the pilot a success will require looking at the growth rate of the trees in this climate, and evaluating the soils, Sullivan said. Another factor is weather because a rainy spell can affect the effluent on the land. He said it's too soon to know whether the poplar show will go on.
"We probably won't know that for a couple years," Sullivan said.
Creating a full-scale and permanent farm in Missoula would require people to care for the trees, in addition to securing more land.
Sullivan sees more potential in smaller towns with a lot of available land, and perhaps ranchers interested in the water for alfalfa. He also sees the opportunity for streambank restoration.
"I think it'd be great for small communities in rural areas," Sullivan said.
Back on the farm, Carey keeps his eyes on the prize. For him, that's creating a community cognizant of its own waste, and even creating its own energy from the refuse.
"I think that as an American society, we have become so accustomed to throwing things out because they're so easily replaced," Carey said.
In its first year, the Montana Department of Environmental Quality allowed him to use 280,000 gallons of effluent for the poplars. He can use some one million gallons in the second year, and Carey said those are baby steps.
Last year, Carey planted roughly 50 conifers, and more than 300 native and non-native poplars. The land, an old dump site, was in poor shape when he started. Layers of asphalt sat beneath the soil, and the soil was compacted.
"It was a really nasty piece of land," Carey said.
Yet so far, with lots of sweat equity and piles of donated mulch from Able Tree Services, Carey said some 97 percent of the trees have survived. The trees drinking the nitrogen- and phosphorous-rich effluent grew more than the ones on the control plot drinking regular water, too.
The U.S. Environmental Protection Agency will continue raise standards for the nutrients allowed into the river, Carey said. He said it's only a matter of time - with seasons bringing warmer temperatures and less snowpack - before the wastewater system in place can't meet those limits. And options for future filtering are expensive.
In his ideal world looking 10 years down the road, Bioroot Energy's initial biomass plant would be successful and another similar project would land on the Smurfit-Stone Container property. Poplars would grow in the flood zones along the riverside between the sewer plant and Smurfit land, with pumps bringing effluent to the trees.
"There's a lot of synergy there," Carey said. "If he (Bioroot's Jay Toups) is successful, suddenly, that puts biomass in the form of poplar trees a little more in the spotlight."