Something less than 14 months have passed since Eric Komberec and Bryan Douglass of the Museum of Mountain Flying in Missoula first heard of the D-Day Squadron.
A group of old warbirds, representing the C-47s that dropped paratroopers beyond the beaches of France in 1944, were planning to travel the Blue Spruce Route to Normandy to take part in the 75th commemoration of D-Day.
"I remember Eric looked at me and said something to the effect that Montana owns one of those. We should go with them," Douglass said later.
Sometime in the next few days, the museum's centerpiece N24320, a workhorse in the Johnson Flying Service stable of smokejumper planes, will lift off for France. The planned departure date of Monday, May 13, is "definitely tentative," Douglass said last week. "But we hope to leave as soon after that as is practical and safe."
It's been a mad scramble to get to this point, one filled with long days and Kodak moments at the hangar. Here's a look back at how it got here: 
Komberec and Douglass had flown south to pick up Komberec's latest acquisition, a smaller 1944 smokejumper plane. They were due to fly it home to Missoula the next day when, at a restaurant outside Atlanta, they happened to meet and strike up a conversation with Connie Bowlin.
Bowlin is a Georgia Hall-of-Fame aviator, a retired Delta Air Lines captain and president of the Experimental Aviation Association Warbirds of America.
"As we talked old planes and round engines, she mentioned that a group of Americans were planning to fly their C-47s and DC-3s to Normandy in 2019 to participate in the commemoration of the 75th D-Day anniversary," Douglass told a large gathering outside Neptune Aviation's main hangar in June.
The chat changed their lives and those of many others. In a hurry.
N24320, soon to be nicknamed Miss Montana, had made some engine and taxi runs, but she hadn't flown since Komberec's father, Dick Komberec, brought her back to Missoula from Arkansas in 2001. The question became how to get her not only airworthy but safely across the North Atlantic and back.
It became a saying around the hangar: "The good news is we have almost a year. The bad news is we have almost a year."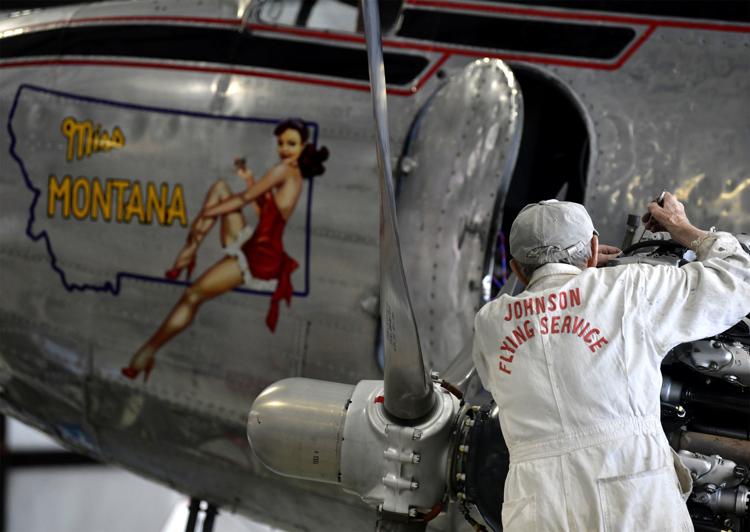 Miss Montana was a focal point with a mystery at the Aircraft Owners and Pilots Association (AOPA) regional fly-in at North Star/Neptune Aviation hangars on the east end of the Missoula airport.
A parachute was draped over her nose, symbolizing her history with Johnson dropping smokejumpers on fires through the guts of the 20th century.
"Eric's idea grew into a vision, the vision became a dream, the dream became a plan, and now, thanks to the work of more than two dozen volunteers, it has become a mission," Douglass said from the stage in the airplane's shadow.
By then the plane's new nickname was known, but the story behind it wasn't. Eric Komberec's mother, Barbara, told the crowd how her father, the late Malcolm "Mac" Enman of Drummond, gave the name to the B-25 bomber he captained in three major campaigns in the South Pacific in World War II.
Then she helped tug the parachute down to reveal a modern version of the nose art on Mac Enman's bomber. In this one, the young beauty holds a tiny set of Forest Service smokejumper wings.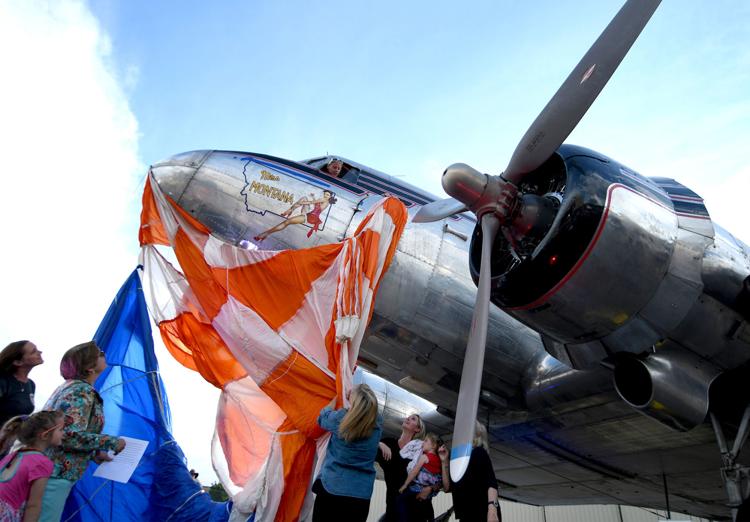 "My father was just one of 57,000 Montanans who served during World War II in all branches of the military," Barbara Komberec said. "Montana had one of the highest per capita enlistment rates in the country, with approximately 10 percent of her population serving."
Some 1,500 Montanans never made it home from the war, she continued. Most of those who did have now passed, "and the remainder are passing quickly."
"Returning this plane to airworthiness and flying her to Normandy in 2019 will honor and commemorate those who served and those who gave the last full measure of devotion," Komberec said. "It will also honor the thousands of smokejumpers who have served our country as first responders for wildland fires, including those who have lost their lives in service. It is also a tribute to all the pilots who have flown this plane in the past, the ground crews, mechanics and others who kept it airworthy."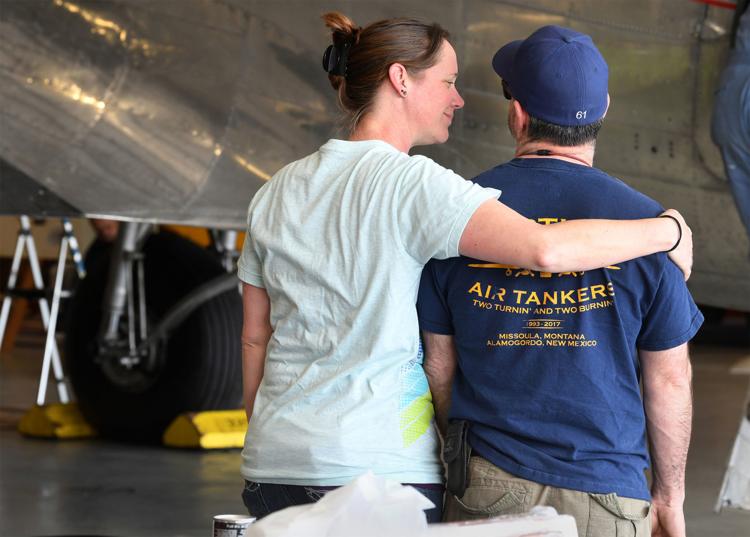 Off came Miss Montana's propellers and engines. They were sent, respectively, to shops in Puyallup, Washington, and Grangeville, Idaho, as the major overhaul began. Randy Schonemann of Neptune Aviation, the project's director of maintenance, was in charge, with wife Crystal second in command.
"Miss Montana to Normandy" sprouted wings. Donations, monetary and in-kind, began pouring in. A pledge from an anonymous donor was made to double the first $100,000 given. A growing number of volunteer workers, skilled or simply enthused, showed up at the museum hangar.
"It's the most exciting thing that most people have heard of. For some reason it's caught the imagination of everyone," said Dick Komberec, museum co-founder and the last pilot to fly Miss Montana for Johnson Flying Service.
"We stand on the shoulders of giants. When you look at what the 82nd and the 101st (Airborne Divisions) and the British did for this operation when they were doing it live … it's just superhuman to think people were that courageous and determined," Shawn Modula said.
Modula and his wife, Annette Dusseau, were among the first area parachutists to qualify to jump at the D-Day commemoration. The ranks of those certified to jump from Miss Montana would grow to include three husband-wife teams. Al Charters, a former Green Beret high-altitude jump specialist, headed up organization of the Miss Montana jumpers. His wife, Kim Maynard, was one of the first female smokejumpers.
They wore replica World War II paratrooper uniforms at the flying museum's first big fundraiser, a "beer launch" of Big Sky Brewing Co.'s specialty "Miss Montana to Normandy" brew.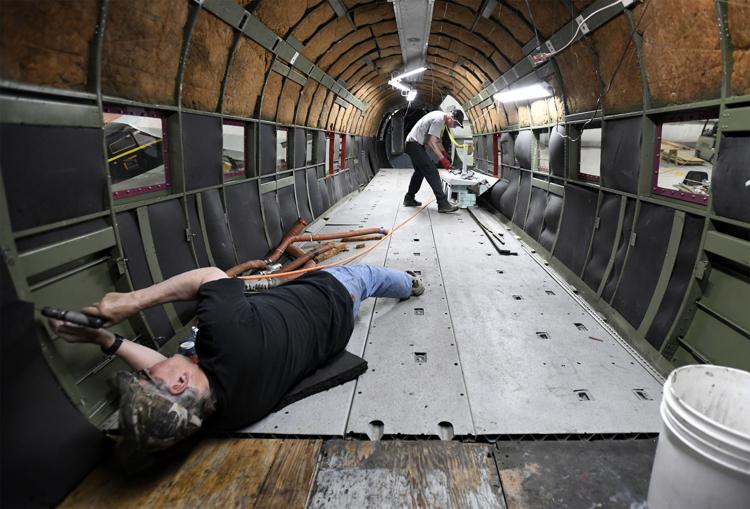 Treat Williams came to town to lend enthusiastic support and star power to the project. The 66-year-old actor, pilot and flight instructor reserved a front seat on Miss Montana, though he's had to back out this spring. Seems Dolly Parton has enlisted him to perform in an upcoming movie. He'll join the crew in England at the end of the month.
Williams' father was a paratrooper in the 82nd Airborne in World War II. He was named for his Uncle Treat, a gunner on a B-17 who died at 19 in Italy when the aircraft crashed.
Williams had finished shooting the third season of "Chesapeake Shores" for the Hallmark Channel and was excited for the Christmas 2018 premiere of his most recent film, "Second Act," a romantic comedy starring Jennifer Lopez. But none of it held a candle to Miss Montana to Normandy.
"Probably my marriage, the births of my two children and now this are the most exciting events of my life," Williams said.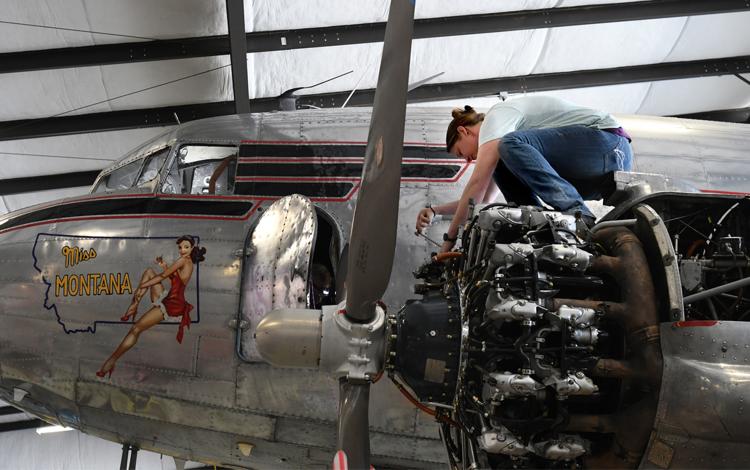 Eighteen pilots from around the country gathered in a Neptune Aviation hangar for a weekend ground school. All were training in hopes of flying with Miss Montana or another Douglas C-47 to Normandy.
"I don't even care if I'm a pilot. I could be a sweeper in the back and I would still be thrilled," said Giuseppe Caltabiano of Whitefish.
Caltabiano grew up in Sicily. He introduced himself by telling the other fliers how his grandparents would take him to the beaches and explain how the Americans had secured victory there and in the rest of Europe in World War II.
"'The Americans are the reason you're alive,' they would tell me," he said. "America gave me the opportunity of a lifetime."
After a winter without them, Miss Montana's two overhauled engines were back in house from Anderson Air Motive in Grangeville, Idaho, and ready to be mounted.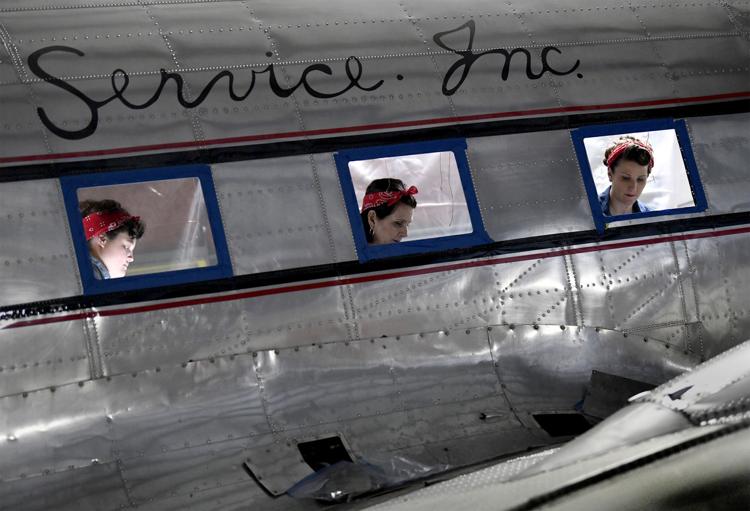 It was Rosie the Riveter Day at the flying museum. Girls and women showed up at the museum in red kerchiefs and cuffed jeans, a la the 1940s. Some had been working on Miss Montana for months. They included Crystal Schonemann who as mechanic with her husband Randy will accompany the airplane every hop of the way to Normandy and back.
"It's just very exciting to be able to take part in such a crazy idea," she said. "I love it."
A key flying partner to Miss Montana emerged. Dick Komberec and Paul Bazeley left Mena, Arkansas, with a former Western Airlines DC-3, purchased by Komberec's family for the flying museum to use first for training pilots for the Normandy excursion.
The airplane spent April at Bazeley's Aerometal International in Aurora, Oregon. She landed in Missoula on the evening of May 3 to continue with local training.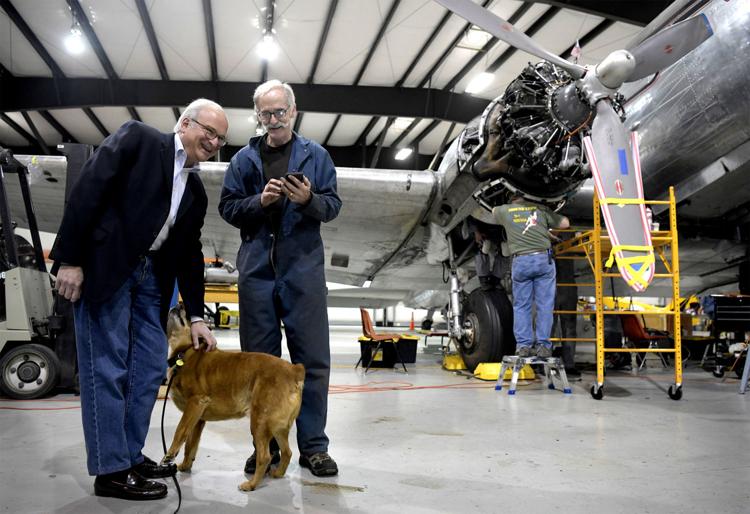 A CBS News team spent two days in Missoula documenting the story of Miss Montana. Veteran newsman Richard Schlesinger said he saw the difficulty of the project and the community effort going into it as a national news event. Tentative airing date is June 2 on CBS Sunday Morning.
A Saturday evening Send Off Gala is held at the Museum of Mountain Flying, in part to raise the last $50,000 to cover the fuel costs Miss Montana will need to get to France and back.