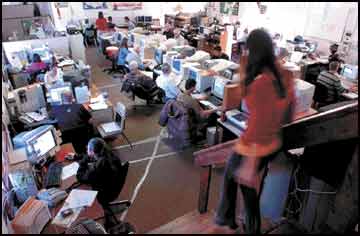 Six employees were laid off without notice in the past week at Project Vote Smart, a nonprofit political research organization based out of a 50-acre ranch near Philipsburg.
A seventh employee resigned in protest over what she described as the "despicable" manner in which the layoffs were conducted by the organization's founding president, Richard Kimball.
Adelaide Elm, a founding member of the organization's executive board and Kimball's wife, declined to comment on the layoffs but confirmed that the board is discussing the possibility of selling the property and closing the Philipsburg operation, which until the layoffs employed about 20 full-time staff members and housed various interns.
"The board is considering the idea," she said. "What we've learned over these many years is that it is very expensive to operate a national research center on a 50-acre ranch in the middle of the Anaconda-Pintler Wilderness area."
Founded in 1992 by Kimball, Project Vote Smart is a 501(c)(3) nonpartisan research group that collects and distributes information on candidates for public office all over the country, from would-be state legislators all the way up to president of the United States.
Staff members and interns compile data on the candidates' background, their position on important issues, voting records, campaign finance reports, public statements and their ties to special interest groups. Every year, they publish a guide on their website and in a print publication.
Andrew Bennett, 27, moved from Connecticut to take a job as a research assistant at Project Vote Smart this past January. He was one of two employees laid off unexpectedly on Wednesday. Another four were laid off the preceding Friday.
He described the layoffs as a shock to everyone involved. He said that Kimball, who lives elsewhere but calls the office almost every day, had given no previous indication that there were impending staff cuts.
"It was totally out of the blue," Bennett recalled. "There had been no discussion of financial issues, no discussion of anything except having everything ready to go for the election."
However, during Kimball's conference call to employees at 8:30 on Friday morning, he told the group that staffing cuts were going to occur and the staff members who would lose their jobs would be notified within the hour. Then he hung up without further explanation.
Approximately 15 minutes later, an email went out to all Montana staff members naming four employees who were being terminated from their jobs, effective at the end of the day. One staff member that was let go had to stay with friends in Missoula that night because he no longer had a place to live.
"Richard was all gung-ho for the new tech projects, and nothing was ever mentioned until bam, it was a bomb dropped on us on Friday," Bennett explained.
Claire Battaglia, the director of Vote Smart's Political Courage Test program for the past year, wasn't one of the employees laid off. But she resigned that day "in protest of both the layoff itself and the manner in which it was conducted."
"The reason for letting those four people go was sort of explained to us as a budget issue, and I thought that this conflicted a lot with information I had been given previously," Battaglia said. "I had no previous knowledge of any budget problems. I felt there needed to be more transparency on why these four people specifically needed to be let go. One of the things I most value in an organization is transparency and I found a lack of that extremely troubling. The manner was super unprofessional and really disrespectful. At the end of the day, I can't work for an organization that treats its employees like that."
Battaglia said that Kimball had recently approved hiring six new people for the upcoming elections, and he had even allocated $1,000 for an employee party because everything was on schedule.
Bennett was also not one of the employees cut on Friday, but said he had a discussion with his superiors in which he voiced his "frustrations and concerns."
Bennett and Battaglia both said that the layoffs were surprising because they included many of the more senior staff members, not new employees.
"After Friday, which was a pretty big surprise, morale in the office was pretty low," Bennett explained. "We were trying to figure out how we were going to go forward, what the direction was, with regard to the website. And when we met with Richard the following Monday, rather than getting the forward guidance and morale uplifting that we expected, he told us to suck it up. The staff wasn't happy, people were airing various concerns, and I had mentioned that we all made a commitment to go out to the ranch through the November elections. We had made the commitment and traveled thousands of miles and they didn't back it up."
On Wednesday afternoon, Bennett said the staff had a meeting with national director Kristen Vicedomini.
"We discussed putting everything behind us," he said. "Then Kristen met individually with everyone at the end of the day. She was meeting with all the staff to see who was dedicated to staying. I was her last of the day, which I now see was not a coincidence. I told her I was committed to staying. But because I had spoken up, and expressed my concerns and frustrations with the way things were handled, I was told that things with myself and another staff member were irreconcilable with Richard. And we were both released. I'm not clear on whether I was fired or laid off. That was it."
Elm said that Project Vote Smart relies on charitable contributions from individuals and nonpartisan charities that don't have special interest ties. She said the scenic rural ranch property was purchased in 1989 to attract college interns from all over the world.
"We wanted to provide a place to house and feed them and pay them off with a wonderful wilderness experience," she said. "From there, they track 40,000 candidates. Project Vote Smart is kind of an unusual experiment, and it worked for that purpose very well. But costs have gone way up to do this. The board is considering the possibility of returning to the model we started with, which is returning to a university. And we have an office at the University of Texas at Austin."
Elm said that if the Philipsburg operation is shut down, it would take a long time.
"The board is in the very beginning stages, nothing is going to happen immediately," she said.
Elm declined to confirm or deny the layoffs, which the Missoulian confirmed by speaking directly to former employees.
"We are doing some changes right now, but I can't tell you for sure," she said. "We took a great big hit during the recession. So we are pinching our pennies. We are entirely funded by individual contributions and foundation grants, and they can't have corporate or special interest ties, and we can't take any government money to protect the integrity of our public information system."
Elm said the organization operated on a budget of $1.2 million during the last election season.
"We are really cutting it down," she said. "We are cutting back on horses and we put in a wood boiler to replace the propane. We are economizing where we can. Wherever we are, we will track the public statements, backgrounds and voting records from state representatives to the president of the United States.
"We need the ability to focus on the research aspect of what we do, which is provide citizens a source of information they can trust. But the expense and distraction of running a motel, a restaurant and dude ranch in order to attract free labor is maybe not the right model anymore in the world."
Battaglia said she is saddened by the way things transpired at an organization she believed in.
"Overall, I feel that Vote Smart staff members sacrifice a lot to work there," she said. "They relocate across the country, they put up with a difficult commute and a lot of them don't make a lot of money. I feel that to be treated the way they were treated by Richard was really despicable and ultimately that was the deciding factor in why I chose to resign."
The organization will be negatively affected by the recent events, she said.
"Ultimately, the lack of transparency will present more challenges for Vote Smart than they can handle right now," she said. "Staff members don't trust the president of the organization, and that inherently presents problems, especially for an organization that depends on donations. Those donations are predicated on trusting that the organization will do the right thing. A lot of that trust has really been betrayed."